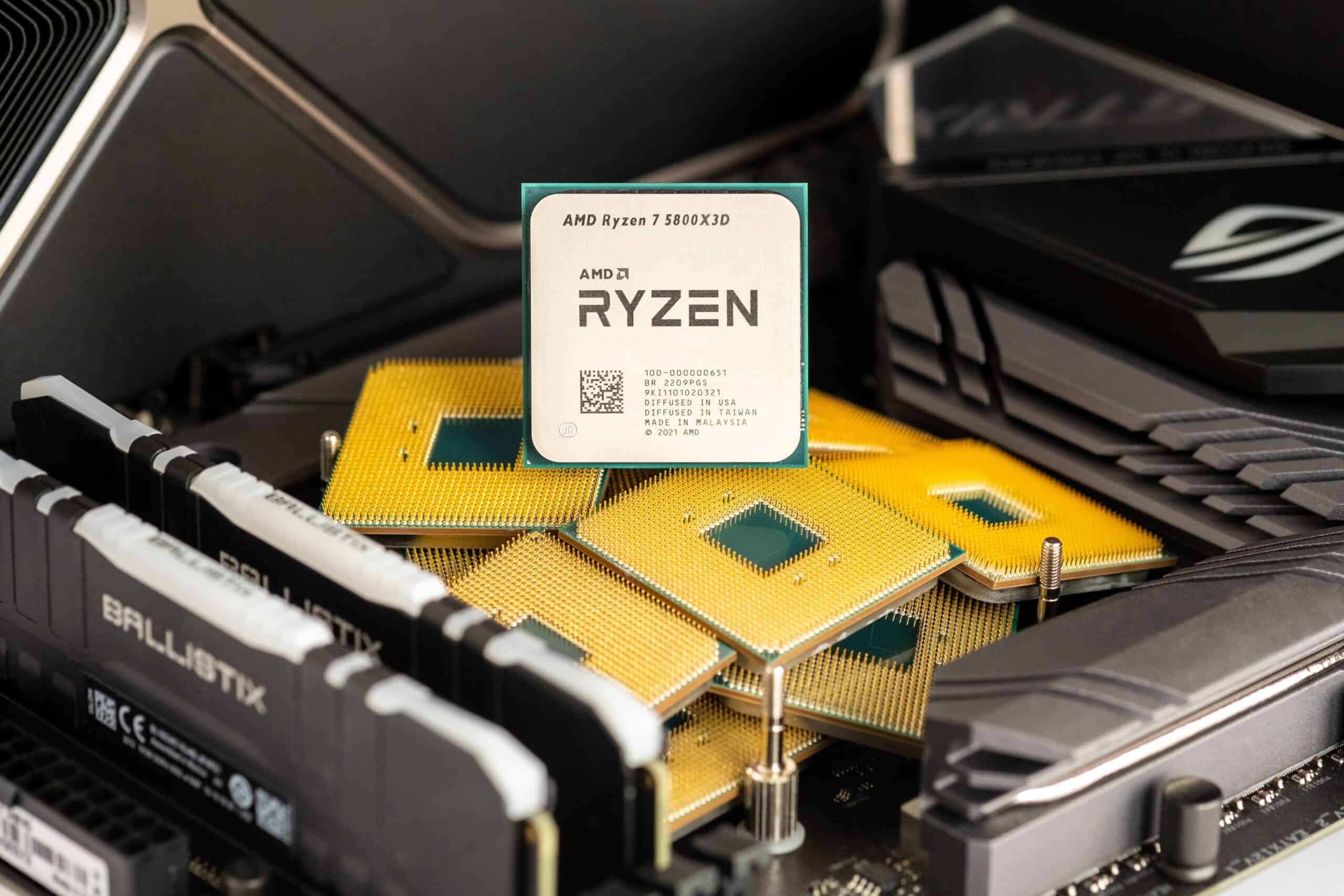 Key Points
Compatibility is key when selecting a motherboard for your processor. Any processor with an AM4 socket will be ideal since that is the same socket which the Ryzen 7 5800X also uses.
A processor like the Ryzen 7 5800X requires an upgradeable motherboard. The more SATA and M.2 slots  the merrier. 
PCB thickness is a key factor in determining a motherboard's durability. You should also look out for Japanese capacitors since they are considered to be the best options available.
When building a gaming PC with Ryzen 7 5800X, it's crucial to pick the best motherboard for this mid-tier CPU. It's a real workhorse and goes neck-to-neck with other GPUs from Intel. The right motherboard to pair with your Ryzen CPU can ensure a solid gaming performance.
What is the absolute best motherboard for this GPU? A couple of options are on the table. However, this may not be an issue for those buying a prebuilt PC. Ryzen CPUs from AMD, are great for gaming, streaming, video editing, and more. After reviewing dozens of motherboards, we're happy to present the results.
Here are the best motherboards for Ryzen 8 5800X in 2022:
ASUS AM4 TUF Gaming X570-Plus (Wi-Fi) AM4 Zen 3 Ryzen 5000 & 3rd Gen Ryzen ATX Motherboard with PCIe 4.0, Dual M.2, 12+2 with Dr. MOS Power Stage
AMD AM4 socket: Ready for 2nd and 3rd Gen AMD Ryzen processors to maximize connectivity and speed with up to two M.2 Drives, USB 3.2 Gen2 and AMD StoreMI
Enhanced power solution: Military-grade TUF components, Pro Cool socket and Digi plus VRM for maximum durability
Comprehensive Cooling: Active PCH heatsink, VRM heatsink, M.2 heatsink, hybrid fan headers and Fan Xpert
Next-Gen connectivity: Dual PCIe 4.0 m.2 and USB 3.2 Gen 2 Type-A/Type-C
Gaming Networking: Exclusive Realtek L8200A Gigabit Ethernet, Intel 2x2 802.11ac Wi-Fi with MU-MIMO support, Bluetooth 5.0, TUF LANGuard and technology
With so many motherboards available, settling on one was a little difficult. Going through positive reviews, user experiences, and benchmark results, we realized that the best overall motherboard for Ryzen 7 5800X is the ASUS AM4 TUF Gaming X570-Plus. This motherboard offers many standard features and helpful extras, making it a great choice.
Additionally, the ASUS AM4 TUF Gaming X570-Plus packs some serious punch for a reasonable price. The first thing you'll notice about this motherboard is the beautiful RGB lighting. With AURA Sync RGB software, you'll easily be able to customize your colors to match the rest of your build. 
This motherboard offers more than good looks. It also packs a lot of features. Our favorite feature is the built-in WiFi and Bluetooth 5.0. If you're looking for a motherboard that offers a lot of connectivity, you won't go wrong with the AM4 TUF. The rear panel gives you a wide array of ports, including six USB 3.2 ports, an HDMI port, a Display Port, a Gigabit LAN port, and audio ports.
Another thing that stands out with this motherboard is the quality of the PCB. Ideally, you should have a durable multi-layered PCB to ensure your components can communicate with each other without interference. The ASUS X570-Plus is designed with a six-layer PCB, which is above average.
Check out the ASUS AM4 TUF Gaming X570-Plus on Amazon.
Sale
MSI MPG X570 GAMING PLUS Motherboard (AMD AM4, PCIe 4.0, DDR4, SATA 6Gb/s, M.2, USB 3.2 Gen 2, HDMI, ATX)
Supports 2nd and 3rd Gen AMD Ryzen/ Ryzen with Radeon Vega Graphics desktop processors for AM4 socket
Supports ddr4 memory, up to 4400plus(oc) MHz
Audio boost 4 technology with nahimic 3 software enhancement for immersive experiences
Frozr heatsink with patented fan design – propeller blade technology and double ball bearings
Pre-installed IO shielding is grounded and protects the IO ports from potential electrostatic discharge damage from the external environment
If you're assembling a custom PC on a limited budget, it might be difficult to find a good motherboard. Even so, we found a solid motherboard to pair with the Ryzen 7 5800X. Overall, the best budget motherboard for Ryzen 7 5800X is the MSI MPG X570 GAMING PLUS.
While you will have to sacrifice additional features like WiFi and built-in RGB lighting, this motherboard is still a solid choice for the Ryzen 7 5800X. Additionally, MSI is famous for its gaming laptops and custom PC components, so this choice was a no-brainer considering how reasonable the price is.
The MSI MPG X570 Gaming PLUS offers upgradeability options, including two PCI-E slots, one of which is the latest PCI-e 4.0 standard. You'll easily be able to install your favorite graphics card with this slot. Furthermore, there are four RAM slots and six SATA ports for connecting multiple hard drives.
This motherboard has lots of ports on the rear panel. You get five USB 3.1 ports and two USB 2.0 ports, as well as a USB Type-C port, HDMI port, PS/2 port, and audio ports. Once again, the MSI MPG X570 Gaming PLUS is a fantastic option when operating with a limited budget.
Check out the MSI MPG X570 GAMING PLUS on Amazon.
Best Compact Motherboard for Ryzen 7 5800X: Gigabyte A520I AC
Sale
For those looking for the most compact motherboard to use with the Ryzen 7 5800X, we have found the Gigabyte A520I AC. The Mini-ITX form factor of this motherboard makes it ideal for putting together a compact gaming PC.
With two DDR4 RAM slots and four SATA ports, Ryzen 7 5800X can connect enough RAM and storage to build a powerful system. Additionally, the built-in M.2 NVMe slot allows you to plug in a high-performance SSD to make your system boot up and load games even faster.
Even though you are confined to a smaller board, you still get extra features like WiFi and Bluetooth. Additionally, six USB slots on the rear panel let you connect accessories. Overall, for those searching for the most compact motherboard for the Ryzen 7 5800X, the Gigabyte A520I AC is ideal.
Check out the Gigabyte A520I AC on Amazon.
Sale
If you are using your PC for other tasks and video editing or streaming, it helps to have a high-performance motherboard. After reviewing the best motherboards, we decided the best performance motherboard for Ryzen 7 5800X is the ASUS ROG Strix B550-F Gaming.
Besides being decked out in brilliant RGB lighting, you'll also notice this motherboard comes with a beautiful assortment of heatsinks to cover your I/O ports, Southbridge, and M.2 slot. These heatsinks are very helpful in ensuring your whole PC stays cool while you are gaming. Furthermore, maintaining low temperatures is vital if you want your PC to have a long life.
The ASUS ROG Strix B550-F Gaming motherboard has useful features to customize your PC. With an assortment of headers for liquid cooling pumps and addressable RGB controllers, you are free to build a completely custom system.
Two M.2 slots and six SATA ports on this motherboard allow you to connect multiple hard drives and solid-state drives (SSDs). You also get four RAM slots supporting up to 128GB of DDR4 RAM.
Check out the ASUS ROG Strix B550-F Gaming on Amazon.
Best Durable Motherboard for Ryzen 7 5800X: Asus Prime Z690-P
ASUS Prime Z690-P WiFi D4 LGA1700(Intel 12th Gen) ATX Motherboard (PCIe 5.0,DDR4,14+1 Power Stages,3X M.2,WiFi 6,BT v5.2,2.5Gb LAN,Front Panel USB 3.2 Gen 1 USB Type-Thunderbolt 4 Port,Arua Sync)
Intel LGA 1700 socket: Ready for 12th Gen Intel Core processors, support PCIe 5.0 and DDR4 and out of box Windows 11 ready.Operating System: Windows 11 64-bit, Windows 10 64-bit
Enhanced Power Solution: 14+1 DrMOS, ProCool connector, alloy chokes and durable capacitors for stable power delivery
Comprehensive Cooling: Large VRM heatsink, flexible M.2 heatsink, PCH heatsink, hybrid fan headers and Fan Xpert 4
Boosted Memory Performance: ASUS OptiMem II proprietary trace layout allows memory kits to operate at higher frequencies with lower voltages to maximize system performance.
Ultrafast Connectivity: PCIe 5.0, DDR4, WiFi 6, Realtek 2.5Gb Ethernet, USB 3.2 Gen2x2 Type-C, front panel USB 3.2 Gen 1 Type-C, Thunderbolt 4 header support
If you want a motherboard that can take a beating but still perform for years to come, we have found the most durable motherboard for the Ryzen 7 5800X to be Asus Prime Z690-P .
With additional features like brushed aluminum heatshields covering almost the whole motherboard, the Z690-P is designed to protect its components. Not only do extra heat shields help keep your PC running cool, but they also provide a cleaner look.
The Z690-P offers desirable features such as dual-band AC WiFi 6, Ethernet, USB 3.2, and Thunderbolt connectivity. With a PCI-e 5.0 slot, you can install the latest graphics cards for gaming or streaming. Furthermore, the variety of included SATA ports and RAM slots give you plenty of upgrade options.
The icing on the cake is the out-of-box Windows 11 support. With such a powerful combination of modern features and support, the Z690-P is designed for the long haul. Overall, for those looking for the best durable motherboard for the Ryzen 7 5800X, we can recommend the Asus Prime Z690-P.
Check out the Asus Prime Z690-P on Amazon.
How To Pick The Best Motherboard for Ryzen 7 5800X: Step by Step
The AMD Ryzen 7 5800X is one of the best processors for gaming, virtual reality, streaming, video editing, and more. Pair this CPU with a good motherboard to get the best out of your PC.  This next section shows you how to find the best motherboard for the Ryzen 7 5800X. Keep these factors in mind when shopping:
Compatibility
Upgradeability
Durability
Price
Compatibility
Imagine buying a motherboard only for it not to work with your CPU. This can happen if you get an incompatible motherboard. To check for compatibility, you need to figure out the socket type that your CPU requires. The Ryzen 7 5800X uses the AM4 socket. This means that any motherboard with the AM4 socket should work just fine.
However, you don't want to buy a motherboard that is too old, as you may be required to update your BIOS for a new processor to work. To avoid this hassle, you should buy as new a motherboard as possible. Luckily, we've hand-selected each motherboard on our list to be compatible with the Ryzen 7 5800X.
Upgradeability
With a processor like the Ryzen 7 5800X, you want an upgradable motherboard. Look for a motherboard with multiple SATA and M.2 slots for connecting more storage devices. Having extra PCI-e slots also comes in handy. Additionally, you may find it helpful to have extra headers for controlling RGBs, fans, and liquid coolers.
Durability
Durability is another factor to keep in mind when selecting a motherboard. So, how do you know you're looking at a durable motherboard? Generally speaking, capacitor quality is important as you don't want to wake up to burst capacitors a few months down the road. Japanese capacitors are considered the best, so finding a motherboard that uses them is a plus.
Additionally, the thickness of your PCB is essential too. PCBs, or printed circuit boards, are the part to which the rest of your components are attached. A PCB with multiple layers is ideal so you won't experience RF interference between your components.
Price
An expensive motherboard does not necessarily mean "higher quality". Also, you should be wary of cheaper motherboards. Since the motherboard is essentially the backbone of your PC, it is always devastating when it fails. The old saying "if it is too good to be true, it probably is" holds with motherboards.
That's not to say you can't find a good motherboard at a great price. Just look at our budget pick on this list, which offers excellent quality at an affordable price.
What To Know Before Buying a Motherboard for Ryzen 7 5800X
Before buying a motherboard for the Ryzen 7 5800X, there are some things that you should remember. Compatibility is crucial. An old, outdated motherboard may potentially be a mismatch with your processor. 
Additionally, if you'd like to upgrade your components in the future, you should keep an eye on how many RAM slots, PCI-E slots, and ports your motherboard has. A good motherboard lets you grow with it. That's not to mention that the motherboard is the most challenging component to install on a PC. So, you want to avoid upgrading it for a long time.
It's always a good idea to buy motherboards from reputable sellers to ensure you have a good experience. While there are several options, only the top manufacturers make the most reliable parts. Brands like ASUS, MSI, and Gigabyte are all great choices for motherboard manufacturers.
All in all, these are the absolute best motherboards for Ryzen 7 5800X in 2022. With so many options, it can seem daunting to select the right motherboard, but our recommendations can make your decision a lot easier.
Up Next…
Interested in reading about more computer hardware? Click on the articles below:
Last update on 2023-01-19 / Affiliate links / Images from Amazon Product Advertising API