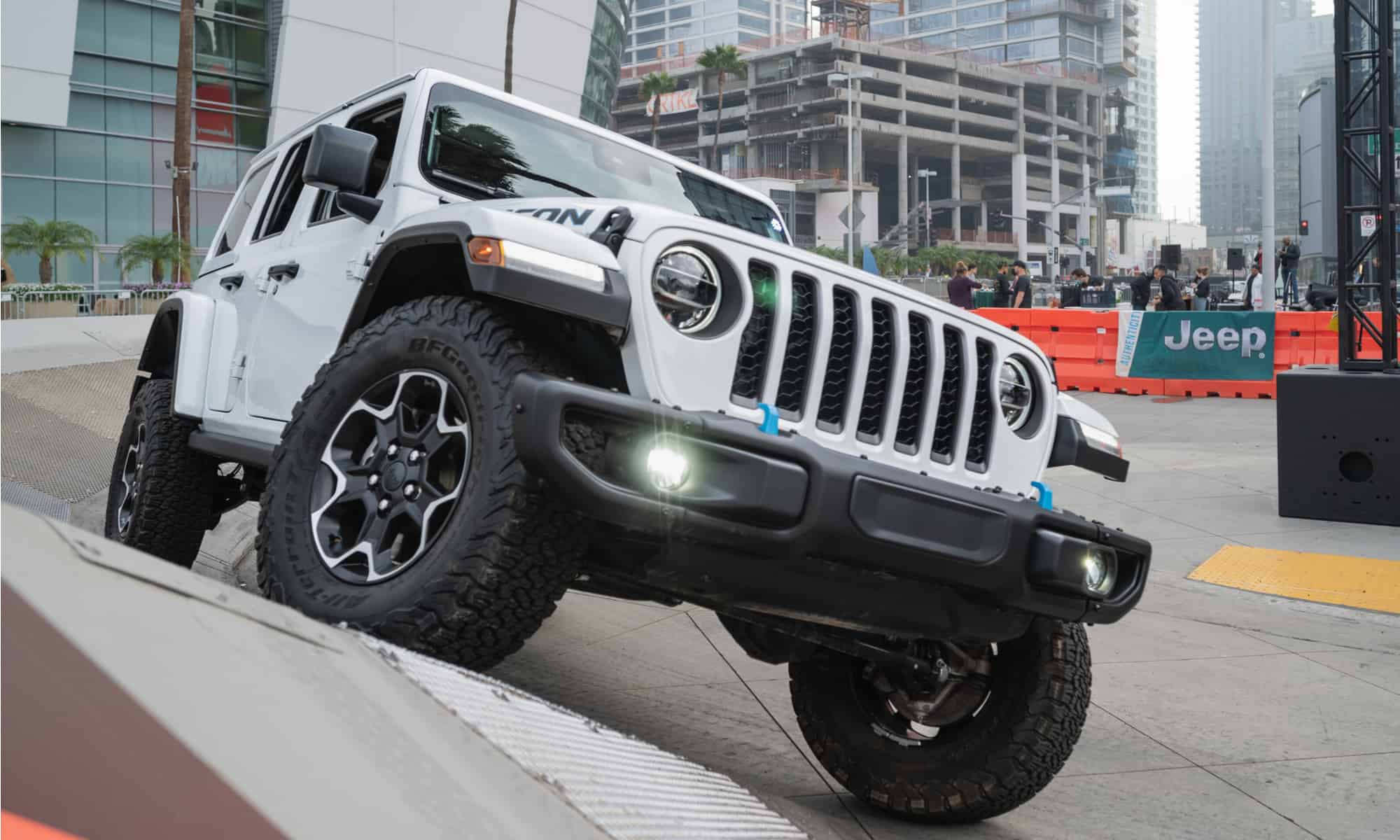 Key Points:
The 4xe retains a 2.0-liter turbocharged gasoline engine. Drivers can change between gasoline and electric power combinations for extra driving options.
Chrysler builds the Wrangler 4xe in three different trim levels: the Sahara, Rubicon, and High Altitude.
Jeep partnered with Electrify America to set up trail chargers, and as of mid-2022, Jeep continues installing charging stations for the 4xe at trailheads to make the PHEV more appealing for serious off-roaders.
Marrying 21st-century plug-in hybrid electric vehicle (PHEV) technology to the familiar SUV design whose lineage stretches back to World War II, the 2023 Jeep Wrangler 4xe brings electrified performance to America's far-flung trails. Potent torque boosts from twin electric motors give the 4xe the rock-crawling, ledge-climbing moxie that dedicated off-roaders need. With both electric motors and gasoline engines operational, it delivers 470 ft-lbs of torque and 375 horsepower.
Not yet fully an electric vehicle (EV), the 4xe retains a 2.0-liter turbocharged gasoline engine. Drivers can change between gasoline and electric power combinations for extra driving options, but test drivers and owners report some rough edges. Jeep describes the 4xe as "the industry's first electrified open-air SUV" and "the most planet-friendly Wrangler ever." It's even supporting the 4xe by installing charging stations near some major trailheads for convenient electrified off-roading.
Jeep Wrangler 4xe: Specs
The 4xe remains true to its Wrangler bloodline in many significant ways despite its electrification. Its features include removable doors, just like its gasoline counterparts. It has live axles, with each pair of wheels mounted to half-axles connected by a differential. The vehicle also keeps the distinctive Wrangler styling. While some EV companies seem to offer their machines mostly in shades of white, gray, and black, the 4xe comes in a wider color range. Paint colors include not just white, black, and gunmetal, but also blue, violet, red, hot pink, and both light and dark green.
The 2023 Jeep Wrangler 4xe measures 188.4" in length, with a 118.4" wheelbase. Width and height are both slightly over 73". The payload is 1,280 pounds and the SUV can tow a maximum of 3,500 pounds. The company builds the 4xe in a 4-door configuration only.
The engineers placed the 400V battery pack under the rear seat, but the 4xe still has ample legroom. It loses only about an inch compared to gasoline models. There is space for plenty of camping supplies with 67.4 cubic feet of maximum cargo volume. All variants of the 4xe seat five people. Since its initial release date in 2021, the 4xe has had availability in all 50 states.
Chrysler builds the Wrangler 4xe in three different trim levels: the Sahara, Rubicon, and High Altitude. Base MSRP for the Sahara is $54,765, including destination charges. The Rubicon's MSRP is $58,990, while the High Altitude costs $60,935 in its base setup. Rubicon features include 33" all-terrain tires, blue tow hooks and accent stitching, a Rock-Trac 4×4 system, remote keyless entry, and an optional power top. The High Altitude includes a hardtop as standard, leather trim interior, 20" wheels, and exterior mirrors with a built-in turn signal.
Standard features of the Wrangler 4xe include:
Three driving modes, including hybrid, electric, and eSave
Third-generation heavy-duty Dana 44 front and rear axles with differentials
ABS four-wheel disc brakes with hydraulic assist
Power steering
Remote keyless entry
50-state legal emissions
Skid plate protection for the fuel tank, transfer case, and transmission
Premium audio system, 8.4-inch screen for control and entertainment, GPS navigation
LED lighting throughout
Front and side airbags
30" water fording depth
Locking front and rear differentials
Electronic disconnect for the front sway bar
Qualifies for full $7,500 federal tax rebate
Warranties and support include:
36-month or 36,000-mile basic limited warranty.
60-month or 60,000-mile powertrain warranty.
60-month or 60,000-mile roadside assistance.
36-month enrollment in the 24/7 support Jeep Wave customer care program.
Jeep Wrangler 4xe: Range and Performance
The Jeep Wrangler 4xe's range varies by the mode in which it's driven. The EPA notes driving it as a hybrid with both gasoline and electric power active gives an impressive 49 miles per gallon combined city/highway fuel efficiency. Efficiency drops to 20 mpg combined city/highway when used with gasoline power only. This mpg rating is lower than other Wranglers, likely because of the battery's weight. Switched over to all-electric mode, the 4xe can drive a maximum of 21 miles before exhausting its battery charge.
Using gas and electric power together develops 375 horsepower and 470 ft-lbs of torque. In electric-only mode, power output peaks at 134 horsepower and 181 ft-lbs of torque. The vehicle is considerably slower in EV mode and takes three times as long to go from 0-60 mph, but can still tow and retain a lot of its off-road agility.
The 4xe's hybrid impressive power generation enables fast acceleration, with the boxy SUV hitting 60 mph from a standstill in six seconds. While not a match for the Tesla Cybertruck's theoretical 0-60 acceleration of 2.9 seconds in its tri-motor or quad-motor trim, it's still enough for effective passing on the highway. Car and Driver's testing indicates the acceleration may even be superior to officially published stats, at 5.5 seconds for 0-60 mph. The 4xe's engine calibration limits top speed to 110 mph.
4xe Charging Options
The Wrangler 4xe comes from the showroom with a Level 1 charging cable. This basic connection requires 12 hours to fully charge the battery. Jeep also separately offers an in-home fast charger for $619 (price current as of midsummer, 2022). The fast charger slashes the time for a full charge to two hours.
This J1772-compliant charger ships with a 25-foot charging cable. The owner can control the charger remotely with an app or online through a built-in Wi-Fi connection. The fast charger also requires professional installation in the garage before it can be used. Jeep recommends, and links directly to, Qmerit as its preferred installation service. Customers must contact Qmerit directly for a specific quote. The installation company's FAQ says most fast charger installations cost between $800 and $2,000.
Wrangler 4xe Performance and Charging Summary
0-60 mph in 5.5 seconds to six seconds
375 horsepower, 470 ft-lbs of torque in hybrid
21 miles of electric-only range
49 mpg city/highway in hybrid mode, 20 mpg gasoline only
1,280 lbs payload, 3,500 lbs maximum towing capacity
Full recharge time on standard Level 1 charger: 12 hours
Full recharge time on optional Level 2 charger: two hours
Wrangler 4xe Charging Stations for Trail Riders
As of mid-2022, Jeep continues installing charging stations for the 4xe at trailheads to make the PHEV more appealing for serious off-roaders. Jeep partnered with Electrify America to set up the trail chargers, Motor Authority reports. Electrify America is a Volkswagen subsidiary operating a network of almost a thousand fast-charging DC stations in the USA.
The charging stations provide 240-volt Level 2 charging, drawing directly on the sun's power with solar panels. Jeep allows Wrangler 4xe owners to charge their vehicles for free. An Electrify America app is needed to verify 4xe ownership and unlock free charging. Drivers of other kinds of vehicles must pay for recharging, but can still use the chargers if they can hook up to a Level 2 connection.
Jeep locates its chargers near the trails it designates as "Badge of Honor" trails. One of its first chargers is located in Moab, Utah, home of the annual Easter Jeep Safari and numerous famous trails. It also put two chargers in California. One, in Big Bear, serves the trails of the San Bernardino National Forest. The other, in Pollock Pines, is near the renowned, challenging Rubicon Trail.
The network continues to expand. Several dozen Badge of Honor trails are scattered across the USA, with a few more typically added yearly. Wrangler 4xe drivers should have at least a handful of Jeep trailhead chargers nearby anywhere from coast to coast. The biggest concentration exists in the premier trail territory of the Southwest and California.
Extra Options from Rivian
Jeep Wrangler 4xe owners will likely enjoy even more charging options as Rivian puts fast chargers near many trails. According to a Rivian press release, the company already has three operational Level 3 DC 200 kW fast chargers set up in California and Colorado. This trio foreshadows Rivian's planned rollout of 600 sites hosting 3,500 individual fast chargers to create its "Adventure Network."
A company spokesman says the Adventure Network is meant to "support electrified adventure." He added that Rivian will locate many of the chargers near "some of the nation's most breathtaking natural spaces." It's unclear from the press release if the four Level 3 fast chargers at each site will be proprietary to Rivian vehicles. However, each will also include four Level 2 chargers usable by nearly any EV or PHEV (for a fee).
Overall, an expanding network of both Jeep and Rivian trailhead chargers is a major boon for Jeep Wrangler 4xe owners. Readily available charging facilities near many highly popular trails will greatly boost the 4xe's off-roading viability.
Jeep Wrangler 4xe: Potential Downsides
While well-liked by many owners, the Jeep Wrangler 4xe remains somewhat "rough around the edges" according to some reports. Significantly, electric mode switches off and becomes unavailable once the temperature falls below 40° F. Neither the driver nor Chrysler service center mechanics can override this feature. In practical terms, the 4xe cannot be driven in electric mode during the winter in many climates.
A significant number of customer complaints and negative reviews appear on review sites such as Cars.com. Owners report problems such as frequent, expensive servicing, electronic glitches, information screen failure, backup camera failure, and failing transmission lines.
On the other hand, the vehicle still garners plentiful five-star reviews from satisfied drivers. These reviewers cite good fuel economy, quiet operation, comfort, and power as 4xe upsides.
Up Next…