Tesla is one of the most influential companies in the tech and automobile industries. While most people associate the Tesla brand with its renowned electric vehicles and automotive products, the company produces a range of inventory.
The company's production aims to contribute to a sustainable future, from lithium batteries, solar panels, and solar roof tiles to various end-to-end renewable energy products. But how does Tesla's production cater to the global demand for its commodities?
Well, Tesla has gigafactories spread across the globe. These are not your average production plants; they are massive factories that produce batteries, electric vehicle parts, and various other products on a global scale.
As of 2022, Tesla has five gigafactories, with three in North America, one in Asia, and another in Europe. Each gigafactory has designated products, with thousands of employees working around the clock to ensure production efficiency.
Gigafactory 2, which is a cell factory leased from the State of New York, produces solar cells and modules, and will therefore not be featured in this article. Now, let's have a deeper look at Tesla's main gigafactories.
Gigafactory Texas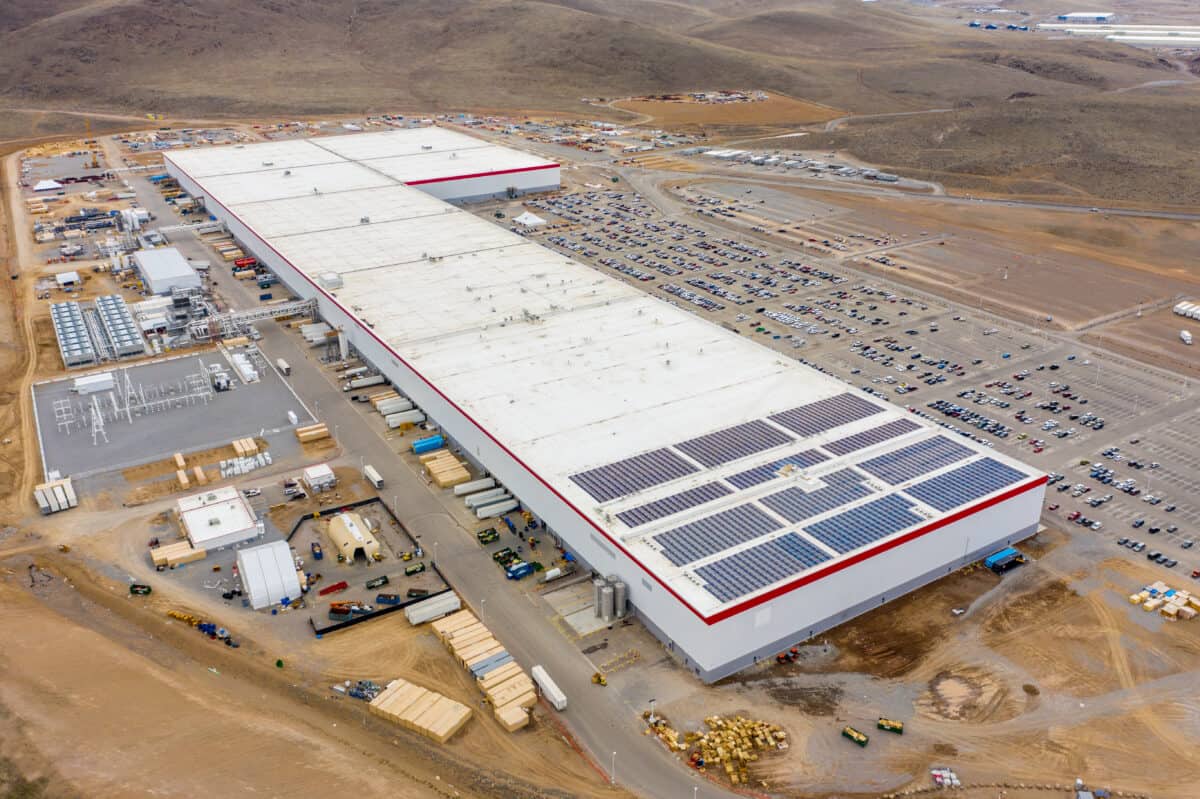 Tesla's Gigafactory in Texas is the most recently developed production plant, constructed between 2020 and 2022. As the name suggests, the gigafactory is located in Texas, United States. More specifically in Austin, along the Colorado River.
Location
It is east of, and not very far from, the Austin-Bergstrom International Airport, making it visible and accessible to people visiting from outside the state. Designed as an ecological paradise, Gigafactory Texas sits on a huge chunk of land.
The massive manufacturing plant covers 2,500 acres of land and has over 10 million square feet of factory floor. Imagine walking through all this property. Your Fitbit would probably max out its step count.
Nonetheless, Gigafactory Texas is not the largest manufacturing plant owned by Tesla. Rather, it is the second largest gigafactory owned by the company in the United States.
Objective
Gigafactory Texas was constructed to produce electronic vehicles and automotive parts focusing on the Tesla Model Y and Model 3. Due to its strategic location, the gigafactory was meant to boost the production of automobiles and ease distribution, as the company sought to increase its market share in the eastern part of the United States.
History
Tesla wasted no time in commencing operations at the gigafactory. Once construction was substantially complete and personnel and machinery deployed, the company started production operations.
By late August 2021, the first fully assembled Tesla Model Y rolled off the line at the factory under trial production. Considerable production works were also observed over the remainder of the year.
However, it was not until April 7, 2022, that vehicles produced in the gigafactory hit the market, and initial deliveries rolled out in an opening ceremony dubbed the Cyber Rodeo.
With construction complete in 2022, Gigafactory Texas was announced as the main factory for the production of the much anticipated new Tesla models: the Cybertruck and Tesla Semi, which are set to take the electric truck market by storm. The premises also host Tesla's corporate headquarters.
As operations are fully underway, Gigafactory Texas currently employs over 20,000 people and has a host of mega equipment to boost its production capabilities. The production plant will undoubtedly expand Tesla's EV distribution in the Eastern United States.
Gigafactory Nevada
Popularly referred to as Gigafactory 1, Gigafactory Nevada marked Tesla's venture into constructing mega-production plants. Before settling for Nevada as a location for its gigafactory, Tesla considered several other sites.
At least five states competed to persuade the company to set up a production plant within their territories by offering tax incentives. The company eventually settled for Nevada, which contributed $195 million in tax credits due to its good speed of regulatory work.
Location
Gigafactory Nevada is located in Storey County, Nevada, and sits east of Reno City. It is one of the hundreds of occupants of the Tahoe Reno Industrial Center, a privately owned 107,000-acre industrial park south of Interstate 80.
Facilities
The park has convenient facilities that accommodate Tesla's production operations, including rail-serviced sites, natural gas services, a municipal water and sewer system, and five power plants that produce more than 900 megawatts.
Constructed between 2015 and 2016, Gigafactory Nevada covers 4.5 square miles of land, with a 1.9 million sq. ft. manufacturing plant. Ironically, this massive facility is only 30% complete. Once construction is complete, the gigafactory will be the most prominent building on the planet.
The facility has impressive design features that perfectly accommodate its functions. It is aligned on true north to accurately position solar panels on the roof and allow the facility's equipment's mapping by GPS. The design is tailored towards creating an autonomous energy system using on-site renewable energy sources.
History
Gigafactory Nevada commenced operations in 2016 when it started limited manufacturing of the Tesla Powerwall, a home energy storage device. The factory gradually picked up, and by the end of 2017, it delved into mass production of lithium-ion-cells.
Primary Operations
Currently, its primary operations are centered on producing lithium-ion batteries and automotive parts. The batteries are made through a cradle-to-cradle system. Namely, the factory handles raw materials, manufactures them into the finished product, and recycles old batteries into new ones.
The system focuses more on production rather than the end product, as Tesla invests more in creating sustainable methods to develop lithium-ion batteries. Battery packs produced in Gigafactory Nevada are supplied to other Tesla manufacturing factories and incorporated into their electric vehicles, except those made at Giga Shanghai.
Operations at the gigafactory are under a management team led by Jens Peter Clausen, the sitting VP. The initial staff in 2016 comprised 317 Tesla employees, gradually increasing to over 7,000 people currently working at Gigafactory Nevada. The number is set to increase as the production company expands and increases operations.
Gigafactory Berlin
Tesla sought to extend its operations in Europe to meet the region's electric vehicle demand. Thus, Gigafactory Berlin was developed. Tesla's CEO announced the move in 2019, promising an advanced high-volume electric car production plant.
At least 10 countries competed to have the mega company set up on their land. However, Tesla opted for Germany, which offered an expandable location for the project.
Location
The gigafactory is located in Grunheide, a municipality in the northeastern German state of Brandenburg. It is situated 20 miles southeast of the center of Berlin, the country's capital, and 5 miles away from the Berlin state boundary.
This strategic location is topped off by the area's proximity to the Berlin Brandenburg Airport (BER), which is one of the significant reasons Tesla decided to set up a factory in the location.
Gigafactory Berlin sits on a serene 1.2 square mile piece of land previously underdeveloped and designated as an industrial area. In the early 2000s, the location was planned for a BMW car factory, but the company opted for another option and set up in Saxony.
However, Tesla did not hesitate to pick the pine-filled landscape to set up its first mega manufacturing plant in Europe.
History
Construction of the gigafactory started in 2020 after Elon Musk announced its location at the Das Goldene Lenkrad award show hosted in Berlin. However, construction was not seamless; Tesla underwent various challenges as it set up shop in Grunhiede.
For instance, the construction site was filled with undetonated bombs from World War II, which had to be mitigated in a controlled explosion. Similarly, they faced opposition from civilian groups who opposed the project's construction, citing environmental hazards.
It was not until March 2022 that Tesla got its final environmental approval from the Brandenburg government. Nonetheless, these challenges did not deter Tesla from completing the project in record time.
Construction was completed in 2021, and Tesla held the Gigafactory Berlin-Brandenburg County Fair in October, where it invited 9,000 guests for a tour of the factory. The gigafactory was officially opened on March 2022 and commenced operations immediately.
Operations
Before setting up the factory, Tesla planned operations in the facility that were centered on producing batteries and powertrains for manufacturing its electric vehicles, as well as assembling the Model Y.
However, currently, Gigafactory Berlin's primary focus is building the Tesla Model Y; the first vehicle was completed in April 2022. The company aims to achieve an annual assembling capacity of 500,000 cars. Other long-term plans include producing the Model 3.
Although Gigafactory Berlin has only been operational for a few months, it has picked up quite well and undergone tremendous growth. Currently, Gigafactory Berlin produces around 1,000 vehicles a week and is the largest employer in the region, with over 8,000 employees.
Gigafactory Shanghai
Tesla's Gigafactory Shanghai is one of the company's most significant success stories, from construction to its subsequent operations. Constructed in 2019, Gigafactory Shanghai is the first and only Tesla production facility in Asia.
Location
It is located in Nicheng, Shanghai, China. The strategic location allowed Tesla easy access to the fast-growing Chinese market through local production, as the company bypassed tariffs imposed by Beijing on U.S. manufactured goods.
As expected, Gigafactory Shanghai is equally as massive as its counterpart factories located in Europe and America. The original manufacturing plant is 210 acres, with massive structures expanding across the land. Amazingly, construction of the gigafactory only took about ten months to complete.
History
Tesla received a construction permit from the relevant authorities in 2018, which instructed the company to commence building after December 29th. The company complied and held a groundbreaking ceremony on January 2019.
Ten months later, on October 23, construction was complete, putting the gigafactory way ahead of schedule in getting into production.
With all systems up and running, Tesla commenced production in Gigafactory Shanghai in December 2019 as the final assembly for the Tesla Model 3 and Model Y. Electric vehicles produced in the gigafactory were slated for delivery on January 2021.
However, a few weeks after production commenced, the first fully assembled Tesla Model 3s were delivered to their buyers before the year ended.  
Production Success
Over the years, Gigafactory Shanghai has constantly proven itself as the most effective Tesla production company. Initially, the facility's production target was 3,000 vehicles a week, which translated to an annual production capacity of 250,000 cars.
Barely two years into production, the gigafactory surpassed this target and produced over 750,000 vehicles in 2021. In 2022, Gigafactory Shanghai hit another milestone as it built its one-millionth electric car, squarely earning its place as one of Tesla's leading electric vehicle manufacturing companies.
Future Plans
Gigafactory Shanghai's production success is set to increase with current expansion plans underway. The 9.3 million sq. ft. gigafactory is set to expand its operations, as it acquired an adjacent 113.6 acres of land to commence construction of phase 2 of its operations.
Although it is smaller than the existing gigafactory, it will considerably increase production levels, expand production operations to more products, and set Gigafactory Shanghai as one of the largest Tesla-owned factories.
Table Summary of All Tesla's Gigafactories
| | Gigafactory Texas |
| --- | --- |
| Size | 3.3 sq mi |
| Location | Austin, Texas, USA |
| Products | Tesla Model Y, Tesla Cybertruck, Lithium-ion Batteries |
| Launch Date | 2022 |
| Number of Employees | 10,000 |
| | Gigafactory Nevada |
| --- | --- |
| Size | 4.5 sq mi |
| Location | Storey Couty, Nevada, USA |
| Products | Lithium-ion Batteries, Tesla Powerwall, Tesla Powerpack |
| Launch Date | 2016 |
| Number of Employees | 7,000 |
| | Gigafactory Berlin |
| --- | --- |
| Size | 1.2 sq mi |
| Location | Grunheide, Germany |
| Products | Tesla Model Y Lithium-ion Batteries |
| Launch Date | 2022 |
| Number of Employees | 8,000 |
| | Gigafactory Shanghai |
| --- | --- |
| Size | 0.33 sq mi |
| Location | Shanghai, China |
| Products | Tesla Model 3, Tesla Model Y |
| Launch Date | 2019 |
| Number of Employees | 15,000 |