Mercedes-Benz, the iconic German automaker, has long been famous for its luxury, style, and engineering excellence. Over the past few years, the company has been making significant strides in the realm of electric vehicles. With a commitment to sustainability and a vision for the future of transportation, it has set its sights on electrification, and the results are impressive. Mercedes' EV lineup has something for everyone, from great and sporty sedans to highly modern SUVs.
However, exploring the world of electric cars can be difficult, especially for those new to the technology. That's why we have put together this complete guide to help you decide which model is right for you. Whether you are looking for the ultimate EV in luxury and performance, you can find the perfect one for your needs. So let's dive in and discover the exciting world of electric vehicles!
History of Mercedes' Electric Vehicles
Mercedes not only boasts a remarkable legacy of excellence in the realm of EVs, but it has also revolutionized the automotive industry in its entirety. As a matter of fact, the venerable inventor Carl Benz played a pivotal role in engineering some of the earliest and most groundbreaking prototypes of contemporary automobiles. These include the iconic three-wheeled vehicle powered by a single-cylinder internal combustion engine that graced the scene in 1886.
Mercedes-Benz has a rich history of electric vehicle development that dates back to the early 1900s when the company first began experimenting with electric car technology. Over the years, it has continued to push the boundaries of EVs. Although many automakers claim "EV heritage" in their history books, Mercedes actually has some solid development to back it up.
The company's first electric effort dates back to 1906, with the first hybrid vehicle, the "Mixte." Although it ran on a combination of power sources, its electric motor provided up to 55 horsepower — enough to drive the car at a top speed of up to 75 miles per hour.
Today, electric vehicles represent the culmination of over a century of research and development, with modern technology that delivers exceptional performance, efficiency, and sustainability. From concept cars to production models, Mercedes' commitment to EV innovation continues to shape the future of the automotive industry.
Mercedes' EQ Series and Plans for EV Innovation
Mercedes-Benz has taken the automotive world by storm with its EQ series of electric vehicles, which represent an amazing and exciting vision for the future of transportation. The EQ series is a family of all-electric vehicles that showcase commitment to sustainability and innovation, with advanced features and technologies that set new standards for performance, comfort, and convenience.
From the compact EQA to the spacious and luxurious EQS, each vehicle in the EQ lineup offers a unique blend of style, performance, and sustainability, making it easy for drivers to find the perfect electric vehicle for their needs.
But the brand's plans for the future of EVs go beyond just the EQ series. The company has committed to offering an electrified version of every vehicle in 2022, meaning that drivers have even more options when it comes to finding an electric vehicle that fits their lifestyle.
Moreover, with the company's focus on sustainable manufacturing processes, renewable energy, and battery technology, it intends to lead the way in the transition to a more sustainable and eco-friendly transportation sector.
Looking ahead, Mercedes is also exploring new and innovative ways to integrate EVs into our daily lives. The company is investing in advanced charging infrastructure, including wireless and high-speed charging technologies, to make it easier than ever for drivers to charge their vehicles on the go. This reduces the need for human intervention and makes the industry even more convenient and accessible than ever before.
Revolutionizing the Future: A Walk Through Mercedes' EV Models
Mercedes-Benz has been at the forefront of electric vehicle innovation for over a century, with a rich history of pioneering breakthroughs and game-changing technologies that have transformed the way we think about transportation. Below is a brief timeline of some of the most important milestones in the development and release of Mercedes' EVs.
1906: Mercedes developed the world's first hybrid vehicle, the "Mixte," which combines a gasoline engine with an electric motor.
1969: Mercedes introduced the first-ever electric vehicle, the "LE306," a delivery van powered by a 22-kilowatt motor.
2010: Mercedes introduced the world's first all-electric van, the "Vito E-Cell," with a range of 130 kilometers.
2012: Mercedes introduced the B-Class Electric Drive, its first production electric vehicle, with a range of 200 kilometers.
2016: Mercedes introduced the EQ concept car, previewing the company's upcoming EQ series of all-electric vehicles.
2018: Mercedes introduced the EQC, the first production model in the EQ series, with a range of over 400 kilometers.
2021: Mercedes introduced the EQS, a modern and luxurious electric sedan that sets new standards for performance, comfort, and sustainability.
2022: Mercedes introduced EQS 450 4MATIC Sedan (all-new) that is surely going to turn heads.
2023: Mercedes introduced GLC 300 / GLC 300 4MATIC SUV (redesign), which is a great vehicle.
EQC (2019-present) – A compact sport utility vehicle (SUV) based on the X253 GLC-Class platform
With each new release, Mercedes has continued to push the boundaries of electric vehicle technology, setting new standards for performance, efficiency, and sustainability. Introducing the Mercedes-Benz EQC, the electric SUV that combines innovative technology with luxury design.
As the first all-electric model, the EQC sets the standard for sustainability, performance, and style in the electric vehicle market. With its smooth, aerodynamic design, it has a range of up to 220 miles on a single charge and impressive acceleration that delivers an unforgettable driving experience.
Built on the X253 GLC-Class platform, it is a compact SUV that offers ample space for passengers and cargo without compromising style or performance. Its electric powertrain delivers instant torque and quiet operation. Meanwhile, a suite of advanced features, including a panoramic sunroof, ambient lighting, and an intuitive infotainment system, elevate the driving experience to new heights.
EQV (2020-present) – A minivan based on the W447 V-Class platform
If you're in the market for a family-friendly vehicle that doesn't compromise on style, look no further than the EQV. Based on the reliable W447 V-Class platform, this minivan has all the space and versatility you need to transport your loved ones in comfort and ease.
But the EQV is more than just a traditional car; it is a sleek and modern machine that exudes sophistication and elegance. Its bold front grille, sweeping lines, and LED lighting make it a head-turner on the road. And the spacious and well-appointed interior is designed to pamper your passengers with features like ambient lighting, climate control, and a high-quality sound system.
But perhaps the most impressive aspect of the EQV is its innovative electric powertrain. It delivers a smooth and quiet ride while emitting zero emissions. With a range of up to 213 miles on a single charge, you can confidently tackle long road trips or daily commutes.
EQA (2021-present) – A compact hatchback
Get ready to turn heads with the all-new EQA, the stylish and sporty compact hatchback that's shaking up the electric car scene. With its striking design, impressive performance, and advanced technology, it is a game-changer in the world of electric cars.
Under the hood, it has a powerful electric motor that delivers instant acceleration and a smooth, quiet ride. And with a range of up to 263 miles on a single charge, you can tackle your daily commute or weekend adventures with confidence.
Although, it is more than just a practical electric car; it's also packed with cutting-edge features that will make your driving experience more enjoyable than ever.
From the advanced MBUX infotainment system with voice control to the high-quality sound system and climate control, you'll have everything you need at your fingertips. So, if you're looking for a car that combines style, performance, and technology, it's a perfect choice.
EQS and EQS SUV (2021-present) – A luxury sedan and luxury SUV
The EQS and EQS SUV are the latest additions to Mercedes-Benz's luxury lineup, featuring cutting-edge technology, advanced performance capabilities, and an elegantly designed exterior. The EQS, a full-size luxury sedan, has a smooth, streamlined silhouette that blends form and function while it delivers a commanding presence on the road, with a raised ride height and bold, athletic lines.
Inside, both vehicles are adorned with premium materials, including a range of fine leathers, sustainable woods, and sleek metal accents. The cabin is spacious and comfortable, with ample room for both drivers and passengers.
The interior's centerpiece is the advanced MBUX infotainment system, which incorporates state-of-the-art features like augmented reality navigation, natural language voice commands, and a range of digital displays.
Both are powered by high-performance electric motors, delivering smooth, quiet acceleration and impressive range. The EQS can travel up to 480 miles on a single charge, while the EQS SUV offers up to 435 miles of range. Both vehicles feature advanced suspension and handling systems, ensuring a smooth and comfortable ride.
Thus, both represent the pinnacle of luxury and performance in the Mercedes-Benz lineup, combining advanced technology with a distinct, sophisticated design. These vehicles offer a truly unique driving experience, elevating the standard for luxury sedans and SUVs alike.
EQE and EQE SUV (2021-present) – A mid-size sedan and mid-size SUV
The EQE and EQE SUV are the latest offerings from Mercedes-Benz's luxury electric vehicle lineup, providing drivers with an exquisite combination of elegance, comfort, and performance. The EQE is a mid-size luxury sedan, while the EQE SUV is a mid-size luxury SUV, and both vehicles feature a host of advanced features that make them stand out in their respective classes.
The exterior of both the EQE and the EQE SUV exudes a sleek and sophisticated design, which is not only aesthetically pleasing but also enhances the vehicles' aerodynamics. Inside, the EQE and the EQE SUV are fitted with premium materials, comfortable seating, and advanced technology, providing occupants with a luxurious driving experience.
Both vehicles run on a fully electric powertrain, providing drivers with a smooth and silent driving experience, producing zero emissions. They offer a maximum range of over 400 miles, making them practical for long road trips, and you can charge up using a fast-charging station or a conventional wall outlet.
Thus, both EVs combine luxury, performance, and sustainability in a unique package. They offer an exceptional driving experience with the latest technology, comfort, and convenience features.
And don't forget, they give drivers peace of mind since they know they are driving a vehicle that is kind to the environment. With the EQE and the EQE SUV, Mercedes-Benz has again raised the bar for mid-size luxury vehicles.
EQG (2022-present) – A full-size luxury SUV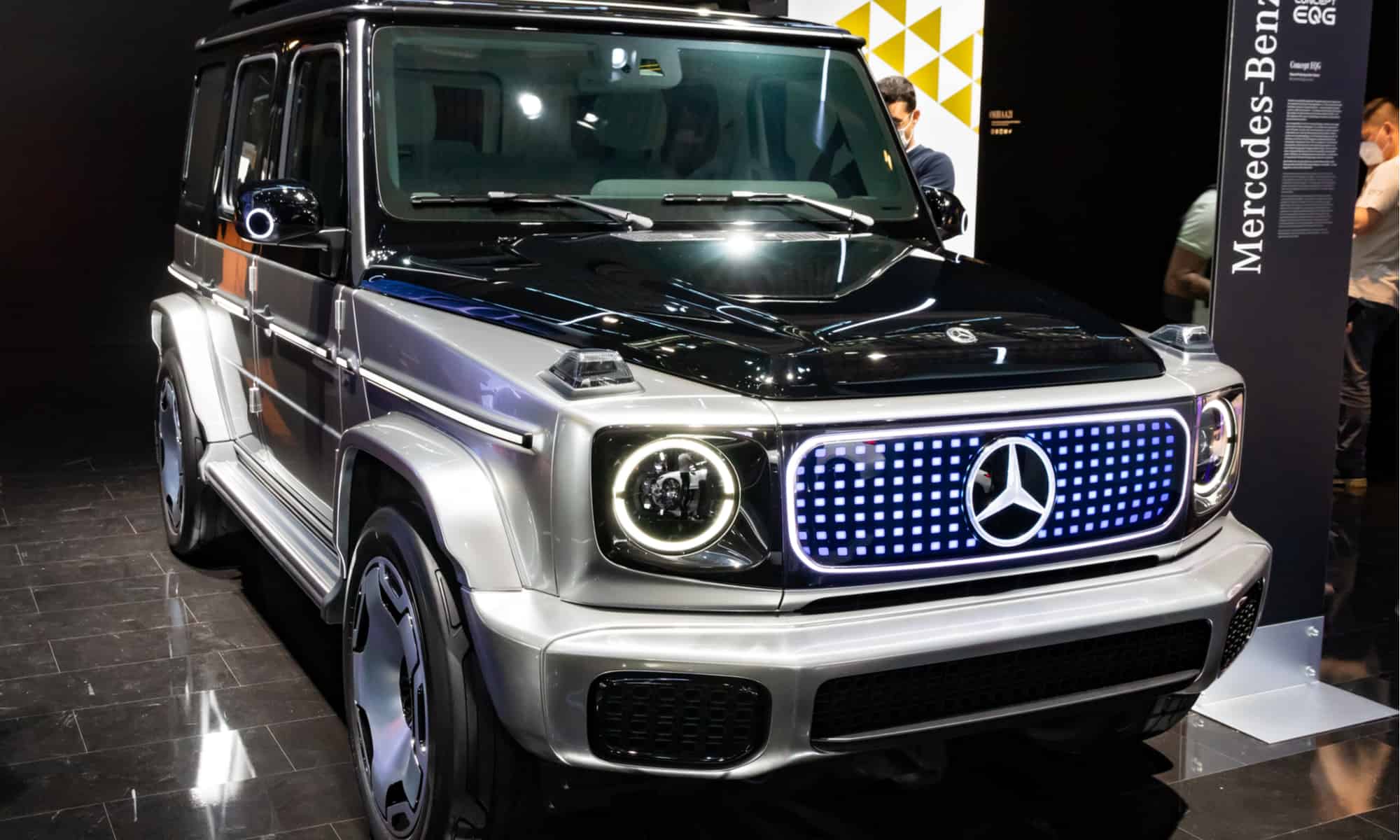 The EQG is a full-size luxury SUV that made its debut in 2021 and is set to be released in 2022. The EQG retains the G-Class's rugged and boxy exterior design while incorporating advanced electric powertrain technology.
The EQG is expected to feature two electric motors, one mounted on the front axle and one on the rear, providing a four-wheel-drive system. It will also offer a range of up to 200 miles on a single charge and fast charging capabilities that allow for an 80% charge in just 40 minutes.
Inside, the EQG is expected to offer a range of premium materials and advanced technology features, including the latest version of the MBUX infotainment system, which incorporates a range of digital displays and natural language voice commands. The cabin is likely to be spacious and luxurious, with ample room for both driver and passengers.
The Mercedes EQG promises to offer a unique combination of luxury, performance, and sustainability, making it a highly anticipated addition to the Mercedes-Benz lineup. As an electric version of the legendary G-Class, the EQG is sure to capture the attention of those who love its classic design, but also want the latest electric vehicle technology.
Electric Titans: How Does Mercedes Compete with Other EV Makers?
When it comes to the competitive electric vehicle market, Mercedes is a worthy contender. Their electric vehicles, the EQS and EQC, both offer an impressive range, advanced technology, and luxurious interiors. However, they face stiff competition from other big-name brands such as Tesla, Lucid, and BMW.
Tesla is a major player in the electric vehicle market, with a range of high-performing electric cars at varying price points. Their Model S and Model Y offer impressive range and performance, while their Model 3 is one of the most affordable electric cars available.
Lucid is also making a name for itself with its luxurious features and long range. Their Air model, for example, has a glass canopy roof and a 34-inch curved glass display.
BMW is another formidable competitor, with its i4 Gran Coupe model boasting a range of up to 300 miles, as well as sporty performance from its dual electric motors. The i4 also features advanced technology, such as a digital instrument cluster, driver assistance systems, and BMW's Intelligent Personal Assistant.
In terms of price, the Mercedes EQS starts at a higher price point than most of its competitors, including the BMW i4 and Tesla Model S. The Mercedes EQC is also pricier than the Tesla Model Y and Lucid Air. However, both Mercedes electric vehicles offer a level of luxury and advanced technology that sets them apart from other brands on the market.
The image featured at the top of this post is ©VanderWolf Images/Shutterstock.com.