As soon as the Steam Deck was announced by Valve, excitement quickly mounted over the idea of a true handheld gaming PC. This is not an unfamiliar opportunity as other companies have tried before with varying success, but no company has been able to find the exact balance for a sustainable product. At least, until the launch of the Steam Deck.
More than a year after its release, the Steam Deck is showing no signs of slowing down — quite the opposite, in fact, as more than one million units have been sold and counting.
Valve's commitment to the hardware has been shown through a multitude of various software updates and dedication to working with developers to ensure Steam Deck compatibility on both old and new game titles. So far, everything seems positive and, while the Steam Deck is not a perfect product, there are definitely a myriad of reasons why you should own one.
Let's break down what you need to know below.
Steam Deck Quick Facts
| | |
| --- | --- |
| Release Date | February 2022 |
| Price | $399, $529, $649 |
| Memory Size | 64GB, 256GB, 512GB |
| Size | 11.7 x 4.6 x 1.9 inches |
| Weight | 23.5 ounces |
| Battery Life | 2-8 hours |
| Display | 7-inch, 1,280 x 800p IPS LCD |
| Touch Enabled? | Yes |
| Connectivity | Bluetooth 5.0, dual-band Wi-Fi |
| Available Games | Over 7,000 and counting |
The Best Handheld
Valve Steam Deck 64GB
Plays your Steam library and PC games from anywhere
Optimized AMD processor
7-inch touchscreen and touch controls

64GB onboard storage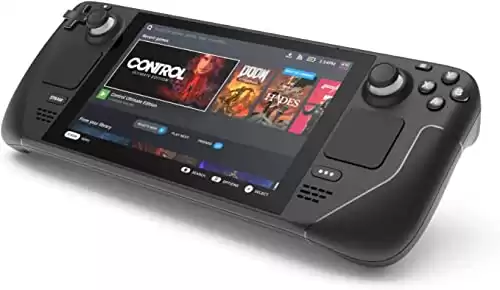 We earn a commission if you make a purchase, at no additional cost to you.
It's Portable PC Gaming
While the Steam Deck has given way to a variety of competitors like the AYANEO 2, it's hard to remember any PC gaming handhelds prior to the Steam Deck. This is likely because they were not very good or they were not truly portable; at least not portable in the way the Steam Deck is. Yes, the Steam Deck is fairly large as a portable and it makes the Nintendo Switch look small, but there is one constant you hear from Steam Deck owners and that is how comfortable it is to play on.
This is because Valve considered weight, size, and portability and created hardware that, while large for a handheld, is still truly portable. Packed with the default Valve case or any of the dozens of available case options from Amazon like the Tomtoc carrying case, you can stick the Steam Deck right into a backpack and go. It's really that easy, and while you might need to pack the charger separately, you can take the Steam Deck with you just about everywhere, which is absolutely the best reason to buy. As it's comfortable to play on for lengthy gaming sessions is all the more reason why its portability is a huge strength.
Dock it Anywhere
The default Steam Deck dock is a great option for connecting to a television or a monitor and playing on a big screen. The reality is that you don't even need the official Steam Deck dock as, like cases, there are dozens of alternatives, like the portable UGREEN USB-C Hub that is both less expensive and more portable than the Valve dock and offers a plethora of connections.
No matter which dock you use, official or otherwise, you can plug the Steam Deck in and immediately play all of your available games on a larger screen. Similar to how the Nintendo Switch operates, this gives the Steam Deck the best of both worlds.
When you are on the go, you can go portable and take the Steam Deck anywhere, and when you are home, plug it into a deck and go to the big screen. There are no differences as to which games you can play and, in fact, there's the advantage of connecting to something like an Xbox controller when you are docked for a familiar layout.
Our Dock Choice
We earn a commission if you make a purchase, at no additional cost to you.
So Many Games
Yes, the Steam Deck can only play around 7,000 titles out of the 50,000 or so through the Steam store today, but that's still almost 15% of all titles. Popular games like Hogwarts Legacy, Elden Ring, Apex Legends, and No Man's Sky are just a few of the titles that you can pick up and play right now.
Even with so many titles, it's important to note that some games are listed as Playable which means Steam Deck owners have discovered they work well with limited bugs. Valve also lists some titles as Verified, which means Valve has verified with the developers that these games are ready to play out of the box with the Steam Deck.
Service on Your Own
This isn't going to be a reason for everyone, but the understanding that you can service the Steam Deck on your own is one heck of a reason to buy. It's a stark contrast from the likes of Nintendo, which would never imagine a world in which you are able to self-service the Switch dock, console, or even the Joy-Cons. Unlike Nintendo, Valve sells replacement parts via iFixit that you can use to make some quick replacements or send it back to them to fix as well.
This type of self-servicing may not last forever (or it could), but for now, it's something that very few manufacturers of any type of gaming or PC equipment offer, so it's an incredible bonus for all Steam Deck buyers. Separately, the ability to open up and look at the Valve hardware without breaking the warranty has led to many people upgrading the default hard drive so they have more space available for games. Not only does Valve allow it, but they also provide instructions on how to do it.
Emulate Everything
Nostalgia for older video games is currently enjoying a moment and the retro game movement is one of the best reasons to pick up a Steam Deck. Not only can you play older games through the likes of non-Steam stores like GOG or Humble Bundle, but you can also add emulators to play games on systems like Super Nintendo, Game Boy Advance, Nintendo DS/3DS, Dreamcast, PlayStation, and more.
Through a service called Emudeck, you can easily hook up and play thousands of games from the last 30 years. You have to find the games (called ROMs) on your own, but in doing so, you open the door to one of the most powerful handheld video game emulators available today. Installation is a breeze and the software will help you get through everything you need in order to start playing in just a few minutes.
It's So Versatile
Much of this has been hinted at earlier, but the versatility of the Steam Deck is really something wonderful. Along with the ability to play games from both the Steam store as well as third-party locations like GOG, Epic Games, Humble Bumble, and more, you can also do quite a bit else.
Plugging your Steam Deck into your dock, you can transition it into a Linux-based desktop where you can install apps like Firefox or Ungoogled Chromium and create something of a makeshift computer. With a browser installed, you can surf the web, check your email, or buy another Steam Deck directly from the Valve website and give it to your favorite child.
If you really want to, you can even install open-source software like LibreOffice and find yourself with a dedicated presentation tool and word processor. There are not likely to be many scenarios in which the Steam Deck is a better option for spreadsheets over a dedicated computer, but it's very cool that you can do everything you might need to do in a pinch on the Steam Deck.
It Will Bring You Back to Gaming
There are countless numbers of stories online of people who had all but given up on long-form gaming and found their way back to it using the Steam Deck. The Steam Deck is not for everyone, but for those who love the idea of sitting comfortably on a couch and gaming, the Steam Deck is the perfect solution. You won't be able to play home console exclusives, but out of the 7,000 titles available on the Steam Deck, there has to be something for everyone.
Even if you just buy the Steam Deck as the ultimate emulation machine, there is a very good chance that, if you had given up gaming for good, getting your hands on a Steam Deck may be just what the doctor ordered.
Pricing is Glorious
At its base price, the $399 Steam Deck is a wonderful deal and definitely less money than a comparable gaming computer. Even with only 64GB of storage on the base model, you can still add your own microSD card to improve storage right away. Jumping to $529, you get 256GB of storage and still a piece of hardware less than a comparable gaming computer. The best Steam Deck model, the $649 512GB version offers the best display of the bunch with anti-glare and still feels like you are getting something really fantastic for the money.
No Replacement Anytime Soon
Last but not least, the reason you can comfortably buy a Steam Deck is that you can do so without fear that another one is going to come out in a month or three. Valve has been absolutely clear that new hardware is years away and they are committed to the current generation well into the future. This has been proven time and time again based on the number of updates the company is constantly rolling out with bug fixes and improvements.
On top of hardware support, customer support for Valve is among the best-in-class across all gaming computer manufacturers. This is a company that stands behind its products and wants its Steam Deck customers to be thrilled with its newest product. Should you have an issue, they will work with you to find a resolution or discover something that works best for both parties.
Wrap Up
Rest assured that if you choose to buy a Steam Deck today, there are even more than the 9 main reasons identified here as to why you should buy one. Whether you are new to gaming or just want another addition to a growing gaming collection, the Steam Deck is here to stay and has hopefully revitalized the handheld industry for PC gaming in the same way the Nintendo Switch has done for portable consoles.
The image featured at the top of this post is ©Mr.Mikla/Shutterstock.com.