Key Points
Mirrorless cameras offer faster shutter speeds, making them ideal for capturing moving objects and sports photography.
These cameras are lighter and more compact, allowing for more space for additional gear and easier handling.
Mirrorless cameras are becoming the industry standard, with 63% of photographers already using them and major manufacturers focusing on their development.
Great video capabilities and real-time view of shots make mirrorless cameras perfect for content creators and beginners.
Top mirrorless cameras include the Sony Alpha 7RV, Nikon Z 7II FX, and Panasonic LUMIX S5II, each offering unique features and capabilities.
Although mirrorless cameras have been around for decades, they only became the talk of the town after Sony shot an entire Hollywood film, The Possession of Hannah Grace, with a mirrorless camera. Since then, mirrorless cameras have taken the world by storm, with industry heavyweights like Nikon, Sony, and Canon digging deep into their pockets to improve their features.
In fact, in 2022, CIPA companies shipped 4.11 million mirrorless cameras around the globe, and research predicts further growth in the coming years. It's no doubt that mirrorless cameras are here to stay, so it's a good idea to stay abreast of any developments. If you have been toying with the idea of upgrading to a mirrorless camera, this might be the best time to get one, as the features have really improved over the years.
Let's dive in and find out why a mirrorless camera might be your next best purchase.
Faster Shutter Speed
When it comes to capturing the best shot, every second matters. Since mirrorless cameras don't have a mirror moving up and down to capture an image like their DSLR counterparts, they save you time and you can capture more images quickly.
Best for Moving Objects
Capturing a moving object isn't the easiest thing on Earth. You have to be pretty strategic, and even so, you may not always get the best shot. Fortunately, the fast shutter speed coupled with sharp autofocus will get you a perfect image of a flying bird or a running dog in the park. If you are a sports photographer, you should consider upgrading as a mirrorless camera will give you better results.
More Space for Additional Gear
Seasoned photographers realize how important space is when packing up photography gear. Even the minimal space matters. Mirrorless cameras are small and more compact for the obvious reason that they lack an inbuilt mirror. You, therefore, have more space to pack extra batteries or storage devices and any other backup gear you may need.
Lighter is Better
Honestly, the last thing you want is to move up and down, taking shots with a heavy gadget weighing you down. A lighter gadget might make all the difference in capturing the most spectacular shots. If you have been frowning at your heavy DSLR camera, you definitely should buy a mirrorless camera. Although the weight difference may not be as significant, we believe even a few grams lighter is a better deal.
Future of Photography
Change is inevitable, and with technology, you shape up or ship out. Clearly, mirrorless cameras are here to stay, and the best you can do is jump onto the bandwagon before it's too late. The leading camera manufacturers are channeling resources toward improving their mirrorless cameras. On the other hand, not much attention is being paid to improving DSLR cameras. Therefore, in the coming years, mirrorless cameras might be the industry standard, and you will have no choice but to upgrade. 63% of photographers already use mirrorless cameras, and you shouldn't be left behind.
Great Video Capabilities
We live in a visual world, and almost everyone is a content creator. As a content creator, your video quality sets you apart, and there's no better way to achieve that than to use a mirrorless camera. Thanks to their fast shutter speed, compactness, shallow focus, and great image stabilization, you can shoot an entire film with these cameras.
Real-Time View of Your Shot
Mirrorless cameras are straightforward since there's no light bouncing off the mirror to the viewfinder. As such, their electric viewfinder gives you a live view of how your final shot will look like. If you are a newbie photographer, it will be easier to start with a mirrorless camera.
Perfect for Silent Shooting
Silent shooting may not matter until you have to capture an animal or a newborn baby sleeping. The last thing you want is to startle them with the shutter noise, which might mean losing the perfect shot. With DSLR cameras, the mirror flips out of the way when capturing a photo, hence the shutter sounds.
The 3 Best Mirrorless Cameras to Buy Today
Best for Advanced Tech: Sony Alpha 7RV (A7RV)
Best for Advanced Tech
We earn a commission if you make a purchase, at no additional cost to you.
The Sony A7RV is a bad-ass mirrorless camera, featuring the latest AI technology.
While most cameras only have a facial recognition feature, A7RV takes things a notch higher. Their AI-based autofocus can recognize different human postures, vehicles, and insects.
If you are into detail (which photographer isn't?), you will love the A7RV, as its 61.0 MP full-frame sensor gets you high-resolution films (8K 24p/25p and 4K 60p/50p), including the subtle details. The BIONZ XR processor increases the shutter speed times 8, and you can capture up to 10 images per second. The processor also reduces noise and enhances low-light photography.
Other features we love about the Sony mirrorless camera include dual-card slots for CFexpress Type A, UHS-II SDXC/SDHC, and UHS-I cards, eight stabilization levels, and a dust filter with over 70,000 oscillations per second.
If speed is really important to you, consider getting a different camera. With some cameras offering up to 120 FPS, you might find the Sony A7RV pretty slow. Remember that higher FPS sometimes means lower-resolution images, so you must weigh your needs carefully.
| BIONZ XR engine allows you to shoot in low light | Cons |
| --- | --- |
| AI technology that recognizes human postures, insects, and vehicles | Average shooting speed |
| BIONZ XR engine allowing you to shoot in low light | |
| Two media slots | |
Best for Image Sharing: Nikon Z 7II FX
Best for Image Sharing
Nikon Z 7II FX-Format Mirrorless Camera Body Black
45.7 MP

3.3x more buffer capacity than the original Z 7

Faster continuous shooting

Improved AF performance and functionality

Dual card slots (CFexpress/XQD and UHS-II SD)

4K UHD 60p video

Max focal length: 0.95 Millimeters
Optical Zoom: 1.0 Multiplier x
Video Capture Resolution: 2160p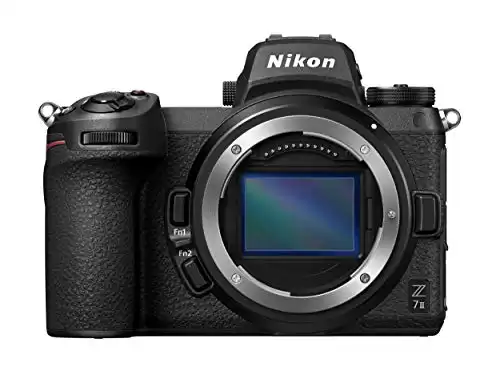 We earn a commission if you make a purchase, at no additional cost to you.
If you want to share your best shots with the world ASAP, the Nikon Z 7II FX is your best pick.
With Bluetooth, Wi-Fi, and SnapBridge, you can transfer your images and videos to your mobile device without breaking a sweat. SnapBridge also lets you store your data on Nikon's cloud and update your camera's software.
With five-axis stops and a vertical battery grip, blurry photos and videos will be a thing of the past. Not to mention that the 45.7 MP sensor with sharp autofocus gives you high-resolution visuals (4K 60P). Nothing is worse than your camera going off in the midst of a shoot, especially if you can't charge it. While it's always safe to have an extra pair of batteries, you can always recharge the Nikon Z 7II with a USB-C charger — a feature that its predecessors lacked.
For the perfect grip, the Z 7II is sturdy and light with a rugged design. It also features two processors (Expeed 6) and dual media slots, one slot for UHS-II SD cards, and the other for XQD and CF Express Type B cards.
However, its shooting speed (10 FPS) isn't really something to brag about.
| Pros | Cons |
| --- | --- |
| Connects with Wi-Fi and Bluetooth | Average shooting speed |
| Compatible with SnapBridge | |
| Easy to charge with a USB-C charger | |
| Two card slots | |
| Rugged design for a perfect grip | |
Best for Versatility and Flexibility: Panasonic LUMIX S5II
Best for Versatility and Flexibility
We earn a commission if you make a purchase, at no additional cost to you.
The Panasonic LUMIX S5II gives you a myriad of options when it comes to connectivity.
It connects via Bluetooth, Wi-Fi, USB, and HDMI, simplifying data sharing. With different platforms demanding different content ratio aspects, the right camera will save you the editing headache. The Panasonic LUMIX S5II has a flexible frame to capture different content proportions (16:9, 9:16, 5:4, 4:3).
Its phase detection autofocus (779 points) gives you accurate shots quickly, while the cooling fan lets you take numerous shots without your camera going off due to overheating. You can also get creative with the colors from the camera's library LUT to save time on post-production editing.
If you are all about the details, the 24.2MP LUMIX S5II may not be the best choice. While the face detection technology is a good idea, we feel that more can be done, seeing that its competitors can detect insects and vehicles.
| Pros | Cons |
| --- | --- |
| Versatile when it comes to connectivity | Low MP |
| Can create content of different proportions | Only detects the face |
| Cooling fan so that you can shoot for longer periods | |
| LUT library to help capture perfect images | |
The image featured at the top of this post is ©Marc Calleja/Shutterstock.com.