Minnesota has over 35,000 EVs and PHEVs registered. While The North Star State is pretty cold quite a few months out of the year and doesn't offer many incentives for EV owners, that doesn't mean these vehicles aren't extremely popular. So, what are the most popular EVs in Minnesota? Here are the stats!
Total Electric Vehicles Sold in Minnesota
Based on information from January 1, 2021, to December 31, 2021, the total number of all-electric vehicles registered in Minnesota was over 35,000.
EVs currently make up around 0.25% of all registered vehicles in Minnesota. Luckily, we have outside research that showcases these sales and their percentages!
The most common EV is the Tesla Model Y, which makes up 41.5% of all registered EVs. Ford F-150 Lightning comes second, making up 6.35%. Nissan isn't far behind at 6.26%. Chevrolet and Audi account for 5.89% and 2.61% of EVs, respectively. The others are fairly marginal, but you can see their final percentages below!
| Make/Model | Cars Sold | EV Percentage |
| --- | --- | --- |
| Tesla | 14,903 | 41.5% |
| Ford | 2,440 | 6.35% |
| Chevrolet | 2,177 | 5.89% |
| Hyundai | 459 | 1.28% |
| Kia | 587 | 2.35% |
| Nissan | 2,250 | 6.26% |
| Audi | 935 | 2.61% |
| Other | 12,191 | 33.76% |
| Total | 35,942 | 100% |
The 7 Most Popular EVs in Minnesota
Moving away from EV registrations and market share, let's dive into the most popular EVs in Minnesota and see what they offer!
Tesla Model Y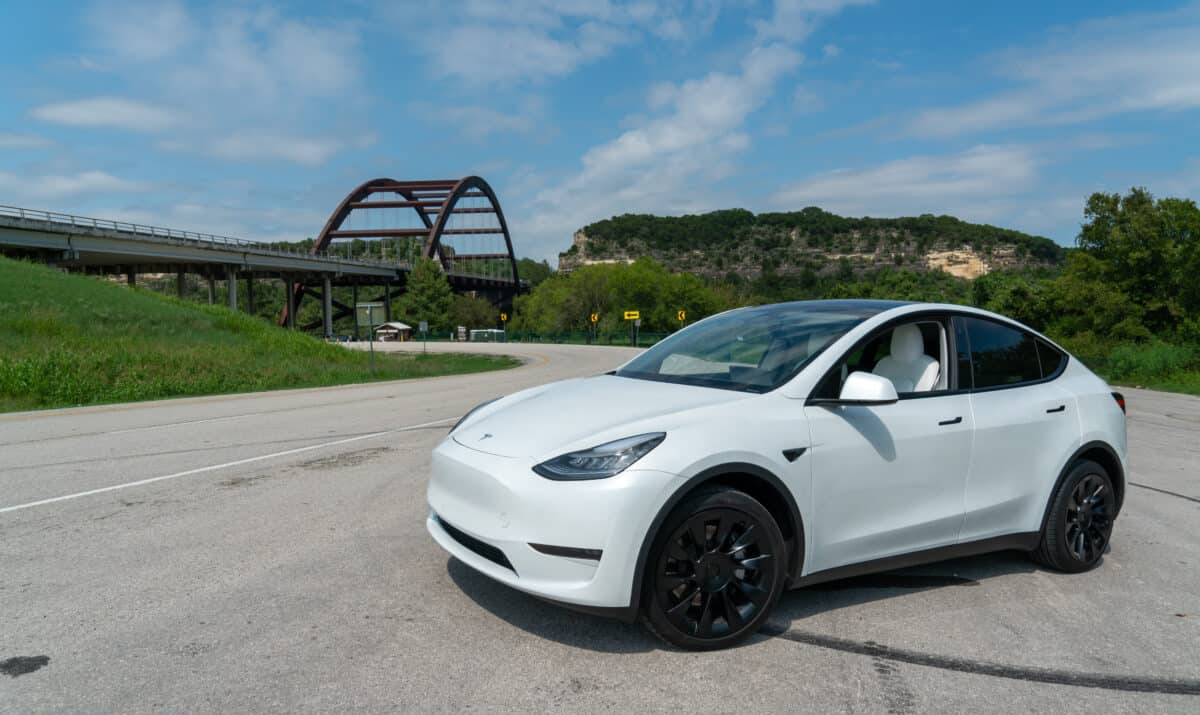 The Tesla Model Y SUV may appeal to you more than the conventional Model 3 sedan, thanks to a higher seating position. It offers more cargo room and seats seven people. A 75 kWh battery pack rechargeable up to 250 kW is included with every Model Y, giving you over 310 miles per charge.
Model Y also does well in terms of safety. The National Highway Traffic Safety Administration (NHTSA) awarded it the maximum possible five stars overall, and the Insurance Institute for Highway Safety (IIHS) named it a Top Safety Pick+. So if safety is a big concern for you, you can't do much better than the Model Y.
You can charge the Model Y 100% at home using an AC charging port in around 8 hours and 15 minutes. Charging takes roughly 27 minutes when using a Tesla Supercharger. The 2023 Tesla Model Y starts at a little under $60,000. So it's certainly not cheap. However, it's a high-quality EV that can last for years while being stylish.
Ford F-150 Lightning
Want a truck instead of an SUV? It doesn't get much better for EVs than the Ford F-150 Lightning. First, you have two battery options — 98 kWh and 131 kWh. Ford claims that the 98 kWh battery will provide 230 miles of range. The 131 kWh batter offers an extended-range battery of up to 300 miles, or 320 if you choose the Platinum trim level.
Another perk of this truck is the towing capacity, one of the highest out of all EVs! Trucks equipped with the optional Extended-Range battery can pull around 10,000 pounds. The maximum capacity for the Standard-Range battery versions is 7,700 pounds. The Standard-Range model has a payload capacity of up to 2,000 pounds, while the Extended-Range has a payload capacity of 1,800 pounds.
Just like with Tesla, these benefits will cost you. The truck starts at around $58,000. Compared to other trucks, this isn't too much of a difference!
Chevrolet Bolt
If you're looking for a great starter car or a more affordable EV, you can't go wrong with the Chevrolet Bolt. Although it has fewer high-end features than comparable vehicles like the base Tesla Model 3 and Nissan Leaf, Bolt's front area is exceptionally roomy. Bolt EV outperforms some seating and luggage measurements on larger vehicles, like the Kia Niro EV. Although it isn't as strong as Tesla, Bolt is almost as effective. And you can't beat the under $30,000 price tag.
Both trim levels — 1LT and 2LT — are built on a rear-wheel-drive platform and have a 65 kWh battery size, with a range of about 260 miles. Also, it is simple to ride while generating power, thanks to a one-pedal drive button.
Bolt accelerates from 0 to 60 mph in under 7 seconds and has 200 horsepower and 266 pound-feet of torque. So it won't feel slow or sluggish, which is excellent if you don't like heavy gas pedaling.
The Chevy Bolt can handle all three EV charging levels, from Level 1 slow charging to Level 3 DC fast charging. It will take 7 hours to fully recharge the battery at Level 2, which adds around 39 miles of range every hour. Level 3 increases the range by about 100 miles in 30 minutes, taking less than an hour to charge the vehicle entirely.
Hyundai Ioniq 5
Ioniq 5 isn't the cheapest option on our list, but it's a superb mid-tier vehicle and perfect for those needing space and towing capabilities. The current range rating for the All Wheel Drive (AWD) Ioniq 5 is 266 miles. Its MPGe rating is now 113 in the city, 90 on the highway, and 101 when combined. This EV can also tow!
In contrast to the SE and SEL trims, which start at $45,000 and $47,000, respectively, the base Standard Range model has a starting price of $41,000. Base pricing for the Limited option is the highest at almost $53,000.
Its 800-volt construction makes charging at rates much over 200 kW possible. Going from about 30% to 80% often takes less than 10 minutes with DC fast charging. But expect it to take 7 to 10 hours when using a Level 2 charger.
Kia EV6
For a good reason, the Kia EV6 is often compared to the Hyundai Ioniq 5 in EV owner circles. Both offer lots of cargo and leg space, plus lots of features, minus the hefty tag of Tesla.
While slightly more expensive than the Ioniq 5, the Kia EV6 is faster and easier to drive. The all-wheel drive vehicles are more powerful too. You can order yours with a larger battery pack with a maximum driving range of 310 miles. Rear-wheel drive is standard. On back roads, Kia EV6 is enjoyable because of the aggressive handling, which is unusual for an SUV. So this is great for speed demons! And with 576 horsepower, you'll easily pass other EVs.
The EV6 can have an electric motor put on the rear axle to provide rear-wheel drive, or it can have electric motors on the front and back axles to offer all-wheel drive. You can also choose between a 58-kWh and a 77.4-kWh pack. The larger, long-range battery is EPA-rated for up to 310 miles, while the smaller, regular battery has an EPA-rated range of 232 miles.
At a starting price of $48,000, the 2023 Kia EV6 costs slightly more than other non-luxury electric SUVS. Starting at around $53,000 is the middle EV6 GT-Line with RWD. The starting prices for the Wind and GT-Line with all-wheel drive are $53,000 and $57,000, respectively.
Nissan Leaf
Leaf doesn't have the aesthetic appeal of other well-known brands but has nonetheless established itself as a well-liked electric vehicle. It's among the few cars still qualifying for the federal tax credit. And you certainly can't beat the price tag of just $27,000 for base pricing.
Five different Nissan Leaf models are currently on the market. The 40 kWh battery in the entry-level Leaf S has a meager range of 149 miles. The Leaf SL Plus represents the pinnacle of the Leaf line. With 215 miles on the tank, it doesn't have the longest range in the fleet. Going for $37,400 price, the EV includes Bose speakers and part-leather seats.
Only get a lower-end S or SV model with a 149-mile range if you are convinced that your everyday driving will not exceed that limit. Give yourself some wiggle room as well as cold weather may reduce the battery's overall range, while warmer days will demand more electricity to keep the interior cabin cool.
Overall, the Nissan Leaf is a lovely, affordable, everyday car. It is ideal for a beginner or teen driver or any environmentally conscious person who lives in the city.
Audi e-tron GT
Another luxury EV, the e-tron GT, is the marquee model for Audi's new all-electric sub-brand. This vehicle has a sleek and expressive look, unlike Audi's customarily conservative style approach.
A Bang & Olufsen sound system, integrated toll module for the rearview mirror, anti-theft wheel bolts, and 20-inch wheels with all-season tires are now standard on every e-tron GT. A new optional 21-inch 10-spoke wheel package replaces the previously offered gray finish wheels for the e-tron GT Prestige.
Each e-tron GT has a 93-kWh battery with a maximum DC fast charging capacity of 270 kW. Electric Quattro all-wheel drive is made possible by the transmission of power to two electric motors, one on each axle. The e-Tron GT has a two-speed automatic transmission, unlike single-gear EVs. The EPA rates the 2023 range and efficiency at 238 miles and 81/83 mpg-e city/highway, respectively.
However, you'll certainly pay for these features, as the Audi e-tron GT is the most expensive option on our list, starting at $106,000. This shouldn't be an issue if you're willing to pay for luxury!
The Most Popular EVs in Minnesota Wrap Up
The most popular EVs in Minnesota range from affordable and simple to luxury vehicles with all the bells and whistles. And luckily, you can't go wrong with any of the options. It really all just depends on your budget and what you want out of your EV!
Breaking EV News
June 9, 2023 — Drivers who own Ford or General Motors (GM) EVs will soon be able to charge their vehicles at 12,000 Tesla Superchargers. Mary Barra, GM's CEO, and Tesla's CEO Elon Musk made the announcement on Twitter Spaces Thursday.
Ford and GM EV owners will be able to charge at Tesla's Superchargers using an adaptor at the start of 2024. And, starting in 2025, both industry giants will feature Tesla's North American Charging Standard connector on their EVs. The move is likely to make Tesla's North American Charging Standard connector the U.S. industry standard.
The image featured at the top of this post is ©f11photo/Shutterstock.com.