Key Points
Face ID is Apple's latest security measure for iPhones and iPads.
Pending updates may prevent the feature from working properly.
Poor positioning may also prevent Face ID from functioning effectively as well.
Since Apple removed the fingerprint scanner from the iPhone and iPad, Face ID has become a way of life.
It can also cause havoc when Face ID stops working and goes on the fritz, which happens for a number of reasons.
If you're having issues with Face ID not working, there are 6 common reasons why it could be malfunctioning. We're going to tell you how to address them, and touch on steps you can take before calling on Apple customer support.
Common Reasons for Face ID Failures
Pending Updates
Are you the type of person that puts off updates for a few days? If so, that could be why Face ID stops working on your iPhone or iPad.
Apple has always been great at keeping its devices updated. Considering Face ID acts as security, it's not an area where they slack. If Face ID isn't working, make sure your device is up to date by going to Settings > General and tapping the Software Update button.
If there is an update for your smartphone or slate you might have missed, it could clear up any problems with Face ID.
Dirty or Blocked TrueDepth Cameras
The first thing you should do when Face ID isn't working is take a look at the front of your device. There are TrueDepth cameras on each side of the top notch. If a thick camera case blocks the notch, it will affect Face ID functionality.
Dirt and grime over these areas could also cause a Face ID malfunction. If the case or thick screen protector isn't the culprit, try cleaning the front of the display with a soft cloth to remove any dirt or oil.
Time for a Reboot?
Smartphones and tablets are basically pint-sized computers and perform many of the same functions. Most people use them in a similar way as well, which means they are left on for days or weeks at a time.
Uptime is the term for how long a computer stays on. While you can't top PC times with a smartphone for obvious reasons, a simple reboot can fix a lot of problems.
When Face ID isn't working properly, give your iPhone or iPad a quick reboot and see if it clears up the issue.
Third-Party Permissions and Settings
Are you trying to use Face ID with a particular app or do you just need to unlock your iPhone or iPad? That makes a difference, especially when you consider the number of third-party apps that use Apple's Face ID for security. Face ID stops working if settings in this area are off.
When Face ID isn't working, there could be a problem in the settings for this feature. To access Face ID settings, you'll need to go to Settings > Face ID & Passcode. From here you can check to see what applications Face ID works with and if they are active.
All third-party apps are found under the Other Apps section in Face ID & Passcode settings. If you have trouble with banking apps or anything else that uses Face ID, check for activation here.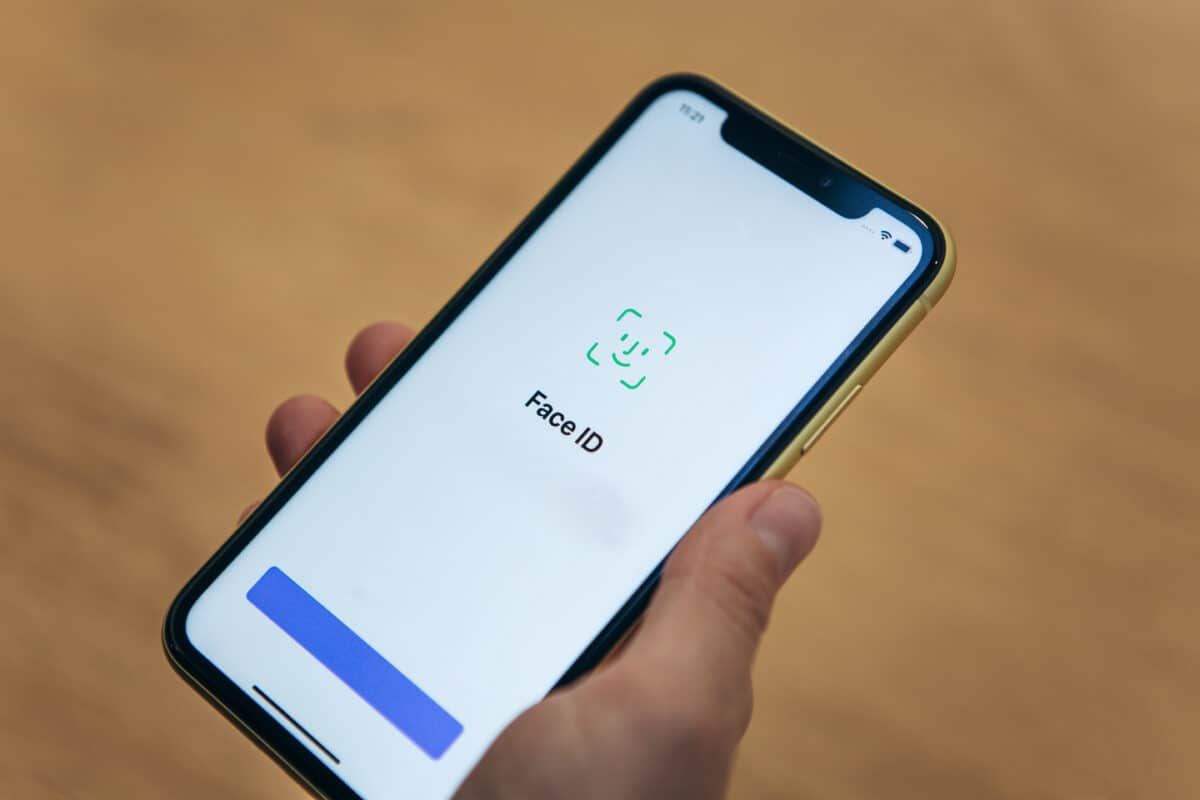 Blocked Face
This one may seem like a no-brainer, but you'd be surprised at how often people have trouble with Face ID because their face is partially blocked. Face ID technology is fantastic, but it's not perfect, so you can't unlock your phone wearing a Halloween costume.
When using Face ID, make sure your face is fully visable to the TrueDepth cameras, including your mouth, nose, and eyes. Face ID will work with sunglasses to a degree, but try taking them off if you're having issues.
Wearing a mask and sunglasses? That's not going to work, and certain types of sunglasses could interfere with the infrared light from the cameras. You can use Face ID with face masks, but you have to set it up beforehand.
Poor Positioning
Positioning is another common problem that makes Face ID stop working, and it comes down to two factors in most cases-–range and orientation. If you're off with either, there's a chance Face ID may not work as it should.
The range on Face ID cameras isn't unlimited, despite their depth-sensing capabilities. You could need to move the phone around a bit, although it's best to hold it in a natural position as you would if you were taking selfies.
If you're trying to unlock your phone in landscape mode, that will be an issue on the iPhone. It only works in portrait mode on those smartphones but can function in either orientation if you're using an iPad.
Face ID Stops Working: Try These Tips
If you've followed our 6 steps and Face ID still doesn't work, there are still a few things you can try before it's time to call in the techs. None of these methods damage your iPhone or iPad, and you can accomplish most in less than 10 minutes.
Use an Alternate Appearance
As we've said, Face ID is smart, but it's not perfect, which can cause issues if your appearance changes. There are many reasons it may not recognize your old image, but it's something easy to fix by setting up an alternate appearance.
To add a new image to Face ID without removing the old one, go to Settings > Face ID & Passcode. Tap the button for Alternative Appearance and follow the prompts to take a new photo. When complete, try to use Face ID again and see if the problem has been resolved.
Rest Face ID
Resetting Face ID is the easiest way to fix an issue when the screen is dirty or blocked and you're not fidgeting around in front of the screen. It's also the next step to take if setting up an alternate appearance doesn't work.
To do this, you need to go to Settings > Face ID & Passcode > Reset Face ID. When prompted, begin the setup process again, and then try to unlock your device once it's complete.
Factory Reset
As much as we love technology, even a small issue can have a major impact on a device. A newly installed app could make Face ID stop working on your smartphone and there are always viruses to consider.
While Apple is known for its ability to keep your devices safe and updated, sometimes a factory reset solves Face ID problems. It's something you only want to do as a last resort, and you'll want to ensure everything is backed up in the cloud before wiping the data from your phone or tablet.
To access factory reset, you'll need to go to Settings > General > Transfer or Reset Phone. Again, make sure you have everything backed up, and then tap Erase All Content and Settings.
Follow any prompts to complete the formatting and setup process. When complete, your iPhone or iPad resets to its factory state and you can proceed to set up Face ID again.
Conclusion
We hope our tips helped solve the Face ID problem with your device, but, if it didn't, there's one more step you can take by turning to Apple Support.
While the company recently relaxed its policy on screen repairs from third-party services that disabled Face ID, support may be able to help you address the issue before anyone opens up your device.
Up Next…
Interested in more phone-related articles. Click on the links below: