Nintendo's Switch console is one of the most popular gaming devices. Even though it came out several years ago, few handheld consoles can match ut. Much of what drives Nintendo's success is its first-party exclusives and a compelling reason to buy a Nintendo Switch.
The Switch is a phenomenal console. It's versatile to play at home or on the go. Despite not being the most powerful device available, the Switch can play some of the top titles in the last decade. Additionally, the console supports many classic games, ensuring you relive old memories.
Some Background on the Nintendo Switch
Nintendo Switch console came out in 2017 to critical acclaim. The console offered revolutionary gameplay with a tablet and two removable joy cons. Users can play at home, on the go, or even with consoles standing on their kickstands. Some initially felt the console was gimmicky, but seven years later, we all know the Switch is one of the industry's best.
Replacing Nintendo's Wii U and 3DS consoles, the Switch took the best attributes from its predecessors but kept one of the worst. Nintendo's handheld consoles were always some of the best, but recent home consoles weren't competitive. The Switch is no exception, as it cannot run many games from even the Xbox One and PlayStation 4.
Why Buy A Nintendo Switch?
Investing in a Nintendo Switch is one of the smart decisions you can ever make, and for these reasons:
Ultimate Flexibility
Nintendo Switch console provides the ultimate flexibility in gaming. You can play on the go or in the comfort of your living room. Moreover, the Switch can also stand on its own with the controllers removed. While this may not sound remarkable, it allows for awesome multiplayer gaming. Some games even allow you to use the two joy-cons separately in multiplayer mode.
The Best Handheld Console
Nintendo Switch's flexibility makes it the best handheld device on the market. Switch is available at an affordable price and has an incredible collection of games. In recent years the console has gotten some competition as other developers attempt to piggyback on its success.
Although some devices like Steam are more powerful and offer access to other game libraries, the Switch is still king. Unfortunately, it looks like the Switch may be nearing the end of its life cycle. New reports indicate that Nintendo will announce a new console in the next year. But this shouldn't worry you, as the Switch still has a fantastic library of games to keep you busy for years.
Best Console
Nintendo Switch
3 Play Styles: TV Mode, Tabletop Mode, Handheld Mode
6.2-inch, multi-touch capacitive touchscreen
4.5-9 plus hours of battery life
Up to 8 consoles can be connected for local wireless multiplayer
Model number: HAC-001(-01)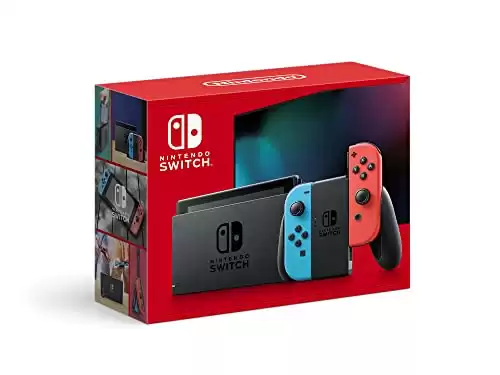 We earn a commission if you make a purchase, at no additional cost to you.
Several Console Choices
A unique aspect of the latest video game generation is that games have options. For example, Microsoft has the Xbox Series S and Series X, while Sony has a PlayStation 5 (with and without a disk drive). But before those consoles came out, Nintendo had already shaken things up with different Nintendo Switch versions.
You can choose from three variations with proprietary cartridges. The original Switch costs $299 and works as a handheld, though it comes with a dock. Their second model is the Switch Lite, a smaller, portable console. At $199, it does not have removable controllers. The newest model is the $350 Switch OLED with an upgraded display.
Great First Party Titles
Are you familiar with Nintendo consoles? If so, you may already know the company's epic first-party games. Remember, companies usually own franchises. But Nintendo does it unlike any other. Games from the Mario and Zelda series are cultural icons. And gamers of all ages can't wait to get their hands on it.
You can play all the fantastic games on the Nintendo device. Some of the most notable games include the new Legend of Zelda Tears the Kingdom and Mario Kart 8 Deluxe. Although first-party Nintendo games aren't the most graphically intense, they are some of the best games you can buy.
Play Classics on The Go
Nintendo games are top-rated, with gamers clamoring for titles that came out three decades ago. These games are timeless, and fans still want to play them on modern hardware. For many years Nintendo would either place their classic titles on the eShop or resell them as limited editions.
Fortunately, you can now play NES, SNES, and Game Boy titles via their subscription program on the Nintendo Switch. You'll also find modern classics remade for the Switch. For instance, Super Mario 3D All Stars compiles three popular Mario games from recent systems.
Affordable Online Subscription
Nobody wants to buy a device only to learn they have to get a subscription on top of their purchase. For many, Sony and Microsoft charged subscription fees to play online games. Nintendo resisted throughout the Wii and Wii U life cycles. While these consoles did offer online multiplayer, they had a limited user base.
But with the launch of the Nintendo Switch, Nintendo finally decided to start charging. The good news is that you can play online with friends for a fraction of what their competitors charge. Nintendo's online subscription service also gives you access to classic games.
Alternatives to the Nintendo Switch
The best alternative to the Switch is the Steam Deck, which runs on Linux and can play a wide array of games. Even better, you can purchase a dock and use it with a TV at home. Some other alternatives to the Nintendo Switch are PlayStation 5 and Xbox Series S and X. If you're in the market for a handheld, options are fewer. New devices like Logitech's G Cloud allow gaming over the web. But game streaming is limited, and Internet service is often too spotty to work correctly.