TikTok has evolved into a powerful marketing tool. Numerous companies use the app to communicate with and engage their target demographic. Commercialization in TikTok has also allowed many users to get paid in various ways for their content.
TikTok is one of the top social networking platforms that have taken over the world in the digital age. It is a platform where users can create and share short videos, such as lip-sync videos, funny sketches, and educational videos. The app offers users several special features and editing tools to change and enhance their recordings, such as filters, stickers, and text overlays. Along with creating and sharing videos, users can also interact with one another through likes, comments, and private messaging. It has proven especially attractive to members of the Gen Z and millennial generations.
Let's dive right into how you can start earning on Tiktok!
How to Get Paid on TikTok
Owing to its popularity, several users of the TikTok app have found ways to get paid from it. You can monetize your TikTok experience and make a few extra bucks.
Below is a list of some of the most common ways to get paid from TikTok, so follow along if you want to create your next income stream!
1. Become an Influencer
A TikTok influencer is a user with a large following on the app. You can build a large audience with your creativity and content. After that, you can work with brands and businesses to advertise their goods and services. Start by:
Creating a captivating presence: It's crucial to have an engaging presence that draws followers and keeps them interested. This method entails producing fascinating, engaging, and shareable content.
Partnering with brands: You can start working with sponsors to provide sponsored content after you have a sizable following. Brands frequently pay influencers to advertise their goods on TikTok and other social media platforms.
Joining the TikTok Creator Fund: As a creator, you can get paid from your TikTok profile as long as you meet some prerequisites. Here, you can make money depending on the number of interactions you have with users.
Utilizing other platforms: After gaining a following on TikTok, you can use other sites like YouTube and Instagram to spread the word about your videos and earn money. To further market your business and earn money, you can produce several forms of content, like tutorials, blog posts, and videos.
Going live on TikTok: Several influencers on the app go live and collect virtual gifts from viewers. The items can be converted to money. Create more activities and livestream them to earn money.
Using advertising: This includes putting advertisements on your TikTok profile to market goods or services. You can also produce sponsored content highlighting an advertiser's products or services.
2. Sell Products
Like other social media platforms, you can advertise your merchandise on TikTok to boost your sales. You can use TikTok to sell products by doing the following:
Make an original hashtag to go along with your merchandise: You can use this to monitor the success of your TikTok promotion. It also makes your brand more noticeable.
Producing interesting videos showcasing your items: You can use these videos to show users how to use them and emphasize their benefits. Using this tactic, you may educate your audience about your products and the best ways to use them.
Using TikTok's Shop Now option to link straight to your store's website simplifies the purchasing process for buyers, encouraging them to buy your products. It also increases your store's visibility.
Interacting with your TikTok followers: Replying to messages and comments from fans can help create a community around your product and boost sales. To entice viewers to purchase, make sure your videos contain a call-to-action.
Analyze your sales statistics: Evaluate your TikTok stats to see how well your videos perform and what you can change to make them more effective. It can aid in strategy optimization and boost your TikTok revenue.
3. Use Affiliate Marketing
TikTok accounts with large audiences advertise goods and services from other businesses in exchange for a commission on each transaction they make. As a creator, you can partner with sellers whose products or services align with your brand. You can start by logging in to the TikTok Shop Seller Center, clicking the Affiliate Marketing button, and choosing an affiliate plan that satisfies your needs. Monetize TikTok using affiliate marketing by:
Opening an affiliate account: You must first open an Affiliate Account to begin affiliate marketing on TikTok. Register with a reputable affiliate network like Commission Junction, ShareASale, or ClickBank to accomplish this.
Defining your target audience: Once you have a profile, you must decide who your target market is. Start by finding out what kind of material on TikTok your target audience is interested in.
Producing compelling material: After determining your target market, produce engaging content that will influence viewers to click on your affiliate links. Make instructional videos for the goods or services you are promoting to encourage your followers to purchase the products or services you are advertising.
Promoting your content: After you've created engaging content, you need to spread the word about it. You can achieve this by utilizing appropriate hashtags, running advertisements, and interacting with users interested in the goods or services you offer.
Track your performance: To ensure your efforts are bringing you return, you must monitor your performance. Utilizing tracking links will enable you to see how much traffic and revenue your affiliate links bring in.
For a comprehensive walkthrough of affiliate marketing for TikTok, check out the following video:
4. Create Sponsored Content
Brands frequently pay influencers to promote their goods or services in exchange for merchandise. You can utilize the branded content toggle in TikTok to clarify that a commercial relationship exists between you and a company. Use the following tips to make money from brands by advertising them on TikTok:
Identify your target audience: analyze the audience you want to attract and their demographic. This will allow you to customize your content and thus increase your chances of attracting sponsors.
Develop partnerships with brands: Get in touch with those who share your target audience's interests and are relevant to your content. Building connections with these companies ensure you give them what they want.
Produce interesting content: Now that you've determined your target market and built partnerships with brands, it's time to get inventive. Consider how you might provide interesting material that appeals to your target audience and potential sponsors.
Market your content: After you've generated it, it's critical to market it to your intended audience. Use influencers and hashtags to attract the correct audience to view your material.
Negotiate a sponsorship agreement: Now that prospective sponsors are interested in your project, it's time to create a sponsorship agreement. Know what you are willing to give and what you want to get in return.
Monitor your progress: Keep tabs on the reach and interaction of your posts to track the development of your sponsored content. This strategy will enable you to assess your level of success and, if necessary, make adjustments.
5. Teach a Course
Create lessons on TikTok using your knowledge and experience and charge for access.
Teaching a lesson on TikTok can get you paid in several ways:
Provide a paid course or workshop: You can make a course or workshop on a subject you understand and charge for it on another platform. TikTok will be a good platform for advertising the course and attracting new students.
Create a course in collaboration with a business: You might approach businesses that provide goods or services relating to your expertise and offer to develop a course or workshop on their behalf. Following that, the business can advertise the course to its clientele, and you can receive a cut of the revenue.
Sell a course through a platform for online learning: You can create a course and sell it through a platform like Teachable or Udemy. One can use Tiktok to advertise your course and drive traffic to these platforms, letting you create and sell courses to a large audience.
Provide one-on-one coaching or consulting: If you prefer to work with students, you can provide one-on-one coaching or consulting. Utilize TikTok to advertise your business and draw in new customers.
Promote your course: Promote your course using the TikTok platform. Use influencers to help spread the word about your course and create content to inform people about it.
Help and support your customers: Provide assistance and support to those who buy your course. Answer their inquiries and offer assistance with any issues they may be experiencing.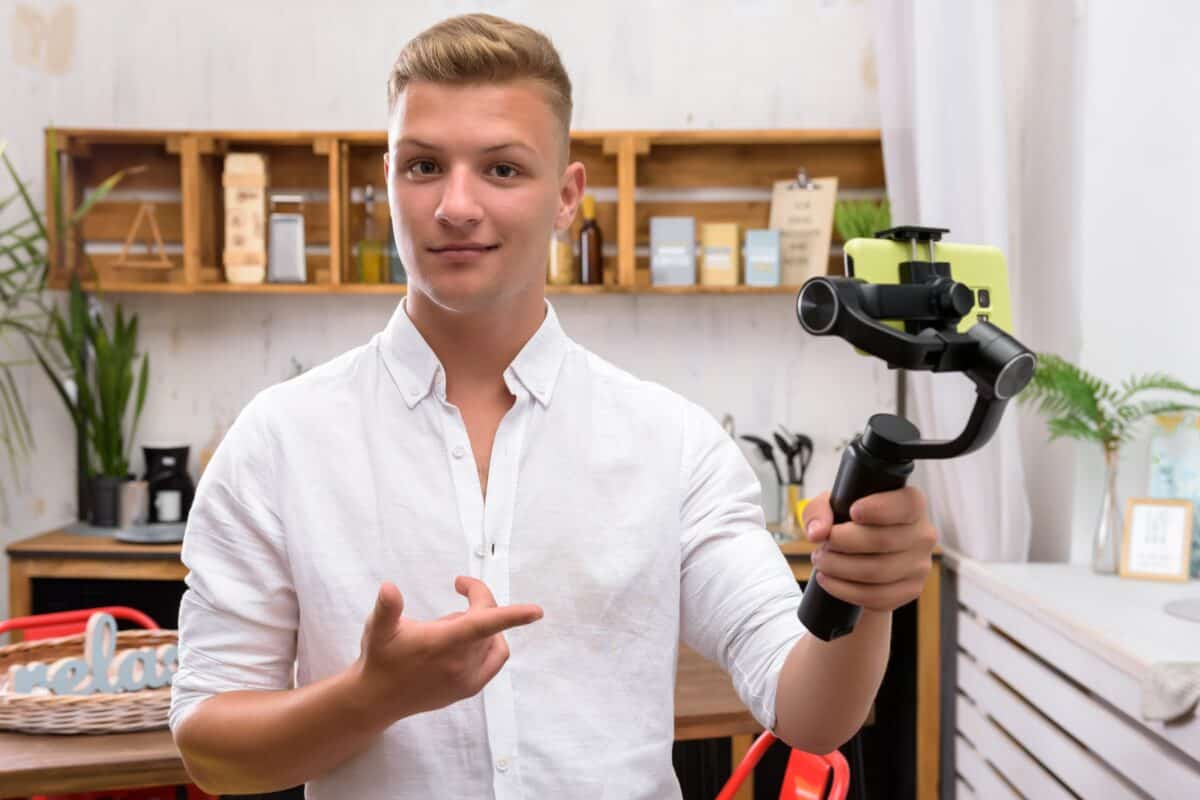 6. Promote Your Music
If you're a musician, post your music to TikTok and make it available for users to purchase. This can be accomplished by:
Creating a presence on the site: Interact with your fans and other users to promote your music. Use popular hashtags to keep your content on the top results of different searches.
Promote your music: You can include links to a music store or streaming website in the description of your TikTok videos. You can also reach out to other influencers on the platform to share your music.
Create covers of popular songs: Take advantage of platform trends by producing timely, pertinent content. Once users discover you from TikTok trends, they may peruse your other content and like your music, helping you grow your audience.
The image featured at the top of this post is ©Ti Vla/Shutterstock.com.