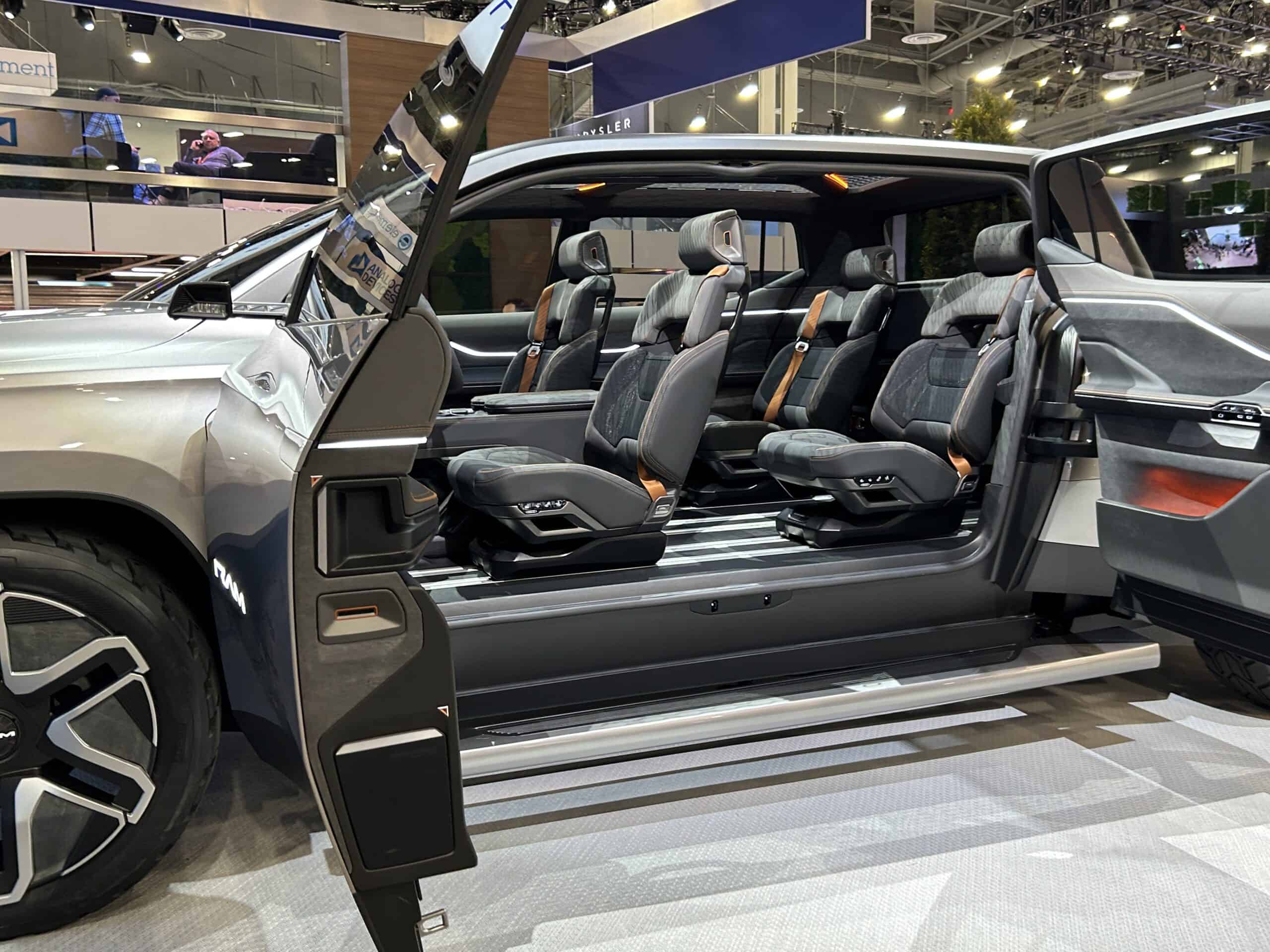 As electric vehicles continue to grow in both popularity and availability, there is bound to be an increase in the number of different types of vehicles available. This will likely include everything from coupes to convertibles, monster trucks and semi-trucks, all the way to big old SUVs that can seat seven.
Whether you are a large family, a bunch of friends, or a band going from gig to gig, having a larger electric vehicle that can fit more people will come in handy time and time again. 
Thankfully, electric vehicle manufacturers are getting ahead of all types of different use cases and there are already a bunch of options out there for anyone who needs seven seats right now.
Let's take a look at all of the currently available options if you are on the hunt for a seven-seater electric vehicle in your immediate future. 
Tesla Model X
The appearance of the Tesla Model X on this list was almost a sure thing with its seven-seat option. As much of a sure thing as it was to appear on this list, know that it's going to hit your bank account hard.
The Dual Motor All-Wheel Drive variant of the Model X will set you back a cool $109,990 as a starting MSRP, and that's before you get to premium exterior and interior paint colors, upgraded wheels, and the biggest expense of choosing between Enhanced Autopilot or Full Self-Driving Capability. If you add up all of the most expensive options available, your Model X starting price jumps way up to $141,490, and as it's Tesla, there is no negotiating. The price you see online is the price you pay. 
The good news is that, for the price, you get one of the coolest EVs on the road capable of going from 0-60 in 3.8 seconds. On top of that, you can achieve up to 330 miles of range on a single charge which is one of the most impressive SUV EV numbers around. Take your Tesla home and on a Level 2 240V charger and you'll get 44 miles of range back per hour or with one of Tesla's Superchargers, up to 200 miles of charge in 15 minutes. 
Most importantly with the Tesla X, you get enough room for seven full-size adults with three rows. The only downside with this seating arrangement is that you do have to sacrifice some storage capacity but that's a worthy tradeoff for its range and performance. 
Tesla Model Y
If you thought the Tesla Model X was the only seven-seater in the company lineup, you'd be mistaken. While smaller in overall size, the Tesla Model Y is fully capable of seating seven if you opt for its Long Range configuration.
With a much more reasonable starting price of $54,990, you can add additional options like premium exterior and interior colors, tow hitch, upgraded wheels, and Full-Self Driving Capability to bring your total vehicle price to $79,990. 
For that price, you'll receive 326 miles of range on a single charge unless you opt for the 20-inch induction wheels which reduce range to 314 miles. Either way, the Model Y still offers a best-in-class number for overall range as a mid-size SUV. Like the Model X, you can charge your Tesla at home on a Level 2 240V charger for 44 miles per hour or up to 200 miles of range in 15 minutes using any Tesla Supercharger around the United States (or the world). 
Like the Model X, you do sacrifice storage for the extra row to achieve seating for seven but with the frunk, there's still plenty of room for families, shopping, and fun. 
Rivian R1S
Part pickup truck, part family hauler, the Rivian R1S is a real head-turner thanks to its fun style and excellent storage capacity. Not only can the Rivian seat seven people but it also offers multiple configurations so you can choose to fit up to five car seats (for the quintuplet families out there) or fold down the third row and make it a bicycle-friendly hauler.
No matter how you convert the Rivian R1S, there's definitely ample space to take a family of seven all around town or on a road trip thanks to the extra storage coming in at a whopping 104 cubic feet of storage. 
The starting price of $78,000 can quickly climb up if you opt for the Quad-Motor AWD instead of the standard Dual-Motor AWD option. This is an extra $8,000 and the large pack battery offering a range of 321 miles on a single charge is another $6,000. Your choice of paint or five different wheel types can quickly up the price to around $95,000. It's definitely a lot of money for a pickup, but with all of that storage and seating, it's very worth it. 
Add in up to 7,700 pounds of towing capacity, a 0-60 time of three seconds, and a charging speed on a Level 2 charger that adds up to 25 miles of range per hour and it's easy to see why the Rivian R1S is so popular. 
Mercedes EQB
Offering typical Mercedes-level luxury, the Mercedes EQB is a beautiful seven-seater that can do pretty much anything you want it to do. There's ample room for grocery shopping just as much as there is room for taking the kids to and from soccer practice. To achieve all of these errands you'll need strong range, and the Mercedes EQB comes complete with 243 miles of range on a single charge.
With a starting price of $54,500, you can work your way up to the Pinnacle trim level and a top price of more than $67,175. As part of that pricing, there is an optional third-row seating package which costs an additional $1,250. 
If the price hasn't frightened you off, you'll easily be won over by the incredible dashboard of the Mercedes EQB. The single screen stretches across the entirety of the driver and center console area and is arguably one of the best infotainment systems currently available. Because of the size of the screen, there's plenty of detailed information on your vehicle including traffic, safety measures, range, speed, charging time, and navigation. 
To keep the Mercedes EQB moving you and the family, plug into a Level 2 240V charger and you'll hit 10-100% in just under 8 hours. DC fast charging is even more impressive, taking the EQB from 10-80% in approximately 32 minutes which is quite advanced as far as EV SUV standards. 
Mercedes EQS 
Like the Mercedes EQB, the Mercedes EQS offers seating for seven while providing a heightened level of luxury over its smaller sibling.
As you might guess, this extra luxury comes at a price, as the base EQS 450+ SUV has a starting MSRP of $104,400, while the top trim, the EQS 480 4MATIC SUV, begins at $125,950. For these prices, you get extra battery life that offers a range of 305 miles on a single charge, as well as increased acceleration that takes you to 0-60 in 6.5 seconds. 
What's most attractive about the EQS is that its cabin is among the most flexible in the Mercedes lineup. Rear-seat passengers can opt for their own screens for a more personalized entertainment experience and comfort settings. When combined with the driver, dashboard, and passenger screens, the EQS 580 has a grand total of 56 inches of total screen space available for infotainment and entertainment. 
Another highlight of the Mercedes EQS is that it utilizes Mercedes Navigation with Electric Intelligence for smart route planning to optimize speed and range. With a heads-up display, the driver never has to take their eyes off the road to locate navigation direction, speed, and charge details. There's even a built-in camera system that will take a photo when parked in the event you are bumped by another car. 
Seven Seaters Coming Soon
For the moment, the list of seven-seater electric vehicles in the U.S. is relatively small, but this number is about to increase significantly by 2024. A host of vehicles from various manufacturers are set to arrive that will comfortably seat seven people. 
Volkswagen ID.Buzz
Already planned for a European release this year, Volkswagen has committed to unveiling the ID.Buzz in the U.S. later this year for a planned 2024 launch. While not much is known about pricing, it is believed that Volkswagen is targeting a range of around 260 miles on a charge. Paying homage to the Volkswagen Vans of old, the ID.Buzz is the perfect family car that looks a whole lot more fun than the traditional minivan with plenty of room for seven people. 
Volvo EX90
Volvo's flagship EV, the Volvo EX90, has already been teased by the company and is set to arrive for U.S. customers in 2024. Replacing the seven-seat XC90, Volvo is positioning the EX90 as a direct rival to the likes of the Tesla Model Y and X and the Mercedes EQS. With seating for seven, the EX90 borrows heavily from its XC90 sibling but adds a more futuristic style and plenty of technology improvements including a LiDAR system to ensure added safety for all seven passengers. Volvo is teasing a range of around 360 miles pending EPA review. 
Hyundai Ioniq 7
Hyundai is still keeping the Ioniq 7 fairly under wraps as the final style has yet to be unveiled. Whether it will look similar to the prototype shots currently released by Hyundai or look more like a larger version of the Hyundai Ioniq 5 is yet to be known. What is known is that there is seating for up to seven and a planned range of over 300 miles on a single charge. Like the Hyundai Ioniq 5 and 6, the company is also planning for DC Fast Charging to take around 30 minutes to go from 10-80% which is perfect for family road trips. 
Kia EV9
Like Hyundai, Kia is also preparing its latest seven-seater with the likes of the EV9. Thought to be the EV version of the company's popular Telluride model, the EV9 will utilize the company's E-GMP platform which, like Hyundai, enables fast charging so owners are back on the road in no time. Kia is planning for a range of around 300 miles and a price tag starting at around $50,000 for its entry-level variant. Another feature the Kia EV9 and Hyundai Ioniq 7 share is the use of Pause Mode which turns the driver and passenger seats around to talk with passengers when parked or Enjoy Mode which flips every seat backward to enjoy nature with an open tailgate. 
VinFast VF9
The least well-known name on this list is Vietnamese manufacturer VinFast. With plans to release their VF9 in the U.S. in 2023, there are still a lot of unknowns left to learn before anyone can safely say if this vehicle is ready to compete in the ultra-competitive U.S. market. The car is believed to be around the size of the 2023 Kia Telluride complete with three rows and seating for seven. All models will arrive with all-wheel drive and a 15.6-inch infotainment display plus driver assistance features. The estimated range is thought to be around 369 miles, but that's before EPA testing begins.