Apple is a top-tier tech company with an amazing product lineup known for its outstanding features. Airpod Max headphones are among the company's hot-selling devices, with up to 20 hours of listening time. Unfortunately, even the best gadget has flaws, and the Airpod Max headphones aren't without fault. Reasons like a hefty price, a flimsy case, and some missing features are valid reasons to make you overlook Airpod Max. Let's dive into why AirPods Max headphones shouldn't top your list of headphone choices.
Reason 1: They are Expensive
At over $549, Airpod Max costs more than other models with similar features. Contrary to what you may assume (as we shall see later in the post), the high price of AirPods Max does not mean it has fantastical features and abilities. Bose Noise Cancelling Headphones 700 cost $379, and Sony WH-1000XM4 sells for $289. Both headphones are quite similar to AirPods Max and may even sound better.
Airpod Max is more expensive due to its noise-canceling feature, transparency mode, and adaptive EQ features. However, these features are available in the competitor headphones. No matter how incredible the features are, it does not justify the fact that AirPods Max costs twice as much as similar headphones from reputable brands. So, unless you are an all-Apple product die-hard and aren't afraid to splurge, we see no reason to pay that much for AirPods Max.
Reason 2: The Case is Weird
A smart case is part of the Airpod Max package. However, this smart case sparked many memes and jokes after the release of these headphones. Its distinct shape resembles a lady's undergarment from its handbag-like handle and the delineated cups. Others say that it looks like a purse.
Assuming we forgive the shape of the case, it also doesn't protect the whole piece but just the ear cups. This means the headphones are still at risk of damage if you put them in your bag. Compared to other carrying cases that entirely cover the headphones, the Airpod Max, headphones are less protective than you would want. Even if some headphones don't have the case as part of the package, you can buy a compatible case separately, and you still won't reach the price of buying AirPods Max. For instance, you can get the Geekria Shield Case and secure your headphones better.
Reason 3: No Catchy Features
As mentioned earlier, given the price of Airpod Max headphones, you might be expecting extraordinary features. Unfortunately, this is not the case. Let's start with the volume control buttons. Unlike other headphones whose control buttons are on the bottom side of the ear cups, AirPods Max buttons are on top of the ear cup. Sure, they don't have to do what everybody else is doing. However, having these controls at the ear cup's top means you must twist the digital crown for adjustments.
Additionally, the headphones' absence of a power button causes more harm than good. Apple designed the AirPods Max headphones to go into ultralow power mode when put in the smart case. Although this feature helps you to pair and switch devices seamlessly, it still would be better if they had the power button for when you need to power off the headphones completely. It also means that if you don't have your smart case, the headphone's battery will drain faster than expected, even if it is not in use.
Features, such as instant pairing, are available in other devices (even some from the Apple brand) but with a more affordable price tag. AirPods Pro offers active noise cancellation, adaptive EQ, transparency mode and is water-resistant, yet goes for $249. True, Airpod Max has a better design, but the major motivation for buying headphones is listening, not their design. The sound difference between Airpod Max and its alternatives should be as big as the price difference.
Reason 4: No Headphone Jack
Perhaps the biggest bummer for avoiding Airpox Max is it doesn't have a headphone jack. Apple assumed everyone would log on to their Apple ID, which is false. As a result, pairing the Airpod Max to other devices or using them on devices that aren't Bluetooth enabled becomes a headache.
Of course, Apple offers you the Apple Lightning to 3.5MM Audio Cable for $35. This is not expensive, but given that you had already paid over $500 for the headphones, you deserve a free cable. If you buy the lightning-to-audio cable, you will have spent $584 on headphones. The amount could go up if your device doesn't have a headphone jack (like the iPhones released after 2016). You will need an extra $13 for a USB dongle.
Apple is trying to reduce its environmental impact, which is good. But it would be better to include this cable and let the user decide whether to use it. Otherwise, with these headphones, you are restricted to Bluetooth connectivity.
Reason 5: Apple Often Goes Wrong With the First Version of Their Product
Unfortunately, Apple has a history of going wrong on the first attempt but later compensating fully. Do you remember the Power Mac G4 Cable that came out in 2000? Even Tim Cook admitted it was a spectacular commercial failure. The same happened for MacBook Pros, which had screen burn-in issues, and the iPhone 4 Antennagate, which forced users to hold the phone on a specific hand.
Given this history, there is no guarantee Apple got it all right with their first headphones. While this is just an assumption, you wouldn't want to spend your money not knowing whether they were right on the first trial.
Reason 6: Heavy and Uncomfortable
While Apple meant well when making aluminum ear cups and a stainless steel headband, the result was too heavy. These headphones weigh 385 grams(13.6 ounces), a bit heavier than other similar but sturdier headphones.
Is AirPods Max Worth Buying?
Whether to spend $549 (or more) on headphones is your call. Even so, AirPods Max are amazing headphones, especially if you choose to stick to the Apple ecosystem. You will appreciate them if you love Airpod Pros but prefer that they were over-ears.
AirPods Max headphones also have recommendable noise-canceling and transparency modes, thus creating quality sound. The ear cups have sensors that automatically pause whatever is playing when you remove them and resume when you put the headphones back on.
While AirPods Max is heavier than other models, the headband is professionally designed to distribute this weight evenly. The ear cups are also something to praise the headphones for, as they are comfortable and deep enough to allow room for your ears. You can also try another set of Ear Cushions for Airpod Max. If you feel you can't overlook the disadvantages of the case, get third-party cases for extra protection. Possible choices are co2CREA Hard Carrying Case, Yinke Smart Case, and Urban Armor Gear Rotation Weatherproof Case. These cases will ensure that your Airpod Max headphones are safe, although their ability to put them into sleeping mode can be questionable.
What are The Best Alternatives to AirPods Max?
If you can't overlook the above reasons to avoid Airpod Max, other options will serve the same purpose and compensate for the drawbacks of Airpod Max. These alternatives are:
Sony WH-1000XM5
Bose QuietComfort 45
Bose Noise Cancelling Headphones 700
Sony WH-1000XM5
If you are on a budget, consider the Sony WH-1000XM5, which is way cheaper than AirPods Max. They have excellent noise-canceling performance and a wired support connection, which lack in the AirPods Max. Unfortunately, these headphones are not sweat resistant, thus unsuitable for gym use. They also lack an IP rating.
Best Overall
Sony WH-1000XM5 (Silver)
Battery: 30 hours
Features an automatic noise optimizer (AI noise cancelling)
Includes Sony's V1 Processor for great sound
Features soft leather ear-cups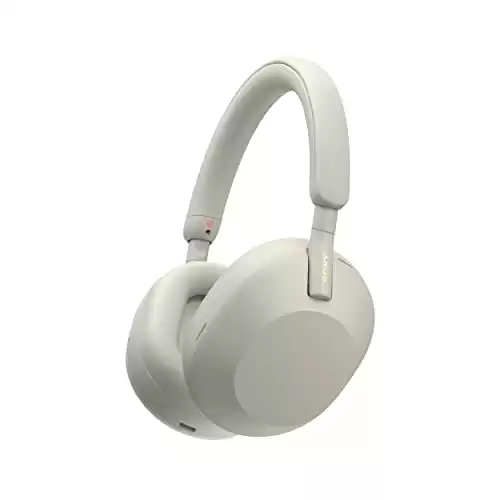 We earn a commission if you make a purchase, at no additional cost to you.
Bose QuietComfort 45
Bose QuietComfort 45 are also pocket friendly as they sell at $269. They are perfect at canceling noise and are comfortable even when used for long periods. Even so, their sound quality is wanting, lacking a true off-listening mode.
Bose QuietComfort 45
Excellent and comfortable design with an over-ear design
High-fidelity audio with adjustable EQ settings on Bose's smartphone app
Active noise cancelation includes both Quiet and Active modes
Get up to 22 hours of battery life with a 15-minute fast charge for 3 additional hours
We earn a commission if you make a purchase, at no additional cost to you.
Bose Noise Cancelling Headphones 700
The Bose Noise Cancelling Headphones 700 are powerful at noise canceling and giving a lifelike sound. They are also designed for comfort as they are lightweight and have a recommendable gesture pad. These headphones are not foldable, making it tricky to carry them around in your bag.
Best Travel
Bose Noise Cancelling Headphones 700 UC
Perfect for the home office, cubicle, open office
Adaptive 4-microphone system for clear calls
Bose app to personalize your environment
11 levels of notice cancellation
Easily switch between audio sources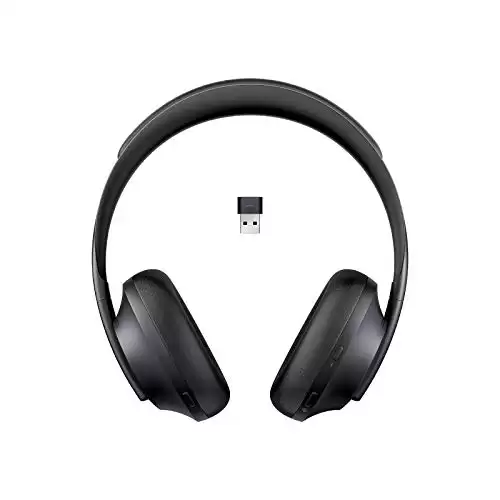 We earn a commission if you make a purchase, at no additional cost to you.
The image featured at the top of this post is ©Hadrian/Shutterstock.com.
Last update on 2023-11-30 / Affiliate links / Images from Amazon Product Advertising API