AMD designs and manufactures some of the best graphics cards. The company's focus on performance and efficiency makes its product highly sought after. With each release, AMD, like any other GPU maker, promises better features and improved performance. But that isn't always the outcome. A good example is the RX 6600, which came out in 2021 when there was a biting shortage of graphics cards.
RX 6600 doesn't handle a candle to the best GPUs in the market, and with the high pricing, it was barely acceptable. Still, it did its job, and many found the card quite powerful as there weren't many options. However, the RX 6600 wasn't the first of its series, and many PC builders had high expectations with its release. It was a downgrade from the RX 6600 XT, explicitly designed to suit the needs of 1080 PC gamers.
At least, that's what most PC builders thought, and given the tech specifications, they were just about right. For instance, the game GPU clock speed was low by a substantial 13%, from 2359 MHz, as was with the RX 6600 XT, to just 2044 MHz. AMD was also quick to reduce memory performance opting for the 14 Gbps running on the same 128-bit memory bus as with the RX 6600 XT. Below we delve into the best reasons to avoid an AMD RX 6600 graphics card and compare it to similar models like the NVIDIA RTX 3060.
About AMD Radeon RX 6600
| | |
| --- | --- |
| Manufacturer | AMD |
| Release Date | October 13, 2021 |
| Architecture | RDNA 2 |
| GPU Name | Navi 23 |
| Compute units | 28 |
| Boost frequency | Up to 2,491 MHz |
| Game Frequency | 2044 MHz |
| ROPs | 64 |
| Ray accelerators | 28 |
| Texture units | 112 |
| Transistor count | 11.1 billion |
| Processor Size | 7 nm |
| Bus Interface | PCIe 4.0 x8 |
| Memory Bus | 128 bit |
| Memory speed | 14 Gbps |
| Max memory size | 8 GB |
| Memory Type | GDDR6 |
| Memory Bandwidth | Up to 224 GB/s |
| Connectivity | DisplayPort: 1.4aHDMI: HDMI 2.1 VRR and FRLUSB Type-C: No |
| TDP | 132 W |
| Recommended power supply | 450 W |
| DirectX | 12 Ultimate (12_2) |
| OpenGL | 4.6 |
| Vulkan | 1.3 |
| Die size | 237 mm² |
| Launch Price | 329 USD |
| Current Price | Amazon |
Reason 1: Lowest Compute Units in AMD's RDNA 2 Line Up
Compute units (CUs) are one of the most crucial components of a graphics processing unit. These units perform the computation required to run complex simulations, render graphics, and execute other high-performance computing tasks. The RX 6600 only has 28 CU, which indeed is the lowest in AMDs' RDNA 2 lineup. The RX 6600 XT has 32 CUs, RX 6700 XT 40 CUs, RX 6800 60 CUs, and RX 6900 80 CUs.
The low number of computation units means the GPU processes fewer parallel tasks simultaneously. Often, this results in slower performance when running graphics-intensive applications like those needed when rendering, deep learning, or playing video games. However, some applications may not be as heavily dependent on the number of compute units in a GPU, and the impact of less CU count may not be as significant.
Compared to the RX 6600 XT, the reduced number of CUs saw stream processors decrease from 2048 to 1729, about 16%. In a basic sense, a stream processor is a processing core within a computing unit performing parallel data computations. Also referred to as shader cores, they are critical components required in the execution of shader programs in graphics rendering. The number of stream processors in a GPU is usually proportional to the number of CUs, with each CU containing a fixed number of stream processors.
A low number of compute units means decreased stream processors, which results in inferior GPU performance for parallel workloads like scientific computing, machine learning, and gaming. However, other factors like memory bandwidth, memory size, and clock speeds also play a role in determining GPU performance.
Reason 2: Poor Ray Tracing Performance
The RDNA 2 architecture in RX 6600 includes hardware support for ray tracing. AMD's implementation of the DirectX 12 Ultimate component makes this feature possible. However, the RDNA 2 architecture has fewer specialized hardware components dedicated to ray tracing. Unlike the NVIDIA RTX 3060, the RX 6600 also doesn't have tensor cores. Instead, the card has 28 Ray Accelerators, which is pretty low compared to the 32 in RX 6600 XT and RX 6650 XT.
One of the reasons NVIDIA RTX 3060 has better ray tracing capabilities than the RX 6600 is NVIDIA uses a dedicated ray tracing processor. In contrast, AMD features an accelerator in each Compute Unit, a more general architecture. NVIDIA designed its RT cores specifically to handle the complex calculations required for ray tracing. As such, they can run calculations much faster, resulting in better overall ray tracing capabilities.
Usually, enabling ray tracing results in lower framerates compared to running the same game without ray tracing turned on. AMD RX 6600 can deliver good ray tracing performance at 1080p, typical for most mid-range gaming monitors. But that's only about it. If you want to run ray tracing at much higher resolutions like 4K or 1440p, you'll have to get a more powerful graphics card like RX 6800, or NVIDIA's RTX series
Reason 3: Limited Upscaling Technology
Upscaling in graphics cards involves increasing the resolution of a lower-quality image or video to a higher resolution. Graphics cards achieve this using algorithms that interpolate the original image to create new pixels that match the desired resolution. In a basic sense, it's adding details to an image to make it appear sharper.
RX 6600 supports upscaling using technologies like Radeon Image Sharpening and AMD FidelityFX Super Resolution (FSR). Radeon Image Sharpening uses a contrast adaptive sharpening algorithm to reduce blurriness and sharpen images' edges, resulting in a more detailed picture. The AMD FidelityFX Super Resolution combines spatial upscaling, sharpening, and temporal reconstruction to provide upscaling with minimized performance impact.
While these technologies are impressive, they don't match NVIDIA's Deep Learning Super Sampling (DLSS). DLSS is a real-time upscaling technology that incorporates deep learning to enhance image resolution. It analyzes the low-resolution image and uses a deep neural network to predict how the higher-resolution image would look like. Because it's designed to work in real-time, it's the better option for use in video games and other real-time applications.
Because most games support DLSS, gamers tend to prefer NVIDIA graphics cards. Regarding frame rates, performance often depends on a specific game, but DLSS usually provides larger performance gains than FSR, especially when running games with higher resolutions, like 4K.
Reason 4: Only 8 GB VRAM
A graphics card's VRAM essentially determines its performance, especially in gaming and other graphics-intensive tasks. The RX 6600 has 8GB VRAM, which is decent for most gaming scenarios, particularly at 1080p. Unfortunately, at higher resolutions like 1440p or 4K, most games demand more VRAM. In such cases, the RX 6600 struggles to keep up, which can lead to stuttering and lower frame rates.
When buying a graphics card, you also need to consider future-proofing. As games become more graphically intensive, new technologies emerge, and the demand for higher VRAMS increases. RX 6600 card with 8GB VRAM is sufficient for most current games, but it may not be enough for future games.
Besides gaming, the low amount of VRAM also affects the performance of other graphics-intensive applications. Video editing and 3D modeling apps are more demanding than gaming, so the 8 GB on the RX 6600 may not suffice.
Reason 6: High Price, Poor Performance
While GPU's price doesn't affect performance, it affects the overall value proposition of a graphics card. An expensive graphics card can fail to deliver value if it doesn't meet the buyer's expectations. That was and still is the case with the AMD RX 6600. At launch, AMD sold the card for $329, which most PC builders found quite overpriced. This price was only $50 lower than AMD's asking for the RX 6600 XT. NVIDIA sold its RTX 3060 for the same price but had much better features than the RX 6600.
The current price of the RX 6600 ranges between $229 to $259 on Amazon. The RX 6600 has lower clock speeds and fewer cores than other midrange graphics cards. As such, it may struggle to deliver the same performance as its competitors, especially when dealing with more demanding games.
Best Alternatives to AMD RX 6600
If the RX 6600 doesn't fit the bill, you may want to consider some alternatives. Below is an overview of some better options.
Best Overall: MSI Gaming NVIDIA GeForce RTX 3060
EVGA GeForce RTX 3060
Real Boost Clock: 1777 MHz; Memory Detail: 12GB GDDR6.
Real-Time RAY TRACING in games for cutting-edge, hyper-realistic graphics.
Dual Fans offer higher-performance cooling and quieter acoustic noise.
3-Year Warranty & EVGA's Top Notch Technical Support.
We earn a commission if you make a purchase, at no additional cost to you.
Based on the Ampere NVIDIA's 2nd generation RTX architecture, RTX 3060 is a mid-range GPU that offers excellent performance for its price. It comes packed with 3,584 CUDA cores and a boost clock speed of 1777 Mhz. It also has an NVIDIA encoder that helps with the built-in live streaming and ray tracing features, ensuring realistic and immersive graphics.
With the NVIDIA studio platform, you can experience AI acceleration in your creative apps, thus enhancing your workflows. The RTX 3060 also supports features like NVIDIA DLSS for maximum upscaling, NVIDIA Reflex, GeForce Experience, and NVIDIA G-Sync.
Best for Gaming: AMD Radeon RX 6700 XT
Fast Speeds
We earn a commission if you make a purchase, at no additional cost to you.
If you want to upgrade your graphics card but don't have the resources to invest in a 4K unit, the RX 6700 XT is the best option. The GPU has excellent 1440p performance and offers relatively high frame rates with different games.
It has a core clock speed of 2.32 GHz, ensuring faster speeds and load processing. While its ray tracing isn't as impressive, it's a lightweight card with no sag. The GPU has 40 compute units (CUs) and 12 GB of dedicated GDDR6 memory.
Best Performance: GeForce RTX 4090
High Efficiency
NVIDIA GeForce RTX 4090
Has 16,384 NVIDIA CUDA Cores
Supports 4K 120Hz HDR, 8K 60Hz HDR
Up to 2x performance and power efficiency
Fourth-Gen Tensor Cores that offer 2x AI performance
Third-Gen RT Cores
AI-Accelerated Performance: NVIDIA DLSS 3
NVIDIA Reflex low-latency platform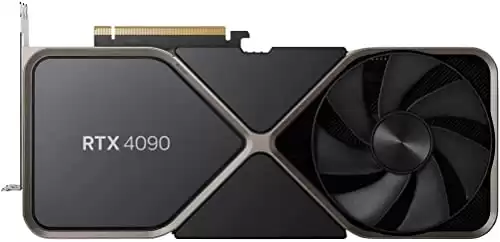 We earn a commission if you make a purchase, at no additional cost to you.
The GeForce RTX 4090 is one of the few best-performing GPUs you can ever find on the market. Powered by the Ada Lovelace streaming multiprocessors, it guarantees up to twice the power efficiency and performance of other graphics cards. Unlike other NVIDIA cards, it uses 4th generation tensor cores that ensure twice the ray tracing performance.
While it's pretty expensive, it doesn't slouch for fast load times, higher frame rates, and faster processing of loads powered by the 2.54 GHz GPU clock speed. On Amazon, it costs $1,799.