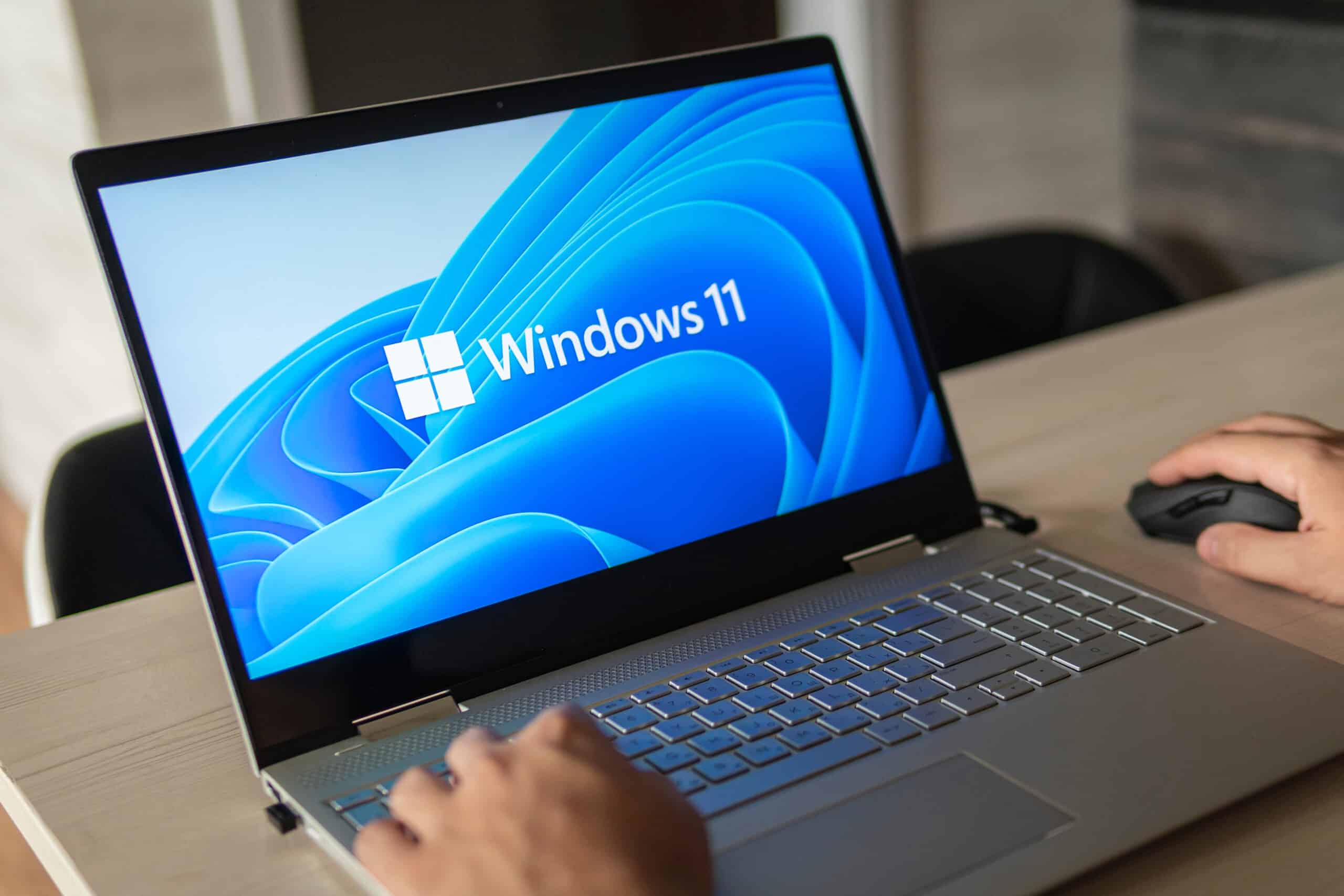 Key Points:
The RAM requirements for both Windows 10 and 11 are about the same at a minimum of 4GB.
Your laptop needs to be able to meet the CPU demands of Windows 11 in order to run it.
Windows 11 typically needs between 18GB and 30GB of storage to operate.
Windows 11 from Microsoft is designed with enhanced security, performance, and additional features. The operating system is popular thanks to Microsoft's generous free upgrade policy. If your PC already has Windows 10, you can download and upgrade to Windows 11 for free. How about laptops?
While many laptops can run Microsoft 10, not all will work well with Windows 11. We've reviewed dozens of models and poured over spec sheets, benchmarks, and reviews, all to find you the five best laptops for Windows 11. Here they are:
The honor of the best overall laptop for Windows 11 goes to the Dell Inspiron 5420 with a remarkably long battery life.
Dell has been in the laptop business for several decades now, and the experience and quality show through on this laptop. Although this laptop just recently launched, it has already garnered many positive reviews and benchmarks.
Powered by a 12th generation Intel Core i7 "ultrabook" class processor, the Dell Inspiron 5420 is ready to run Windows 11 flawlessly. Besides a state-of-the-art processor, this laptop also comes with Nvidia Geforce MX570 graphics, suitable enough for light gaming, video editing, and graphic design.
The Dell Inspiron 5420 comes with 16GB of DDR4 RAM, more than enough to handle Windows 11 and multiple applications simultaneously. Additionally, you get a spacious 512GB SSD with more than enough storage to hold the operating system and a vast multimedia collection.
With USB Type-C, HDMI, WiFi 6, and Bluetooth, the Dell Inspiron 5420 offers all of the modern connectivity options you need to connect peripherals, monitors, and wireless devices. Additionally, most users report between six to ten hours of battery life, making this laptop highly portable.
Check out the Dell Inspiron 5420 on Amazon.
Best Budget Laptop For Windows 11:
One of the reasonably priced laptops, the offers everything you need while still being portable.
A Windows 11 laptop doesn't have to be expensive. Vivobook Go is a testament you can find a highly capable machine for a great price if you know where to look. We dug up the best deal on a Windows 11 laptop for those on a budget.
While not the fastest CPU on the market, the Intel Celeron N4020 processor exceeds the minimum requirements for Windows 11 and provides decent web browsing performance. With weak integrated graphics, you won't be doing any gaming, but you can still enjoy a snappy experience for checking emails, social media, and YouTube.
The Asus Vivobook Go has 4GB of onboard RAM, meeting the requirements for Windows 11. It also offers you just enough for basic multitasking. As for storage, the 64GB SSD provides enough to install the operating system and a few applications. However, with such a limited amount of space, you might be unable to hold a massive media collection.
What the Vivobook Go lacks in lower-than-average specs it makes up with an excellent day-long battery life. Along with USB-A ports, you get a USB Type-C port and an HDMI port. This system is ideal if you're looking for a portable laptop on a budget. 
Check out the on Amazon.
The Microsoft Surface Laptop 4 makes an ideal traveler's laptop thanks to its lightweight, lengthy battery life, and versatile design.
Weighing in at under three pounds, the 13-inch variant is portable. This laptop is perfect for travel and has an estimated battery life of up to 19 hours. While the Surface 4 offers your choice of Intel or AMD processors, the Ryzen variant offers superior battery life. Powered by an AMD Ryzen 5 processor, this laptop is highly capable and power efficient. This laptop is a mobile computing powerhouse with 16GB of RAM and a 256GB SSD.
The Touchscreen display works flawlessly with Windows 11, allowing you to switch between multiple applications seamlessly. With industry-standard connections like USB-A and USB Type-C, you'll enjoy compatibility with all of your devices and peripherals. You also get a full-size SD card reader for loading pictures and videos from your digital camera.
Check out the Microsoft Surface Laptop 4 on Amazon.
For those looking for the most durable Windows 11 laptop, the Dell Latitude 5430 Rugged offers a powerful system enclosed in a rugged case.
If you're looking for a durable laptop, you will need something rugged. That's where the Dell Latitude 5430 Rugged comes in. This laptop offers many rugged options like modular design, sealed ports, and shock-resistant bumpers.
Additionally, this system is highly resistant to dust, liquid, vibrations, and extreme temperatures. Unlike standard laptops, this model offers additional rugged features such as an incredibly bright display and drop-tested design. 
Powered by an 11th-generation Intel Core i5 processor, this laptop offers more than enough computing power to handle Windows 11 and highly demanding applications. Additionally, the Nvidia T500 discrete graphics is sufficient for video editing and graphic design and can power up to two 4K displays.
Loaded with 32GB of RAM, this laptop is a multitasking workhorse. Coupled with a 512GB SSD, you have everything you need to use the rugged features of your laptop to its fullest potential. While there are a few caveats, like a missing webcam and heavier-than-average weight, this laptop offers unparalleled durability.
Check out the Dell Latitude 5430 Rugged on Amazon.
Best Performance Laptop For Windows 11: MSI Creator M16
The MSI Creator M16 is ideal for intensive applications like 3D rendering, 4K video editing, and gaming.
Sure, you may be able to find laptops with higher specs, but the MSI Creator offers the best performance for the money in a Windows 11 laptop. The combination of the 12th generation Intel Core i7 processor and Nvidia RTX 3060 graphics makes this a formidable laptop. Additionally, you get 32GB of RAM and a 1TB NVMe SSD to round out the perfect performance-based system.
What really sets the MSI Creator M16 apart is the 16-inch QHD+ display. This laptop offers superb visual reproduction with vibrant brightness and extreme color accuracy. You'll enjoy movies and games in stunning resolution with the vivid "True Pixel" display.
It's difficult to find a laptop with an extensive selection of ports, but the MSI Creator M16 leaves nothing to be desired. With USB-A, USB Type-C, HDMI, and ethernet, this laptop allows you to connect all of your peripherals and external monitors. Coupled with WiFi 6 and Bluetooth, you have everything you need to stay connected.
Check out the MSI Creator M16 on Amazon.
How To Pick The Best Laptop For Windows 11: Step by Step
If you are looking for a laptop to use to run Windows 11, there are a few general areas to consider:
Processor
RAM capacity
Storage capacity
Battery life
Ports and connectivity
Let's talk about each one in more detail.
Processor
Laptop processor matters due to Windows 11's stringent CPU requirements. While the processor clock speed, cache, and TDP are not particularly important to Windows 11, only CPUs that meet the minimum requirements will function properly.
The critical factor is the processor's generation. Microsoft's official documentation says only the 8th-generation or later Intel processors can support Windows 11. This includes Intel Celeron, Core i3, i5, i7, and i9, as well as Xeon processors. If you're interested in AMD processors, you'll need a Zen2 or newer model, which includes all of the latest Ryzen processors.
RAM Capacity
RAM is vital for multitasking and faster computing. Fortunately, the RAM requirements have not changed between Windows 10 and Windows 11. You typically need 4GB minimum to perform routine tasks. However, you can't expect the best performance with such a low RAM capacity.
Ideally, you should aim for a laptop with at least 8GB of RAM. You will benefit from having even more RAM if you run intensive applications like games or video editors. If you're using your laptop for Photoshop and graphic design, 16GB is ideal. Luckily, most newer laptops include plenty of RAM.
Storage Capacity
Windows 11 only consumes about 18GB of storage space once fully installed, although this figure could balloon to closer to 30GB with updates, widgets, and optional features installed. Your storage needs depend on your intended use case. If you will use your laptop strictly for web browsing or social media, you won't need much space. 64GB to 120GB should be enough.
However, you'll need more space to install additional programs or store a library of pictures, documents, or music. To ensure you don't run out of space, go for the largest capacity storage you can find. In many cases, this will be between 512GB and 1TB. 
Additionally, a solid-state drive or "SSD" is a vital requirement. Older conventional hard drives will offer much slower performance than an SSD and should be avoided. Luckily, almost every new laptop on the market today comes loaded with a speedy SSD.
Battery Life
Though not a requirement for Windows 11, a strong battery will make your laptop more usable and portable. If you travel extensively or use your computer in a different room, a good battery is essential.
One thing to remember regarding battery life is that larger, high-performance laptops tend to offer weaker batteries. This is due to more power-hungry hardware, larger displays, and additional components. On the other hand, a smaller laptop with less powerful hardware will offer excellent battery life. Aim for a good balance of power and energy efficiency.
Ports and Connectivity
Ports and external connections seem to be disappearing on laptops these days. While Apple has pioneered the trend of removing ports like USB, SD card readers, HDMI, and ethernet jacks, Windows PCs are guilty of this as well.
However, a wide selection of ports isn't necessary for most users. That being said, it does help to access a few USB-A and USB Type-C ports for connecting peripherals. HDMI ports will come in handy for connecting to a monitor or TV. Connections like SD readers, DVD drives, and headphone jacks are common on larger laptops.
Using a Laptop for Windows 11: What it's Like
The first thing you'll notice after migrating from a Windows 10 laptop to a Windows 11 laptop is the wealth of new features. Besides offering faster performance and increased security, Windows 11 offers a host of new features and capabilities for home and business users alike.
Upon logging in for the first time, you may notice the start menu and task bar have an updated look and feel. Besides a different appearance, Windows 11 offers new features like enhanced tablet mode, snap layouts, widgets, and a redesigned settings app.
One of the most immediately apparent qualities of Windows 11 is its similarity to macOS. Many users of Apple computers will notice a striking similarity between the appearance of macOS and Windows 11. Since Mac has always been praised for its ease of use and intuitive interface, this can largely be seen as a positive.
What To Know Before Buying a Laptop for Windows 11
Before buying a laptop for Windows 11, know the system requirements to run the OS. Ensure that your laptop is powerful enough to run your desired applications too. Windows 11 has relatively slim requirements itself, but additional programs may have higher requirements.
If you will use your laptop for gaming or video editing, your requirements will be much higher than someone browsing the web and watching videos. You'll want a laptop with a solid graphics card and processing power for heavier usage. If you enjoy 4K videos and multimedia, you should aim for a laptop with a high-resolution display and lots of video memory.
Knowing an appropriate price range to pay for your laptop should also be a priority. You don't want to overpay for your system. Conversely, you want to avoid buying the cheapest system possible, as you may suffer low performance and poor quality.
Up Next…
Don't stop reading now! We have plenty more articles about laptops and tablets.
Last update on 2023-05-24 / Affiliate links / Images from Amazon Product Advertising API