Cadillac and Jaguar are synonymous with luxury, but their vehicles are rarely compared. However, with the rise in EVs come some changes in what people are looking for in a vehicle.
Both the Cadillac Lyriq and the Jaguar I-Pace are stunning vehicles, but they do have some significant differences that really set them apart. Ultimately, you will need to decide which one has the features that meet your needs, as well as which has the more preferable ride.
Unfortunately, you can't get a feel for a vehicle from your computer, so it is always best to look at vehicles in person and test-drive them. But, let's break down the differences between the two so you can make a more educated decision.
Let's jump in!
2023 Cadillac LYRIQ EV vs. 2023 Jaguar I-PACE EV: A Side-by-Side Comparison
| | I-PACE | Lyriq |
| --- | --- | --- |
| Price | $71,300 | $61,795 |
| Wheelbase | 117.7″ | 121.8″ |
| Horsepower (Rear) | 197 | 340 |
| Torque | 258 ft/lbs | 325 ft/lbs |
| Curb Weight | 4,784 lbs | 5,688 lbs |
| Range | 234 miles | 312 miles |
2023 Cadillac LYRIQ EV vs. 2023 Jaguar I-PACE EV: What's the Difference?
Both the Lyriq and I-Pace are all-electric SUVs packed full of features and conveniences that anyone will enjoy. While there are a few major differences between the two vehicles, most car buyers will notice the stylistic choices. Both vehicles were designed from the ground up as electric vehicles, so they are custom platforms. However, the I-Pace has been around since 2018, while the Lyriq just came out last year.
Exterior
Starting from the outside, the two vehicles are distinctly different. While they are both similarly sized compact SUVs, their shapes are very distinct. The Lyriq sits a little higher, which provides a more sporty appearance. In contrast, the I-Pace sits very close to the ground and looks a bit more like a hatchback than a true SUV.
The I-Pace's wheels are very close to the front and rear of the vehicle, which provides for a good turning radius. Jaguar really stuck with a compact design, but they also added some sporty accents like a rear spoiler and hood scoops. All of those details help keep the vehicle very aerodynamic while maintaining an attractive style.
On the other hand, the Lyriq looks big and bold despite being a compact SUV. Instead of a low-sloping rear compartment, it has a much higher rear liftgate. One of the cool features of the Lyriq is its large number of LED lights that go into motion when you unlock the vehicle. Looking at the two vehicles, the Lyriq looks more modern and futuristic, whereas the I-Pace comes across as a bold hatchback.
Interior
Moving onto the inside, both SUVs offer some impressive and luxurious features with elegant seats and stunning dashboards. For instance, both manufacturers went to an all-digital instrument cluster. However, Cadillac went with one large display from the left side to the center, while Jaguar actually uses three separate displays for various functions.
Cadillac's choice certainly looks stunning, but Jaguars look more traditional. Both vehicles feature leather interiors that come in a few different color options. The Lyriq has some very nice detail, such as laser-etched patterns in the door panels that are backlit. In comparison, the Jaguar also has plenty of small details, but it again feels more traditional and elegant than futuristic.
Tech
Like many EVs on the market, the I-Pace and Lyriq have plenty of technology and features packed in that any driver is sure to appreciate. Both include standard safety features such as emergency braking, adaptive cruise control, and head-up displays. Cadillac is a step ahead with technology since the Lyriq offers GM's Super Cruise.
This is an advanced cruise control system that lets the driver take their hands off the steering wheel. However, it is only available on select roads and uses a built-in camera to make sure the driver is still paying attention. The Lyriq's head-up display even has AI that can display lane changes.
Power
Finally, we have power and performance, which is a growing concern of EV buyers as electric cars become increasingly popular among people who want to go fast. But more important is how far you can travel. The Lyriq has a bigger battery at 100kwh compared to the I-Pace's 90kwh battery. This gives the Lyriq a significant advantage with a much longer range.
Despite having a larger battery, the Lyriq has much less horsepower and torque compared to the I-Pace. However, this is partly due to the Lyriq only coming in rear-wheel drive compared to the I-Pace being available only in all-wheel drive. The additional electric motor that power the front wheels of the I-Pace are what gives it the power advantage.
If this is a major concern, Cadillac did announce plans to release an all-wheel drive Lyriq in the near future. The lack of a second motor does give the Lyriq an advantage by helping extend its range. However, if your main concern is speed and performance, the Jaguar easily wins as it has more power and less weight.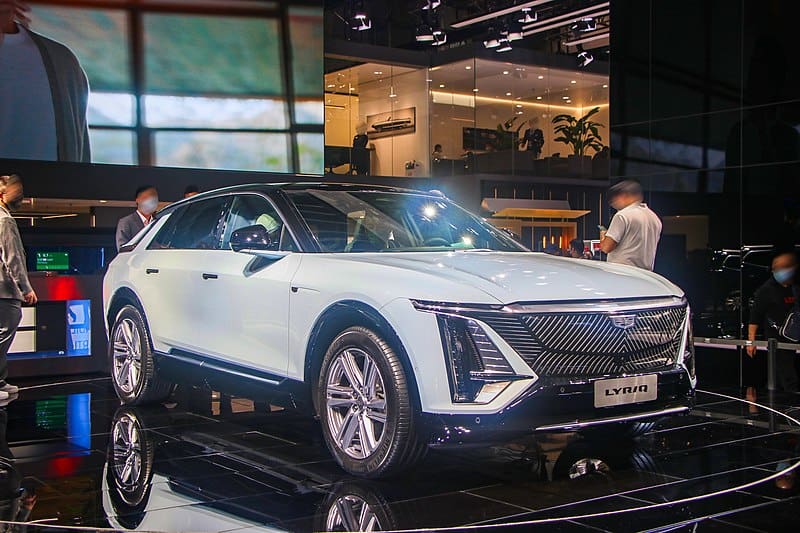 2023 Cadillac LYRIQ EV vs. 2023 Jaguar I-PACE EV: 5 Must-Know Facts
The Lyriq is much heavier and does not come with an all-wheel drive standard.
The Jaguar I-Pace has a faster 0-60 time, thanks to its higher horsepower and torque ratings.
Jaguars may be harder to find and more difficult to get serviced than Cadillacs.
GM's Supercruise provides hands-free cruise control in the Lyriq.
The Lyriq can go much farther on a single charge than the I-Pace
2023 Cadillac LYRIQ EV vs. 2023 Jaguar I-PACE EV: Which One is the Better Buy?
The Cadillac Lyriq and Jaguar I-Pace are both excellent vehicles that you would probably be happy with. However, you should consider your lifestyle and which one feels more practical for your needs. Both have very nice designs, but the Cadillac is definitely sportier compared to the I-Pace's low profile. The main benefit of the I-Pace is that it comes standard with all-wheel drive, which gives it more power.
In comparison, the Cadillac has a longer range and a more futuristic interior. Finally, the Cadillac comes in around $10,000 cheaper, which is no small amount. The decision essentially comes down to how much the extra power is worth and whether it is worth the trade-off of less range. If not, then the Cadillac Lyriq is the clear winner.
The image featured at the top of this post is ©VanderWolf Images/Shutterstock.com.