Long gone are the days when electric cars were comically small with significantly worse performance compared to your average gas-powered vehicles. In today's day and age, you can find a high-quality, incredibly efficient, great-looking electric vehicle from most major car manufacturers.
It's not just about delivering the most basic EV imaginable, either. There are plenty of luxury offerings in the EV market, as well. Just look at BMW and Lucid Motors, for instance. Two of their latest models — the 2023 BMW i7 vs 2023 Lucid Air Pure — are just about as good as a luxury EV can be.
But which of these two models — the 2023 BMW i7 vs the 2023 Lucid Air Pure — is actually superior? From their range and price to their power and interior space, which luxury EV deserves to come out on top?
It's about more than just looking at the two and making a judgment call based on aesthetics alone. To get to the bottom of this debate, we're going to need to compare and contrast a few things. Namely, the specs of each vehicle and the key differences between the two. From there, we'll have a much easier time determining how the two compare (not to mention which one is best).
2023 BMW i7 vs 2023 Lucid Air Pure: Side-By-Side Comparison
| | 2023 BMW i7 | 2023 Lucid Air Pure |
| --- | --- | --- |
| Estimated Starting Price | $119,300 | $87,400 |
| Horsepower | 536 HP | 480 HP |
| Torque | 549 ft-lb | 442 ft-lb |
| Range | 300 miles | 406 miles |
| 0-60 MPH Acceleration | 4.5 seconds | 4.8 seconds |
| Trunk Space | 11.4 cubic feet | 16.1 cubic feet |
| Engine | Electric | Electric |
BMW i7 vs Lucid Air Pure: What's the Difference?
When looking at the 2023 models for the BMW i7 vs Lucid Air Pure, there are three primary considerations that immediately come to mind. They're the same three factors that are worth delving into with any electric vehicle.
Price, power, and range. Above all else, from interior aesthetic to exterior trim to brand name and beyond, these are the three considerations most likely to drive your decision to lean one way or the other. For this reason, it's worth examining the differences in price, power, and range between the BMW i7 and the Lucid Air Pure.
Price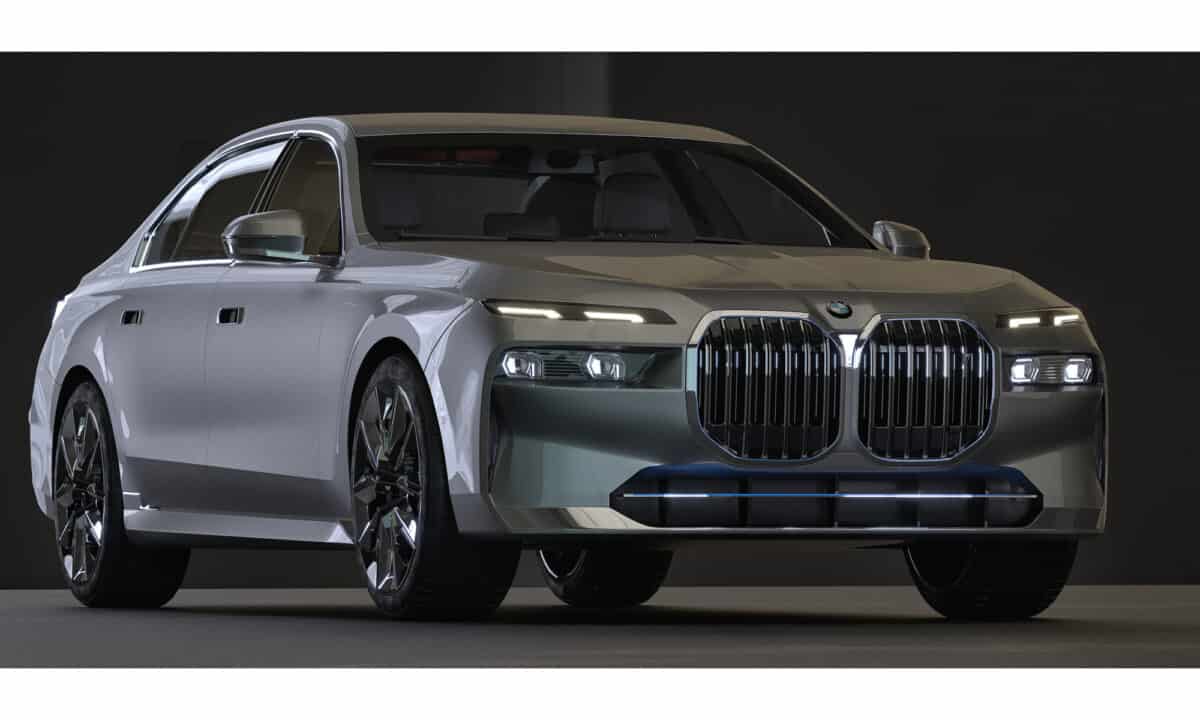 Firstly, price. The 2023 BMW i7 has a starting MSRP of $119,300. This is pretty steep, even for an electric vehicle, but it's a price point that is to be expected from an automaker of BMW's status. They are the epitome of luxury vehicles, and it would only make sense for their EV to have a luxury price.
The 2023 Lucid Air Pure, on the other hand, is estimated to be about $30,000 cheaper. That's still around $90,000, mind you; but still, a deal is a deal. The 2022 Pure started around $77,000, so if you're willing to take a step back, you'll save even more.
Power
Secondly, after considering the price, one must look at power. For the 2023 BMW i7, that power looks something like this: 536 horsepower, 400 kW of electric power, and 553 lb-ft of torque. Additionally, it has a 0-60 MPH speed of 4.5 seconds.
While the 2023 Lucid Air Pure's true power is not yet known, the 2022 model offers 480 horsepower (or 360 kW) with 443 lb-ft of torque. This is slightly less than all of the 2023 BMW i7's specs, but it's also according to the 2022 model. It's possible the 2023's specs could exceed these.
Range
Thirdly, after price and power comes range. Just as important to an EV as mileage per gallon is to a gas-powered vehicle, how much range you get per charge is a serious concern for an electric vehicle. Especially when many on the market today vary drastically from EV to EV.
For the 2023 BMW i7, you're looking at a range of about 300 miles per charge. For the 2023 Lucid Air Pure, you're looking at over 400 miles per charge. Just as with price and power, this is another major difference between these two luxury EVs. Undoubtedly, 400 miles is a heck of a lot further than 300 miles.
History of the 2023 BMW i7
While the BMW 7 Series — the German automaker's full-size luxury sedan line — has been sold by the iconic manufacturer since the late 1970s, it wasn't until the introduction of the seventh generation of the 7 Series in 2022 that the sedan line took on a whole new meaning.
With the announcement of the BMW i7 in April of 2022, the longstanding full-size luxury sedan series evolved to meet the needs of the 21st century and beyond. That's right; the 2023 BMW i7 took what drivers know and love about the 7 Series and made it electric.
The 2023 BMW i7 caught the attention of 7 Series loyalists and electric vehicle enthusiasts alike with its impressive specs and beautiful design both inside and out. Deriving its power from two electric motors, the 2023 i7 boasts a total combined horsepower of 536.
That translates to 400 kW of electric power. All in all, this horsepower delivers 553 lb-ft of total torque. What's more, the 2022 i7 has a 0-60 MPH acceleration of just 4.5 seconds. Obviously, as with any EV, the most important spec of all is its range per charge. For the 2022 model, the i7 has a range of 300 miles.
Nevertheless, the BMW 7 Series continues on in its gas-powered format, as well. The latest in the decades-long series — dubbed the G70 — comes with two options: a 6-cylinder 740i model or a V8 760i model.
Like the BMW X7 LCI, the G70s and the i7 utilize uniquely split horizontal headlights. No matter which option BMW drivers choose — the 6-cylinder, the V8, or the electric i7 — there is no longer a V12 option. Essentially, the i7 replaces the V12 to keep the seventh generation limited to three engine types.
All About the 2023 Lucid Air Pure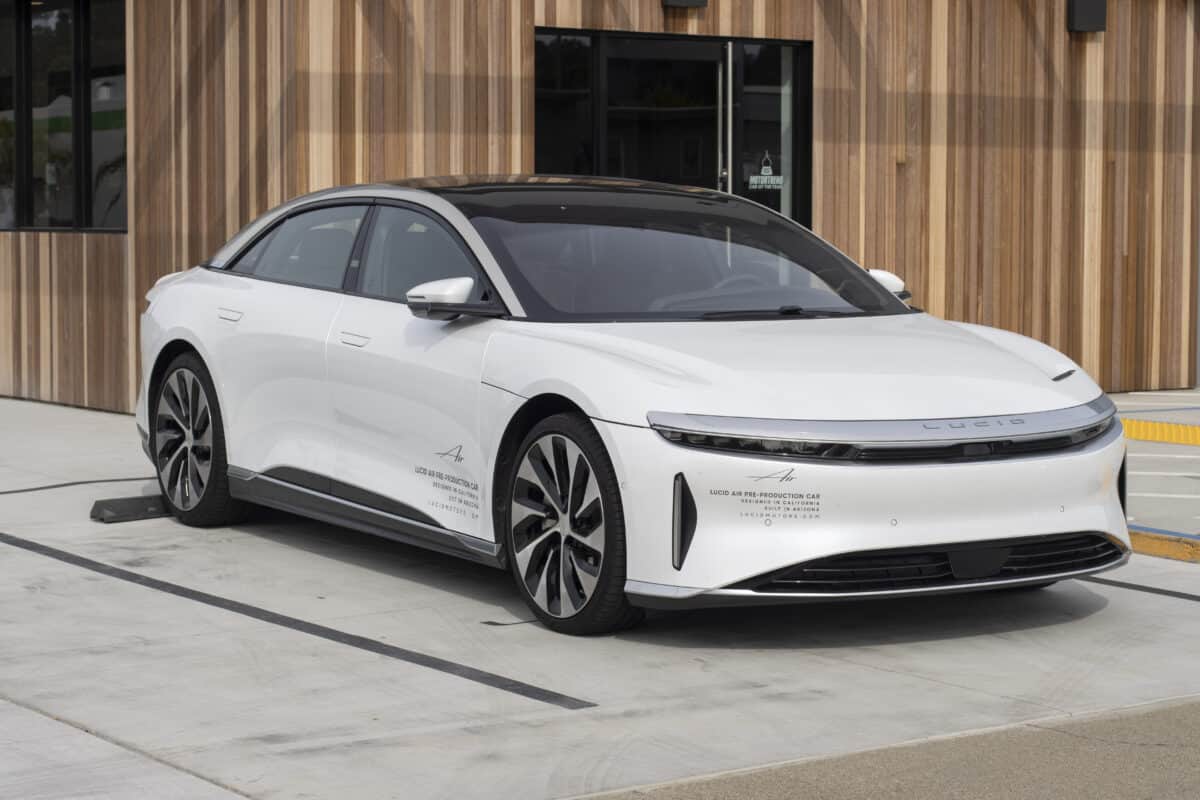 One of the biggest things that separate the i7 from Lucid Air Pure? The fact that the Lucid Air has been around about six years longer than the BMW i7. First introduced in December of 2016 as an up-and-coming Tesla competitor, the Lucid Air set its sights on two of the buzziest and most alluring electric vehicles of the time: the Tesla Model S Plaid and the Porsche Taycan.
This targeting became all the more clear with the introduction of the new Lucid Air base model, the Lucid Air Pure, in November 2020. The Pure joined other pre-existing Lucid Air trims such as the Touring, Grand Touring, and Dream Edition.
This base model version of the popular and sleek EV immediately made waves for its specs and its price combined. Boasting an estimated range per charge of over 400 miles and offering 360 kW of power from its engine — that's 480 horsepower! — the Lucid Air Pure is anything but basic.
Not to mention, with a starting price of just $77,400 for the 2022 Lucid Air Pure, the EV came in significantly lower than some of its closest competitors.
For the 2023 Lucid Air Pure, the rising EV titan is expected to make several key improvements over its debut 2022 iteration. We already know Lucid Air is introducing another trim to the lineup, bringing the grand total to five including the Pure. That's the Lucid Air Pure, Touring, Grand Touring, Grand Touring Performance, and the newly debuted Sapphire.
Until more is known about this 2023 model, we'll have to base our judgment off of the specs and stats for the 2022 model. No matter, though. The 2022 Lucid Air Pure is impressive enough to hold its own against the 2023 BMW i7.
BMW i7: Pros and Cons
| Pros of 2023 BMW i7 | Cons of 2023 BMW i7 |
| --- | --- |
| Remarkable rear entertainment system | Quite expensive at a starting MSRP of $119,300 |
| BMW is a trusted brand, just as the 7 Series is a trusted vehicle line | Poorer range than other EV models |
| Impressive horsepower | Slower 0-60 MPH speed than other EV models |
| Lots of torque | Small trunk space |
Lucid Air Pure: Pros and Cons
| Pros of 2023 Lucid Air Pure | Cons of 2023 Lucid Air Pure |
| --- | --- |
| Better range than other, more expensive EVs | Exceeds the budget of many EV drivers |
| More affordable price point than the 2023 i7 | Slower 0-60 MPH than rival EV models |
| Lots of trunk space | Torque leaves something to be desired |
| Cheaper than other Lucid Air trims | Lacks the horsepower of other EVs on the market |
BMW i7 and Lucid Air Pure: 5 Must-Know Facts
Back when they were merely a car battery supplier, Lucid used to operate under the name Atieva, Inc. They rebranded in 2016 with the announcement of the Lucid Air.
The BMW 7 Series has been around since the late 1970s. The 2023 BMW i7 is just the latest iteration of one of the longest-running luxury car series on the market today.
The Lucid Air was created in 2016 to directly compete with Tesla and Porsche. In other words, it's a luxury EV brand that's not here to come in second.
In addition to manufacturing luxury EVs, Lucid Motors also plays a key role in supplying batteries for racers in the fabled Formula E series.
The BMW i7 has an insanely nice entertainment system in the back seat of the vehicle, complete with a truly enormous screen.
2023 BMW i7 vs 2023 Lucid Air Pure: Which One Is Best?
So, in the showdown between the BMW i7 vs Lucid Air Pure, which electric vehicle is truly best? As we've seen time after time throughout this rundown, it's about more than just looks, price, or speed. In truth, it's a combination of all these factors and more.
From trunk space to acceleration, from torque to range, from cost to horsepower, which EV is the best bet for luxury vehicle shoppers? At the end of the day, it's hard to deny that the Lucid Air Pure is the better option here. It's obvious when you look at the facts.
The 2023 BMW i7 is a great car, there's no doubt about it. But, ultimately, its lower range, smaller trunk space, and its far more expensive price tag are all very serious qualms. The 2023 Lucid Air Pure might have less horsepower and a slightly slower 0-60 MPH — we're talking fractions of a second here — its lower price and longer range with more space on the inside all make it the superior option.
It's nothing personal, especially considering the longstanding prominence of the BMW brand name. In the end, it just comes down to these few key differences.