Key Points
You can collect data on your activities on Whatsapp.
You can use WhatsApp Incognito.
You can also star messages as essential or save them for later.
Owned by Facebook. WhatsApp is a popular social media messenger app. Over two billion people use it worldwide, which is pretty staggering. The app has many features that make communication smooth. Some of those features are embedded and usually come with each update.
Unless you are curious and always keep up with WhatsApp updates, you can miss out on what's new. Let's explore some helpful WhatsApp tips and tricks to help you make the most of your best social media application. Who knows? One of the preceding may catch your fancy.
Here are the best 15 WhatsApp tips and tricks for 2022.
Collect data on your activities
WhatsApp Incognito
Assign notification for each of your chats
Backup for your WhatsApp chat
Save your WhatsApp media, data allowance, and storage
Customize Your Pictures
Star messages as essential or save them for later
React to messages
Pin popular chats
Quote messages in your reply
Mark messages as unread on WhatsApp
Search through all your chats
Make your WhatsApp messages disappear
Make your images and videos disappear
Use Face ID or Touch ID to unlock WhatsApp
1. Collect data on your activities
WhatsApp messenger app creates bonds between people through virtual interactions. It does not end at that but can also tell who your best friends are. WhatsApp takes record of your activities: chats, time, calls, and so forth with friends on the app, and afterward convert them into gauged data to determine your level of interaction with each person.
From this, you can make a ranked list of your favorite friends. Moreover, if you want to make a more conscious choice from your chatting activities, you can delete the accumulated data and have it restart the calculation.
To locate the data storage: Launch your WhatsApp application > Go to Settings > Data and Storage Usage > Storage Usage. You'll see a list of your most important groups and contacts ranked according to your data expended on them.
2. WhatsApp incognito
Merely checking for what 'Incognito' means, one would easily understand that it relates to hiding or maintaining privacy. Some users even tag it as ghost mode. However, better than the meaning, users of Google Chrome would be more familiar with what 'Incognito' is from having to use the feature.
For whatever reasons for not wanting to chat with anyone at some point (we all have those times), the best option is to go incognito. To use this WhatsApp feature, turn off WhatsApp's 'last seen' feature, and no one will know you're online unless you chat with the person. To set this up: Go to your WhatsApp's Privacy Menu > Last Seen and decide how you want to be seen. Now, you can use the app anonymously.
3. Assign notification for each of your chats
Did you know that you can also assign a notification sound for each of your chats: individual or group chat? Yes, you can, and it's one of the coolest WhatsApp tips and tricks. You can choose to set the nightingale tone for that friend who sings well or assign different bleeps for each group chats to manage your priority better. Sounds cool, right?
To set this up, go to the individual or group chat you wish to assign a notification for, tap on the group name to bring out the Group Info, and scroll down to the Custom Notifications. You can then select any sound you wish to use for each. Just ensure you remember the assigned notifications for each of them to avoid clutters.
4. Backup your WhatsApp chat
Many WhatsApp users want to keep a continuous record of their conversations for reference purposes. WhatsApp knows this and cares to protect its users' chat history by securing it in the cloud. The chat history can automatically be securely backed up to iCloud for iPhone users. To set your backup preferences on your iPhone, go to Settings > Chat > Chat Backup and select either daily/weekly/monthly schedule.
Android users can do the same by clicking on Settings > Chats and calls > Chat backup and selecting to set the backup for either daily/weekly/monthly.
5. Save data on media downloads
WhatsApp automatically saves media; images, documents, audio, or video clips. If you have a limited data subscription, consider saving your media manually by viewing only relevant content. This can save your data subscription and storage.
On iPhone & Android, go to Settings > Data and Storage Usage and tweak the settings for how you want your received media to be downloaded.
6. Customize your pictures
It's possible to customize images before sending them to your recipients or uploading them as your status. The essence could be adding text, emoji, sticker, or even changing the image's filter. Hence, WhatsApp provides you with an editing suite for your photos. Once you pick an image, select any of the icons displayed to edit your image before saving them. And that's it!
7. Star messages as important
While in a group chatroom or a personal chat, you may wish to highlight an important message. Simply long press on the message(s) until it turns light blue, click on the menu icon at the top right corner of your screen, then select the star to bookmark the message(s). To access your starred messages in a chatroom, click on the group name or chat, scroll down to Starred messages, click on it, and you'll be able to access bookmarked messages.
8. React to messages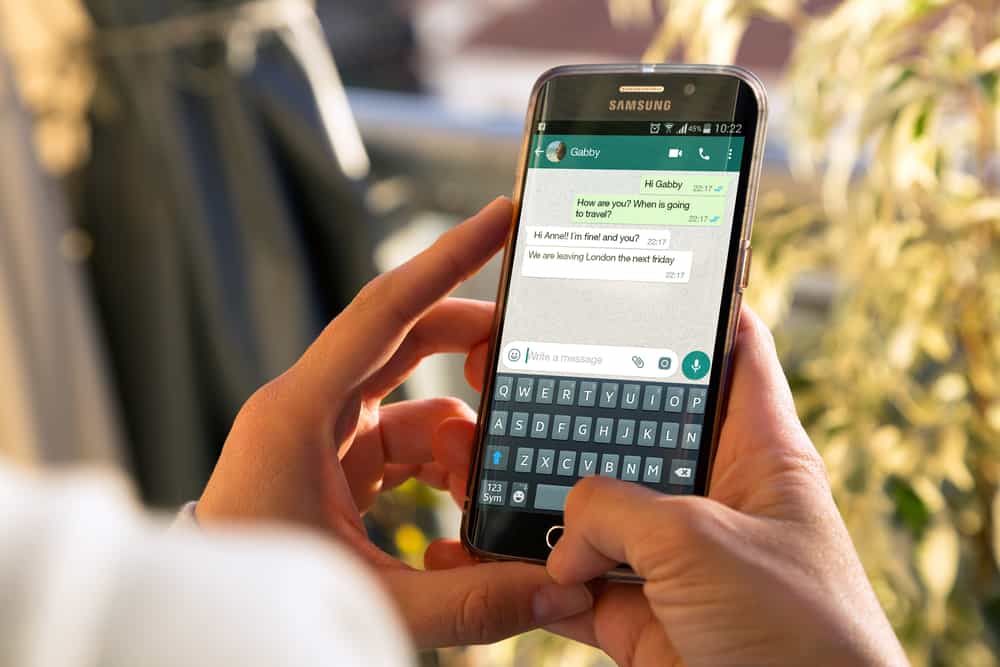 One of the recent updates enables WhatsApp users to react to messages. This is modeled after Facebook. The emojis available for the reaction are thumbs up, heart emoji, teary face, surprised emoji, and a praying hand. To use this feature, press on the message you wish to react to for about 2 seconds until it turns light blue, and the emoticons will pop up for you to select.
9. Pin popular chats
If you frequently use group chat or message someone often, you may want to pin the discussion to the top of your messages. However, you can only pin just three conversations.
To pin chats on the main chat menu, find the chat (on iOS) and swipe to the right. On Android, long press and click the pin icon up top. That way, you'll never have to scroll through a bunch of others looking for the chat again.
10. Quote messages in your reply
While in a group chat, you may sometimes want to reply to what a member said earlier. Don't stress yourself by retyping what the person said. Simply swipe the message to the right, and it will turn into a quote you can reply. Anyone can easily tap the box that shows the quotation to view those discussed above.
11. Mark messages as unread on Whatsapp
Sometimes, you may read a message you don't intend to respond to. In such situations, you can mark the message as unread. For iPhone users, swipe your chats to the right (like you do to pin them), and a blue dot will appear next to the chat. The marker will disappear as soon as you open the chat next time, or you can repeat the process to unmark it. Android users can do the same by long-pressing on a chat and selecting Mark as Unread from the top-right menu.
12. Search through all your chats
This feature ranks highly on our best WhatsApp tips and tricks list. The search icon lets you search all the chats for names, texts, and almost anything to retrieve information. If you read a post some time ago and need to find it, type a word relating to the post. In no time, WhatsApp will display posts with words that match your search term. Results will appear in order of date, and you may be lucky to find what you're looking for. A plus is that you can use the search icon online and offline. So cool!
13. Make your WhatsApp messages disappear
WhatsApp now has a new trick that enables you to turn on disappearing messages after a period, like 24 hours, a week, or after 90 days. To activate this feature for iPhone and Android users, open the Specific chat > Click on the person's name at the top of the chat > Disappearing Messages > Choose message timer.
14. Make your images and videos disappear
Similar to number 13 above, but different is making your images and videos disappear completely after people view the content and exit. This is another WhatsApp tip and trick that protects the privacy of a sender. However, you must remember that whoever views the image can still screenshot it or activate the screen recorder before viewing the video. Regardless, for most, the feature has served its purpose.
To activate this feature on iPhone, open the chat > Tap on the '+' next to the message input field > Choose Camera to take a photo or Photo & Video Library. Select an image> Choose the picture> Tap on the '1' next to the blue send arrow and press the blue arrow to send.
For Android users, open the chat > Tap on the paperclip next to the message input field > Choose Camera to take a photo or Gallery to select a photo > Choose the image> Tap on the '1' next to the blue send arrow > Press the blue arrow to send.
15. Use Face ID or Touch ID to unlock WhatsApp
If you want to stop people from peering into your phone, specifically your WhatsApp account, you can enable face ID or Touch ID to restrict WhatsApp access. This means you will be the only one to open your WhatsApp.
To activate this feature in your iPhone, go to your WhatsApp Settings > Account > Privacy > Screen Lock > Toggle on Require Face ID / Require Touch ID > Select the time duration you prefer (Immediately, after a minute, after 15 minutes, or after an hour).
Android users can also follow the steps above. However, some Android phones do not use Face ID. In this case, the Touch ID has you covered.
WhatsApp has many fun features that most people don't even know exist. This video from Nas io goes over 10 secret hacks you can use in WhatsApp to help you stay on top of multiple group chats and conversations.
The 15 Best WhatsApp Tips and Tricks Most People Miss: Conclusion
All the above WhatsApp tricks are fundamental in exploiting new features of your messenger in daily communication. WhatsApp often releases updates, so you want to ensure you're in the know. However, some people don't even know such features exist, defeating the whole point of including them in the first place. Try out these tips and tricks and see how your communication changes for the better!
Next Up…
The image featured at the top of this post is ©Creative Instinct/Shutterstock.com.