Apple has done it again with the release of iOS 16.4. Between cool features like new emojis, voice isolation, a few anxiously awaited bug fixes, and bringing back some old fan favorites, iOS 16.4 has a little something for everyone. Now that it is finally out of beta testing, you can download the latest update to check it out for yourself.
To give you a headstart, we explore the top 10 new features in iOS 16.4, including some helpful tips and suggestions for getting the most out of them. Let's get started.
What Features are New in iOS 16.4?
Apple released iOS 16.4 and iPadOS 16.4 to the public on Monday, March 27, after a few weeks in beta. With the update, you get access to 68 new features and changes. We're going to look at some of the most significant ones:
New emojis
New keyboards and Siri voices
Voice isolation
Apple Music updates
Apple Books updates
Podcasts update
Safari and web notifications
Apple Photos updates
Crash detection optimization
New Accessibility Features
PS5 Controller Support
Focus Updates for Always-On Display
Apple Wallet Updates
Let's see what you really get with these new features.
1. New Emojis
Everybody loves emojis; there's no arguing that. And if you don't love 'em, you're not going to like this update. Apple has beefed up the emoji selection with another 31 new emojis for you to enjoy.
This has been in the works for quite a while, judging by how the Unicode Consortium approved the batch of new emojis in September of 2022. Some of the highlights include a Donkey, Moose, Duck, and a Blackbird, along with some interesting choices like Ginger, Peas in a Pod, and a Flute.
There must have been an outcry from flute players worldwide for Apple to act on this one, but nonetheless, you get some fun new emojis to liven up your messages.
2. New Keyboards and Siri Voices
While English has been the predominant language for iOS, especially in North America, it's easy to forget how many languages there are. Apple decided to add support for a few more languages, along with keyboard options specifically for speakers of those languages.
As part of the new update, iOS now includes a Chickasaw and Choctaw keyboard, as well as language updates for Urdu, Punjabi, Gujarati, Ukrainian, and Korean. Along with that, they also released new Siri voices for Hebrew and Arabic.
3. Voice Isolation
This is a big one if you were experiencing muffled voices or excess background noise when using FaceTime or on a call. The new voice isolation feature lets you hear the voice of whoever you're talking to even clearer by blocking out disruptive background noises.
If you're trying to have a conversation with construction going on outside, or if you're kids are playing loudly in the other room, you'll enjoy much clearer audio.
4. Apple Music Updates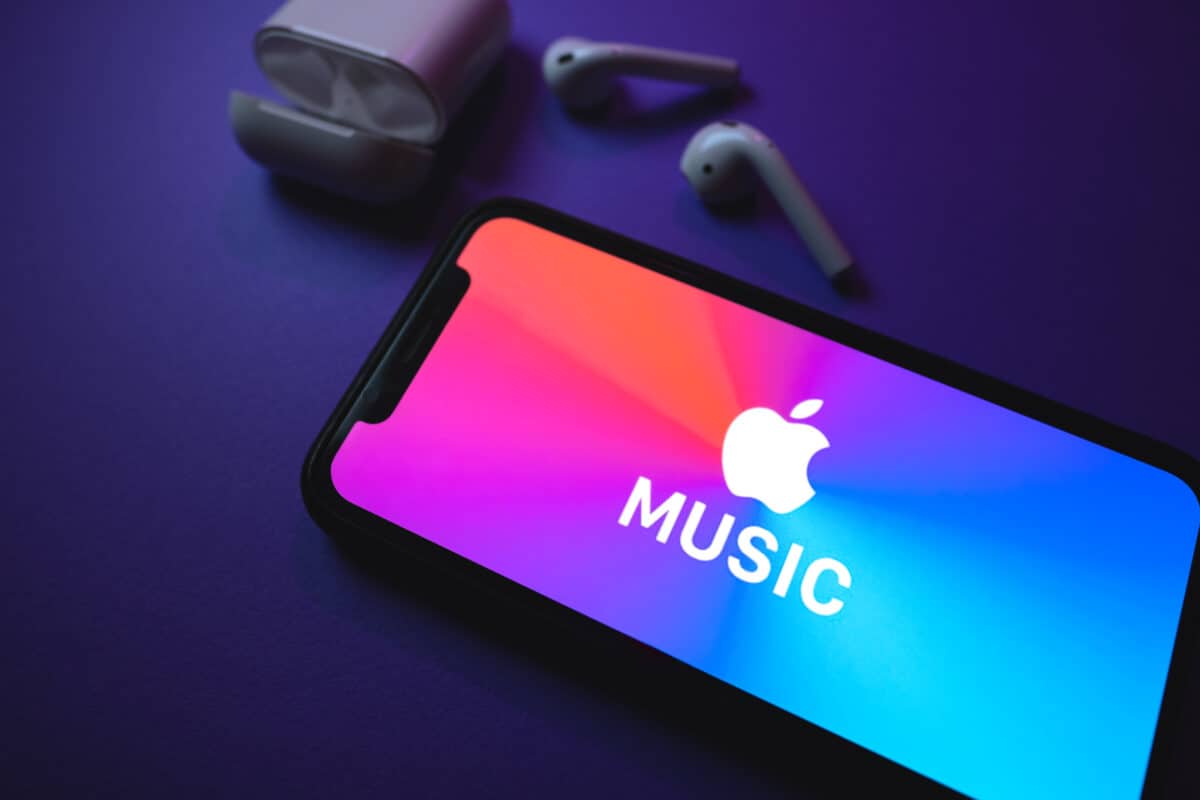 The Apple Music app got a facelift with a few tweaks for a more modern look. One complaint many users had in the previous update was the full-screen pop-up that would show up if you added a song to your queue. Now, you get a much smaller, less intrusive banner to let you know you've added a song to the queue.
Additionally, iOS 16.4 adds a more accessible profile button to the top right corner of the Music app, letting you get to your profile a bit quicker.
5. Apple Books Updates
If you have been using Apple Books for a long time, you probably remember the classic page-turning animation that used to happen whenever you swiped right or left to move through a book. After using this animation for years, Apple removed it in iOS 16, much to the dismay of long-time users of the Books app.
Fortunately, if you were upset by this abrupt change, Apple has heard your cries. With the release of iOS 16.4, you now get to enjoy the classic page-turning animation once again. But this time, you get the option to specify your choice of animation. You can set the animation to none, curl, or slide, depending on how you like your Apple Books experience to look.
6. Podcasts Update
The Podcasts app also got a welcome upgrade. Now iOS 16.4 makes it easier to find your Channels with a shortcut in your Library. In addition to that, you get a few minor interface tweaks, such as an updated Up Next queue, letting you resume, start, stop, and remove episodes in a few taps.
7. Safari and Web Push Notifications
This is a handy new feature we've been waiting for since it was first rumored in September 2022. The ability to push notifications from web apps has long been requested, and with iOS 16.4, it's easy to set up.
If you want to set up push notifications from your favorite websites, you can drop a Safari link on your home screen, and request permission through the app. Unfortunately, not all websites support this feature. So you will have to wait for developers to implement it across popular websites.
8. Apple Photos Updates
If you have a ton of duplicate photos in your iCloud Library, you're going to love this one. Apple has included a new feature in iOS 16 that lets you easily locate and remove duplicate photos in just a few taps. Now with 16.4 adding even more functionality, you can also detect and merge duplicates in your shared photo library so the changes will show up for anyone else who has access.
9. Crash Detection Fixes
Remember the headlines when people's iPhones were calling 911 on them just for riding on a roller coaster? It turns out Apple's crash detection feature was confused and couldn't tell the difference between a car crash and an amusement park ride. As you can imagine, this left a lot of people pretty annoyed.
Fortunately, Apple has fixed the issue by tweaking the crash detection settings. Now, your iPhone won't get triggered unless you're actually in an emergency. Even though crash detection has been going through continuous updates since those earlier incidents, iOS 16.4 looks to have brought the most optimization. We'll have to wait and see how it performs in the real world.
10. New Accessibility Features
It's an important update for those affected by flashing lights or strobe effects on videos. When your iPhone or iPad detects a video with patterns like flashing lights, or rapidly changing colors and effects, it will automatically dim the screen.
11. PS5 Controller Support
If you've ever dreamed of being able to hook your PS5 controller up to your iPhone or iPad, well, now you can. With iOS 16.4, you can use your DualSense Edge Wireless controller to play games from Apple Arcade, right on your device. Because this model came out in January, it's great to have support right away.
12. Focus Updates for Always-On Display
This one might be a little more niche, but it is a welcome upgrade nonetheless. The Focus Mode on your iPhone now gets a new filter for the Always-On display. Now you can turn the Always-On feature on or off without leaving Focus mode. If you find yourself getting distracted easily with constant notifications while your screen is on, this feature will really come in handy for you.
13. Apple Wallet Updates
The Apple Wallet app also gets a few interface tweaks and minor upgrades. You're now able to filter your transactions in a few taps, allowing you to pick from payments, disputed transactions, refunds, and purchases. While not a huge upgrade, it does shave a few seconds off whenever you need to hunt down a specific transaction in your Apple wallet.
14. A Few Bug Fixes
Besides the major stuff, Apple released a few welcome bug fixes as part of iOS 16.4.
The Apple Pencil got a patch that lets you more easily view a mark or line before making it, whether you're drawing or writing in the Notepad app.
Minor user interface bugs and graphical glitches were resolved. Some users reported glitching notifications cards, which would make your notifications alternate between square and rounded. iOS 16.4 completely takes care of this.
They also resolved the issue where "ask-to-buy" requests from children wouldn't show up on the parent's device. This undoubtedly caused some headaches, so it is good to see it getting fixed.