If you're searching for a new graphics card, an RX 580 may be worth your consideration. This mid-range GPU offers outstanding performance and value, making it ideal for gamers or anyone needing powerful graphics solutions. Despite its age, it still offers good value and performance for its price point.
Let's explore the 10 reasons to buy an RX 580 GPU today!
History of the RX 580
AMD's Radeon RX 580 graphics card, released April 18th, 2017, belongs to their Radeon 500 series. It's based on AMD's fourth iteration of Graphics Core Next architecture. It features Polaris 30 graphics processors and Polaris 20 (XTX variant) chipset-based GPUs for performance gaming applications. It has DirectX 12 compatibility and is built using 14nm technology. The RX 580 stands apart with its 14nm process, supporting modern games.
The RX 580 is an update of its predecessor, the RX 480, released just 10 months prior. It offers improvements in thermals and clock speeds by approximately 10%. Both models use Polaris 10 GPU code-named Ellesmere XT, with base/boost clock speeds for the original at 1,120MHz/1,266MHz. The RX 580 comes with either 4GB or 8GB of high-bandwidth GDDR5 memory. In terms of performance, it competes directly with NVIDIA's popular GTX 1060 6GB.
Top Performance
AISURIX Radeon RX 580 Graphic Cards GPU
Based on the Polaris 20 graphics processor
Supports DirectX 12
Equipped with 2048SP and 8GB GDDR5 memory with a 1750 MHz (8 GB)
3 monitor support output included 2X DisplayPort 1.4a. +1X HDMI 2.0b
Supports up to 8K display
Semi-automatic intelligent fans system, which can automatically sense the GPU temperature.
Draws power from 1x 8-pin power connector, with power draw rated at 185 W maximum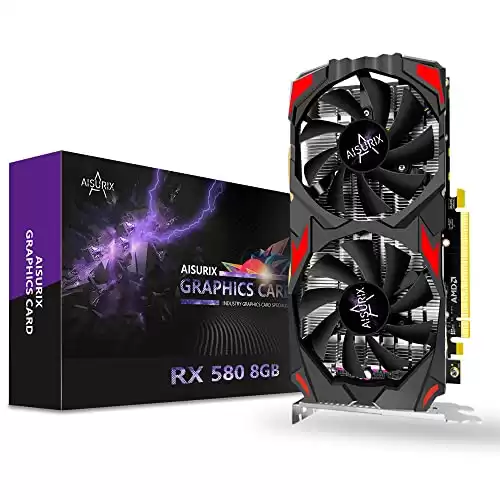 We earn a commission if you make a purchase, at no additional cost to you.
10 Reasons to Buy an RX 580 Today
If you are considering buying a new graphics card, the RX 580 is a popular and powerful option. If you're a gamer or a content creator looking for a powerful and affordable graphics card, the Radeon RX 580 is a great option.
Here are the 10 reasons to buy an RX 580 today and how it can benefit your gaming and computing experience.
DirectX 12 Support
DirectX 12 is a set of Application Programming Interfaces (APIs) developed by Microsoft that allows developers to build 3D graphics and multimedia applications that run on Windows operating systems. DX12 makes gaming more realistic by efficiently rendering complex scenes. This is something other GPUs cannot achieve as efficiently.
With this feature enabled on your system, you can take full advantage of the latest titles without worrying too much about performance or graphical issues. DX12 also enhances visuals thanks to increased shader instructions per clock cycle and improved multithreading capabilities for higher frame rates. The GPU packs quite the punch with powerful hardware and advanced software features such as DirectX 12 support.
Up to 8GB of VRAM
The RX 580 graphics card is an excellent option for gamers seeking to upgrade their system today. It boasts up to 8GB of VRAM memory capacity. This extra memory helps provide smoother, more realistic visuals at higher resolutions than other cards in this price range. Furthermore, having access to so much video RAM enables users to run multiple applications simultaneously without experiencing lag or interruptions in performance.
If you enjoy streaming games while playing them, the additional resources of an RX 580 will prove particularly advantageous. Furthermore, this model's increased capacity provides extra processing power when working with large files. Overall, purchasing an RX 580 now means getting reliable performance at a reasonable price point — an opportunity that's hard to pass up in today's market. Plus, having plenty of space to upgrade in the future adds major appeal.
Low Power Consumption
The RX 580 provides remarkable power efficiency for its class of graphics cards. It can deliver great performance while using much less electricity than similar cards from other manufacturers. It saves users hundreds of dollars over its use, making it an attractive option for budget-minded gamers.
Power saving helps gamers reduce their monthly electric bill and expand their gaming experience without needing to purchase more powerful hardware. The RX 580's efficient performance allows it to run all your favorite games at high settings with minimal stress on components and system usage compared to higher-end cards requiring extra power draw.
The RX 580 graphic card offers exceptional value in both price and performance. This makes it the go-to choice among gamers today. Able to handle even the most demanding titles while providing good value, this model remains immensely popular.
Improved Performance
If you want something beyond the aesthetics, an RX 580 investment could be well worth your consideration. This midrange powerhouse provides great value for money with reliable hardware components like 8GB of GDDR5 RAM and 256-bit memory bandwidth. It's also packed full of advanced gaming technology that goes far beyond mere looks.
AMD's Polaris architecture also boasts up to 7% higher clock speeds than its predecessors, providing gamers with enhanced visual fidelity and faster loading times. As 4K gaming becomes more prevalent, having the Radeon RX 580 ensures users can take full advantage of it without sacrificing settings or frame rates when playing the latest titles. Its outstanding heat dissipation system ensures smooth operation without overheating damage to hardware.
Affordable Price Point
The RX 580 graphics card boasts an impressive performance increase compared to prior generations. It provides smooth gameplay at higher resolutions and frame rates than ever before. Plus, this cutting-edge video card comes at an accessible price point that makes it accessible even to gamers on tight budgets.
For most gamers, the RX 580 offers more than enough power for gaming purposes from AAA titles like The Witcher 3 with high-quality settings to Fortnite Battle Royale at high-resolution settings. Its performance won't break the bank, whether on PC, PS4, or Switch.
Energy efficiency ensures that even after hours of gaming, your PC won't rack up large electricity bills. It's ideal for those without access to regular power sources. Overall, if you're seeking increased performance without breaking the bank, then the RX 580 is an excellent solution. Boasting robust processing capabilities at an extremely reasonable cost point, it provides great value to anyone interested in getting their hands on next-gen gaming technology.
Supports 4K Resolution
The RX 580 is ideal for gamers interested in experiencing 4K resolution gaming. Equipped with 8GB of GDDR5 memory and its powerful 256-bit bus architecture, its 14nm processor ensures seamless performance at even the highest resolution settings. It has features to make HD gaming an immersive experience, including AMD FreeSync technology that reduces screen tearing and stuttering during intense gameplay sessions. This graphics card supports up to four simultaneous displays, giving users the flexibility to enjoy high-definition gaming across different screens if desired.
HDMI 2.0b compatibility also ensures higher frame rates when playing in 4K resolution. This gives gamers the best gaming experience without performance or compatibility issues with new game releases. And thanks to DirectX 12 capabilities, there are no worries about compatibility issues for newer titles.
With its advanced specs, connectivity options, and built-in technologies, the RX 580 provides any gamer with an enjoyable gaming experience — be it 1080p or 4K resolution gaming.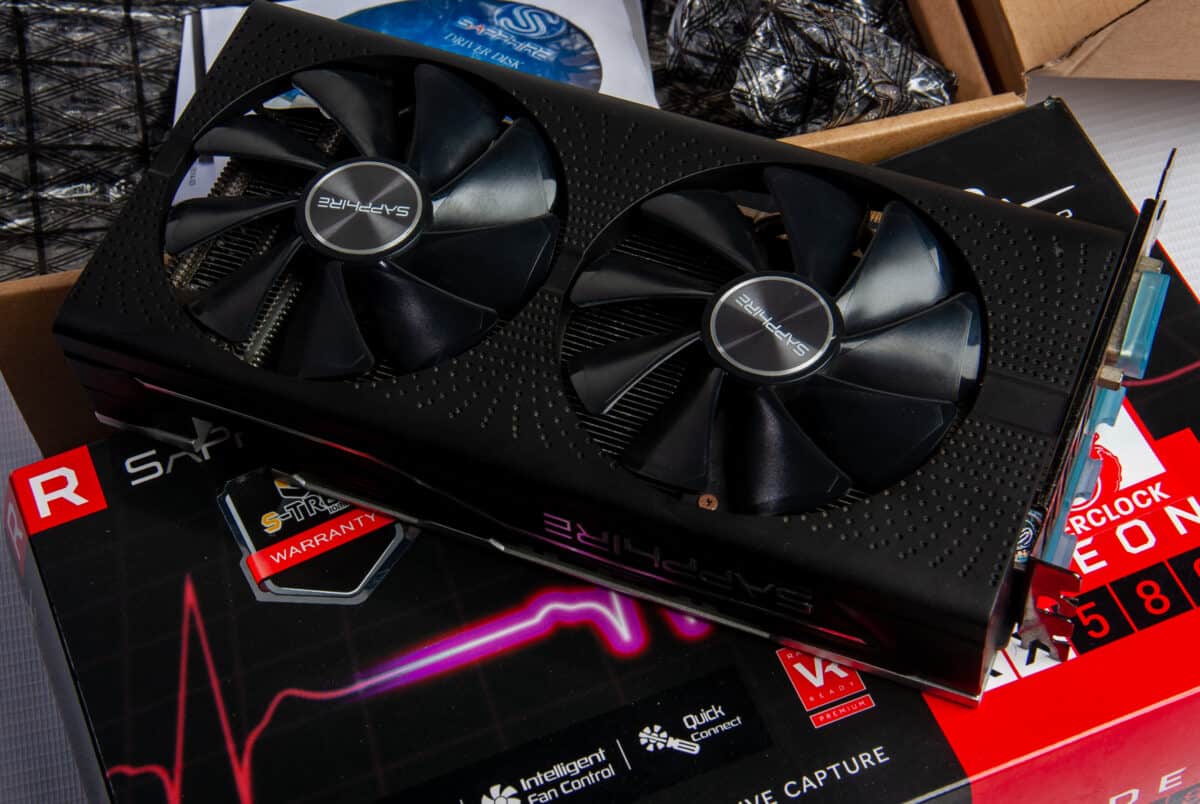 Easy to Install and Setup
Regardless of your experience level or setup, getting up and running in no time with the RX 580 will be simple as its setup doesn't necessitate any advanced technical knowledge. There are plenty of helpful tutorials and guides online should you ever find yourself at an impasse. AMD also provides comprehensive support in case any issues arise during setup, from 24/7 live chat options to comprehensive troubleshooting documents.
As such, when selecting a graphics card, the RX580 stands out as one that delivers fantastic performance while being easy to install and set up without much fuss.
Compatible with Multiple Operating Systems
The RX 580 makes an excellent modern graphics card choice because of its compatibility with multiple operating systems. This includes Microsoft Windows, macOS X, and various Linux distributions such as Ubuntu, Fedora, and OpenSUSE.
Compatibility with multiple platforms makes this card highly adaptable, enabling users to connect their PC or laptop to any monitor regardless of the platform they may be running on. Gamers using an RX 580 on Windows machines can take advantage of DirectX 12 technology for superior gaming performance. They provide better visuals and higher frame rates when playing 1080p resolution or higher games. Mac computers offer more immersive gaming experiences with OpenGL 4.2 support for games and AMD Eyefinity Technology's multi-monitor support to ensure you never miss any crucial details when viewing large displays or multi-monitor setups.
No matter your system, the RX 580 delivers impressive performance thanks to its Polaris architecture and 8GB GDDR5 memory capacity.
Advanced Connectivity Options
The RX 580 offers advanced connectivity options, making it an excellent choice for users needing multiple devices connected simultaneously or seeking to maximize performance in an external graphics setup.
With support for up to five displays and four outputs capable of simultaneously running 4K resolutions, you can create breathtaking visuals without experiencing lag or stutter. Furthermore, this card features both HDMI ports and DisplayPort 1.4 technology for added flexibility.
Additionally, this powerful GPU boasts several other useful features, including AMD FreeSync Technology which reduces screen tearing and input latency when gaming at higher frame rates. Furthermore, you'll benefit from quick installation thanks to its user-friendly software package and dynamic clock speed adjustment features. This enables you to tailor settings based on current gaming conditions. Finally, this model features 8GB GDDR5 RAM to ensure smooth gameplay even on more demanding titles.
Various Cooling Solutions
The RX 580 provides multiple cooling solutions to keep your system at optimal temperatures. Air coolers provide active heat dissipation from graphics card components through fins and fans that draw in outside air. This increases airflow across its surface area and keeps it cool while producing minimal noise emissions.
Liquid cooling offers an alternative to air cooling by employing water blocks or radiators containing thermal fluid to transfer heat away from the GPU core and other parts of the card. Liquid cooling can offer more effective temperature regulation than an air-cooled setup. However, it requires additional maintenance and external hardware like pumps and reservoirs.
No matter which cooling solution you prefer, purchasing an RX 580 today provides access to both options to choose what works best for your gaming rig. With cutting-edge technologies and reliable performance capabilities, this graphics card will make an excellent addition to any build, regardless of which cooling system you opt for.
Great Value
Video Card RX 580
DisplayPort, DVI, HDMI video port interface

AMD Radeon RX580 chipset

Mining hashrate in the range of 25-30MH/S
We earn a commission if you make a purchase, at no additional cost to you.
Wrapping Up
Overall, the RX 580 GPU is an excellent choice for gamers seeking to upgrade their current setup. Boasting powerful performance and compatibility with both Windows and macOS, users will experience extended enjoyment with this GPU, typically lasting up to five years or more.
AMD research indicates that over 90% of those who purchase the RX 580 are satisfied with their investment after one year. These statistics alone are enough to demonstrate how reliable and durable this graphics card truly is. We strongly encourage leaping if you are unsure whether buying an RX 580 would be worthwhile. You won't look back with regret!
The image featured at the top of this post is ©Alberto Garcia Guillen/Shutterstock.com.