The Sony A80 OLED TV is an elite model designed to provide the optimal viewing experience. Boasting a sleek design, stunning picture quality, and innovative technologies that set it apart from its competitors, the A80 OLED is a must-have for those who enjoy movies, TV shows, sports, and gaming on a large screen.
In this article, we'll outline the 10 reasons to buy a Sony A80 OLED TV. Let's get started!
Sony A80 OLED TV: What You Need to Know
The Sony A80 OLED TV lineup has undergone some modifications over time. The A80J model was introduced as part of Sony's premium BRAVIA 4K OLED lineup in 2021 and replaced the A8H OLED in 2020, competing against OLEDs such as the LG C1 and LG A1.
Sony's A80K is a newer entry-level OLED in their 2022 lineup and takes over for the A80J OLED, which was introduced in 2021. Remaining virtually unchanged from its predecessor, this TV features the same Cognitive Processor XR found in both models. Furthermore, it will sit behind the Sony A90K and QD-OLED A95K, while in Europe, it sits ahead of the A75K.
The Sony A80J TV features an enhanced viewing experience, thanks to the Cognitive Processor XR and Google TV smart interface (a redesigned Android TV version with many apps). Most features on the A80J meet objectives, competing against Sony's flagship A90J in terms of overall performance and features. Although Sony offered an OLED step-down model in 2021, the A80J OLED, that does not translate to inferior overall performance compared to its bigger sibling.
The A80K OLED, like its predecessors, provides excellent brightness for an OLED TV and offers full DCI-P3 coverage when displaying 4K HDR content. Unfortunately, Samsung's 55-inch S95B offers higher intelligence at a lower price while offering Quantum Dot technology with a wider color gamut.
Over time, the Sony A80 TV line has seen several modifications. First introduced as part of Sony's premium BRAVIA 4K OLED lineup in 2021 and replacing the A8H from 2020, the A80K remained largely unchanged from the 2021 lineup. Both models feature similar features and use Cognitive Processor XR to improve the viewing experience.
Bright Colors
Sony OLED 65-Inch BRAVIA XR A80K
Features XR Cognitive Processor developed by Sony
Triluminos Pro enhances the already outstanding picture
Dolby Vision HDR and Auto HDR tone mapping for PS5
8.5ms input lag
4K at 120Hz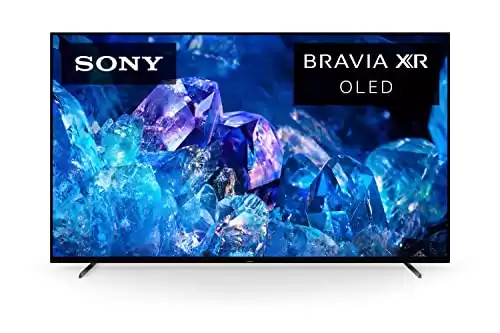 We earn a commission if you make a purchase, at no additional cost to you.
10 Reasons to Buy a Sony A80 OLED TV
The Sony A80 OLED TV is an industry favorite among consumers searching for an all-encompassing television set. This model will meet consumer expectations for performance and quality viewing experiences by boasting advanced technology and top-of-the-line features.
The following are the top 10 reasons to buy a Sony OLED TV. Follow along with us!
Advanced Picture Processing
The Sony A80 OLED boasts advanced picture processing technology that intelligently analyzes each frame to enhance and optimize image quality in native and upscaled content. These TVs contain the X1 Ultimate processor. Its powerful AI engine offers real-time image processing capabilities and can bring out even more detail from 4K HDR sources for outstanding clarity and contrast.
Sony's Triluminos Display boasts an extra wide color range that enhances vibrancy and lifelike colors in every scene, creating an enhanced viewing experience on any television set. As such, this feature is an ideal addition for anyone seeking enhanced visual experiences on their television set. Sony's object-based super resolution feature further improves images by adding depth, texture, and realism, giving users crisp visuals no matter what is on screen.
HDR and 4K Resolution
The Sony A80 lineup is ideal for those seeking the highest image quality. Recent studies indicate this model offers impressive 4K resolution and HDR support, producing incredible visuals and vibrant hues. With up to 3840 x 2160 pixels on the screen and an incredibly dynamic range of 10 bits per color channel, the HDR monitor offers exceptionally crisp images with precise contrast levels and deep blacks.
Additionally, its TRILUMINOS display ensures natural skin tones, while its X-Motion Clarity technology helps minimize motion blur during fast-paced scenes. Its superior image quality makes it ideal for watching movies or sporting events without compromising image quality.
Furthermore, OLED panels' wide viewing angle ensures no washout when viewing from various angles. All these features make the Sony A80 OLDE TV an excellent option for those seeking to maximize their home entertainment system.
Thin and Lightweight Design
The Sony A80 OLED lineup delivers a remarkable HDR and 4K resolution experience with vivid colors and deep contrasts made possible through its Picture Processor X1 Ultimate processor, which optimizes every pixel in real time to upscale images to near-4K clarity while maintaining their natural colors and contrast levels.
OLED technology delivers realistic textures with enhanced depth perception that are perfectly enjoyable on large screens. Furthermore, this OLED TV boasts an incredibly slim design compared to other televisions on the market. Its frame measures only 0.3 inches thick to blend seamlessly into any space.
Sony A80 TVs combine modern aesthetics and performance into one sleek package, thanks to its light weight, making it easy enough for one person to carry alone without assistance.
Easy to Mount
Sony A80 OLED TVs were designed for easy mounting. With the VESA mount pattern on its rear panel and slim, lightweight form factor that enables tilting up to 15 degrees, installation can be completed quickly and safely without needing extra tools or parts.
Additionally, the included stand offers an easy and quick way to set up the TV on furniture or any flat surface. Its sleek design fits modern decor while still ensuring stability when placed on uneven surfaces. Users also enjoy added flexibility by adjusting the height and angle of their viewing experience as needed.
Dedicated Netflix and YouTube Buttons
Sony A80 OLED TVs come equipped with numerous features designed to maximize the user experience. One feature of the remote control that simplifies life is having dedicated Netflix and YouTube buttons, making their services easily accessible without scrolling through multiple menus or entering tedious information. This enables viewers to launch their favorite streaming services from one convenient button without wasting time entering complex information or scrolling through lengthy menus.
Users will also find it much simpler than ever to enjoy content across various digital platforms at their leisure. These two buttons ensure customers can instantly gain access to an abundance of entertainment options they may never have known existed before.
Voice Control
Sony A80s have intuitive voice control technology to quickly access content without using a remote. Users can search across streaming platforms using natural language commands such as "show me action movies" or "play music on Spotify."
Google Home and Amazon Alexa device owners can also utilize their smart home assistants to control television settings, volume levels, and more with ease using voice control systems like Google Home or Alexa voice assistants. Both voice systems boast high accuracy in understanding user commands quickly when activated by its wake word, making them perfect solutions for effortless entertainment enjoyment at any time of day.
These Sony TVs also enable users to personalize their experience further by selecting specific voices based on gender and accent preferences. They may select from male or female English speakers while creating their assistant with various languages like Spanish, French, or German as desired. With such versatility at their fingertips, everyone will surely find an option that meets their preferences perfectly.
High Refresh Rates for Smooth Motion
Voice-activated TV control offers users effortless convenience, but an enjoyable viewing experience is equally important. The Sony A80 OLED TV lineup boasts an incredible refresh rate of 120Hz, which provides fast-moving images and videos with exceptional sharpness and clarity.
Watching sports games or action films won't be compromised by blurring or lag, allowing audiences to fully immerse themselves into an engaging viewing experience without worrying about choppiness. Gamers using the Sony A80 OLED TV no longer need to worry about input delays that might cause them to miss key moments in a game.
Gamers can take advantage of high refresh rates to take full advantage of variable refresh rates available on certain consoles, such as Xbox Series X/S, for smoother gameplay than ever before. This is ideal for competitive players who require precise control when playing their favorite games.
Immersive Surround Sound
Sony's A80 TVs come equipped with Dolby Atmos and DTS:X sound technologies to deliver an unforgettable audio experience, giving users access to object-based sounds precisely placed within three dimensions, creating a realistic surround sound effect and transporting them straight into their favorite films or shows. Furthermore, this technology helps clarify dialogue while increasing bass response for better listening pleasure.
Sony A80 OLED TVs boast superior sound quality when compared to other available televisions on the market today. They stand out with their high audio capabilities and superior picture quality thanks to the 4K HDR Processor X1 Ultimate. It provides vivid colors with sharpened details for an outstanding viewing experience when watching movies or playing video games.
Additionally, this processor enables content from any source — such as streaming media players — to be upscaled to almost true 4K resolution for optimal display capabilities.
Low Input Lag for Gaming
Sony's A80 OLED TVs' incredible clarity and precision provide lifelike images that anyone can appreciate. So, it should come as no surprise that its low input lag makes it the ideal choice for gamers who require fast response times.
This feature enables them to enjoy their favorite games without experiencing delays in inputs or buffering issues and ensures seamless motion during gameplay for an engaging experience. The refresh rate also provides smooth and fluid motion during gameplay for a truly immersive experience.
Furthermore, the picture quality remains consistent no matter how quickly the action onscreen changes, which helps avoid ghosting effects that reduce image clarity at high speeds and detract from the gaming experience.
HDR compatibility adds depth and vibrancy to visuals, making colors appear more vibrant and clear. Gamers will have an incredible experience playing on any Sony A80 OLED TV.
Smart Connectivity and Cross-Device Playback
The Sony A80 OLED TVs boast smart connectivity options, making accessing and watching content from multiple devices easier. Bluetooth technology enables users to pair compatible headphones or speakers effortlessly for an immersive audio experience, all without wires.
These models also feature Chromecast support to stream content directly from iOS and Android smartphones onto the television screen. Cross-device playback is another feature of this television set, with AirPlay 2 supporting Apple devices like iPhones, iPads, and Macs to share media files wirelessly between Apple products.
Miracast technology enables viewers to easily stream multimedia content stored on Windows computers to multiple house rooms using Miracast technology. This eliminates complicated cables and adapters and gives users more freedom when watching movies or playing games in different rooms of the home.
Best Design
We earn a commission if you make a purchase, at no additional cost to you.
Sony A80s vs. the Competition
You may be wondering if comparable models from other companies are as good as the Sony A80 lineup. The short answer is that they're not. Sony's A80 TVs feature a near-infinite contrast ratio, which displays perfect blacks with no distracting "blooming" around bright areas of the screen. If you watch movies in a dark room or use your TV for gaming, this is essential. The A80 lineup also utilizes the Cognitive Processor XR, a powerful image processing chip that delivers stunning picture quality by analyzing the content on a scene-by-scene basis to optimize the image for the best possible viewing experience. Sony's A80 TVs also have excellent sound quality that uses Acoustic Auto Calibration to automatically adjust sound output to match your room's acoustics so you hear the best possible sound quality no matter where you're sitting. Finally, Sony's A80 lineup is packed with features such as Android TV, which gives you access to a wide range of streaming apps. They also have a variety of gaming features, including HDMI 2.1 bandwidth for 4K @ 120Hz gaming and variable refresh rate support. All of these features — and countless more — add up to some of the best TVs on the market.
Wrapping Up
Sony's A80 OLED TVs offer impressive technology with unparalleled picture quality and long-term performance.
Energy-efficient television models also help lower electricity costs than other models and come equipped with warranties, so you can rest assured you are investing in a high-quality product. Sony A80 OLED TV buyers also gain access to preinstalled streaming services like Netflix and Hulu, making watching their favorite programs seamless.
When combined, buying this model is an investment in the future. Its stunning visuals and longevity make it the ideal option for anyone wanting a superior entertainment experience in their own home.
The image featured at the top of this post is ©Grzegorz Czapski/Shutterstock.com.