Shopping for a new graphics card can be daunting, particularly if you need something powerful.
The NVIDIA RTX 4090 stands out as one of the highest-performing GPUs. It's an excellent option for demanding tasks like gaming and 3D rendering. It boasts incredible frame rates and resolution when gaming, while its real-time ray tracing capabilities make games look more realistic than ever before. Turing architecture also brings significant improvements over previous generations of GPUs, making the NVIDIA RTX 4090 an investment worthy of consideration.
There are many reasons to buy a NVIDIA RTX 4090, so let's explore this GPU and the benefits it will bring to your rig today!
History of the NVIDIA RTX 4090
The NVIDIA GeForce RTX 4090 is a high-performance graphics card announced at the 2022 GPU Technology Conference on September 20. It was released on October 12th, 2022, as part of the GeForce 40 series. It replaced GeForce 30 series.
Based on Ada Lovelace architecture with 24GB memory capacity, the RTX 4090 was engineered to deliver ultra-high performance gaming, rich virtual worlds, remarkable productivity, and new creation methods. Constructed on 5nm process technology, this card supports DirectX 12 Ultimate with 16,384 NVIDIA CUDA cores that help it run modern games efficiently. It also has fourth-generation Tensor Cores offering 2x improved AI performance.
This GPU delivers up to two times greater performance and power efficiency than its predecessors.
10 Reasons to Buy the NVIDIA RTX 4090 Today
As technology progresses, gamers and creators constantly search for higher-performance hardware to meet their needs. One highly sought-after piece of tech today is the NVIDIA RTX 4090 graphics card, boasting impressive features and capabilities that set it apart from its counterparts. From its lightning-fast performance to its innovative new features. The RTX 4090 is a must-have for anyone who wants to stay at the forefront of the graphics processing world.
Let's dive into the 10 reasons to buy a NVIDIA RTX 4090!
High Efficiency
NVIDIA GeForce RTX 4090
Has 16,384 NVIDIA CUDA Cores
Supports 4K 120Hz HDR, 8K 60Hz HDR
Up to 2x performance and power efficiency
Fourth-Gen Tensor Cores that offer 2x AI performance
Third-Gen RT Cores
AI-Accelerated Performance: NVIDIA DLSS 3
NVIDIA Reflex low-latency platform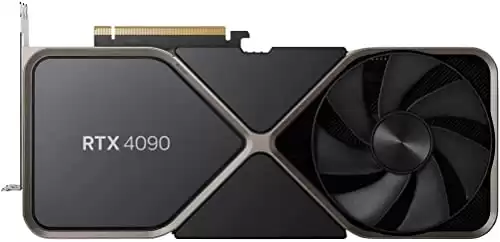 We earn a commission if you make a purchase, at no additional cost to you.
1. High-End Performance
The NVIDIA RTX 4090 represents the pinnacle of high-end performance graphics cards. It will take your gaming and content creation experience to new heights with stunning visuals and clarity. No doubt that many gamers and creators today are turning to an NVIDIA RTX 4090 as they look for superior graphics performance for all their creative endeavors.
It will offer something exceptional in all areas by boasting advanced features like ray tracing technology, AI acceleration capabilities, and 4K resolution support.
2. Smooth Gaming Experience
The NVIDIA RTX 4090 provides an immersive gaming experience, boasting its advanced Turing architecture and powerful RT cores. This advanced graphics card delivers state-of-the-art capabilities with exceptional speed and efficiency. These features allow for smoother gameplay than older GPUs, enabling gamers to experience all of the latest titles without experiencing lag or slowdown issues.
RTX 4090 GPUs boast more memory capacity than previous generations. This enables players to run multiple programs simultaneously without impacting performance levels. They also support real-time ray tracing technology for realistic visuals to make gaming sessions more engaging. With HDMI 2.1 output and HDR technology support, you can experience vibrant colors and contrast on compatible displays in 4K resolution for an enhanced visual experience.
The RTX 4090's impressive combination of hardware makes it the ideal choice for gamers looking to upgrade their PC's gaming experience today. That means fast-paced action titles and long hours crafting virtual worlds. Its powerful graphics card can take on whatever challenge lies in store.
3. 4K UHD Resolution Support
The NVIDIA RTX 4090 card's 4,096-bit memory interface guarantees it has enough power to meet even the most demanding gaming resolutions. It runs 4K and 8K resolution games without compromising graphical fidelity or frame rates. The Turing architecture allows real-time ray tracing effects, adding stunning realism to modern games. This makes the NVIDIA RTX 4090 an excellent choice for creating the feeling of being in a cinema. These advanced features deliver exceptional image quality and surface detail that will take your breath away, making any title come alive on screen.
4. Real-Time Ray Tracing
The NVIDIA RTX 4090 is currently the most powerful graphics card available. It is capable of real-time ray tracing — an advanced rendering technique that simulates how light interacts with objects in 3D space. This will help with realistic visuals with more accurate lighting and shadow effects. This advanced technology creates more lifelike visuals.
Ray tracing's improved performance over traditional rasterization methods makes it ideal for gaming, movies, and other applications that demand high image quality. Real-time ray tracing brings enhanced realism to games through higher levels of detail such as shadows, global illumination, and reflections. All of this is possible thanks to the RTX 4090's ability to calculate rays quickly enough not to reduce the frame rate or gameplay experience.
By integrating hardware acceleration into modern GPUs, developers can craft visually stunning environments with added depth and accuracy for gamers everywhere. If you're searching for an immersive gaming experience at an accessible price point, the NVIDIA RTX 4090 delivers top-of-the-line performance at an excellent value point.
It supports all major game engines like Unity and Unreal Engine 4, making it suitable for PC and console gamers. This includes real-time ray tracing capabilities with cutting-edge technologies like the DLSS 2.0 artificial intelligence anti-aliasing system and support for 8K resolutions.
5. AI-Enhanced Graphics
The NVIDIA RTX 4090 graphics card is equipped with advanced ray tracing and deep learning technologies, providing realistic lighting, shadows, and reflections in real-time and creating vibrant, detailed games like never before. Turing architecture also allows the RTX 4090 to render up to 10 times faster than its predecessor. This provides a smooth gaming experience no matter how intense your game gets.
Aside from improved visuals, the RTX 4090 also boasts enhanced video editing and motion design performance thanks to its dedicated Tensor cores for artificial intelligence (AI). These cores were specifically developed to speed up facial recognition software or image classification tasks faster than any other GPU. With modern processors, you can achieve even greater results while spending significantly less energy.
6. VR Ready
The NVIDIA RTX 4090 is ideal for maximizing the virtual reality experience, boasting powerful processing power and advanced graphics capabilities. Its processing speed and visual fidelity make it the ideal solution for playing VR games or running applications on this powerful technology. Even current-generation titles run without any noticeable lag or stutter.
On top of its performance capabilities, the RTX 4090 boasts additional features like NVIDIA Simultaneous Multi-Projection (SMP) technology and supports DirectX Raytracing API (DXR). SMP allows multiple viewpoints to be rendered simultaneously for more realistic visuals that accurately emulate real-world environments. DXR provides realistic reflections, shadows, and lighting effects within games and other applications for creative professionals that require exact control of how their work looks when rendered into 3D space.
In addition, the RTX 4090's compatibility with higher refresh rates ensures smooth motion when using your headset with no juddering or tearing. Furthermore, this card supports upscaling resolutions such as 4K to use modern monitors on the market.
7. Low Power Consumption
One of the greatest advantages of purchasing a NVIDIA RTX 4090 is its VR-ready capability. Offering excellent performance and stunning graphical fidelity, this GPU is ideal for immersive virtual reality experiences.
The RTX 4090 packs enough power to ensure smooth frame rates on ultra settings for even the most demanding games. In contrast, its low power consumption helps save you money while providing exceptional gaming performance. Another compelling reason to invest in one is its extremely low energy usage, even with such powerful specs and features.
As it runs cooler than other cards, the NVIDIA RTX 4090 poses less risk of overheating, increasing reliability over time. When combined with its affordable price point compared to higher-end GPUs available now, purchasing one would be an excellent choice if you're seeking top gaming performance without breaking the bank or experiencing excessive heat issues.
8. Quiet Operation
When it comes to creating an immersive and uninterrupted gaming experience, the NVIDIA RTX 4090 delivers is packed with power while remaining whisper-quiet during operation. This GPU won't interfere with you immersing yourself in your favorite titles. Imagine having all the performance power you need without distracting buzzes or hums, and that is what this GPU provides!
At its core, this GPU features advanced cooling technology to keep its temperature at an ideal level, ensuring it runs quietly even at peak performance levels. Furthermore, its ultra-low noise fan ensures your gameplay experience remains pleasant without distracting background noise. Its high efficiency ensures consistent temperatures during long gaming sessions without sudden spikes, causing sudden noises or fluctuations that create disruptive sounds during gameplay.
As a result, you'll enjoy hours upon hours of uninterrupted gameplay without being disturbed by noise from PC components, whether you're playing for fun or competing against other gamers online. The RTX 4090 guarantees smooth and silent gaming every time.
9. Customizable Settings
The NVIDIA RTX 4090 is a great option for users of all sorts, packed with features that are great for gamers and streamers as well as anyone seeking maximum performance from their computer.
Starting, the RTX 4090 offers up to 8K HDR resolution for gaming and streaming applications, providing crystal-clear visuals on whatever device is connected. Furthermore, its refresh rate settings can be customized based on the type of content being watched or played. This ensures that everything looks smooth and seamless.
All graphics cards have ray tracing technology for lifelike lighting effects that deliver an immersive gaming experience. When it comes to connectivity options, the RTX 4090 offers plenty of choices as well. If you use multiple monitors or devices simultaneously, multi-GPU support, DisplayPort 1.4a ports, and USB Type-C ports provide convenient means of connecting them all easily. Furthermore, Wi-Fi 6 compatibility ensures fast and secure wireless connections no matter where life takes you.
10. Affordable Price Point
The NVIDIA RTX 4090 graphics card is ideal for those seeking an effective and reliable graphics solution at an attractive price point. It's perfect for gaming, graphic design, and other 3D rendering applications. The cutting-edge technology of the 4090 ensures seamless frame rates. Boasting Turing architecture, ray tracing cores, advanced GDDR6 memory, and AI capabilities, it offers everything needed in a modern graphics card.
As well as its impressive array of features, real-time ray tracing allows designers to render reflections and shadows within their creations accurately. This makes crafting detailed scenes or intricate objects with realistic lighting effects simpler than ever.
As well as its many features, the RTX 4090 is surprisingly budget-friendly compared to other GPUs. Given its comprehensive features and accessible price point, anyone searching for a dependable graphics card should strongly consider investing in an NVIDIA RTX 4090. It offers plenty of power without exceeding budget restrictions.
High Efficiency
NVIDIA GeForce RTX 4090
Has 16,384 NVIDIA CUDA Cores
Supports 4K 120Hz HDR, 8K 60Hz HDR
Up to 2x performance and power efficiency
Fourth-Gen Tensor Cores that offer 2x AI performance
Third-Gen RT Cores
AI-Accelerated Performance: NVIDIA DLSS 3
NVIDIA Reflex low-latency platform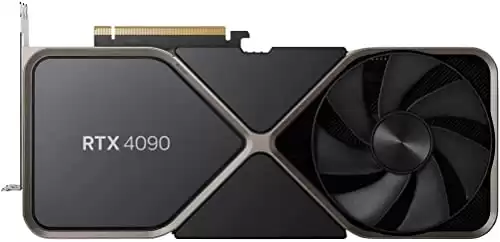 We earn a commission if you make a purchase, at no additional cost to you.
Future of Gaming Cards
The creation of the RTX 4090 gives us a glimpse into the future of gaming card technology. As shown by the multitude of reasons listed above, this card is well ahead of any others on the market currently. As we continue to advance, we can expect to see feature improvements from other brands and models.
Some potential advancements coming in the future could include AI-based upscaling and may support APIS, such as DirectX 12 Ultimate and Vulkan. Games will become more demanding, and likely gaming cards will adapt to be more efficient and operate with lower power consumption.
The Intel Arc A770 is releasing later this year, and while little is known about its price or specifications, it's the first high-end card being released from Intel that's expected to compete directly with the RTX 4090.
Wrapping Up
The NVIDIA RTX 4090 is an outstanding graphics card that delivers performance without breaking the bank. It's easy to install, supports multiple monitors, and offers plenty of memory — plus, its solid warranty provides added peace of mind.
If you want the latest and greatest graphics card money can buy today, the NVIDIA RTX 4090 should be your number-one pick.
Up Next
The image featured at the top of this post is ©Ralf Liebhold/Shutterstock.com.