Key Facts
Xfinity is capable of providing speeds which are a thousand times faster than its most popular competitors. However, a bundle package is required to be able to take advantage of this perk.
Optimum, is capable of offering a maximum speed of 940 Mbps. Its standard package is $75.00 per month and comes with free installation.
Spectrum is rather affordable and its Connect™ TV and internet bundles not only guarantee fast and reliable internet but also provide access to channels such as HBO and Showtime.
The internet has transformed into an indispensable part of our daily lives. Without it, we wouldn't be able to accomplish tasks like sending emails, paying bills, and communicating with loved ones. As a result, the average American spends around seven hours a day online.
Despite the prevalence of internet access in America today, many people still lack this luxury. Thankfully, several affordable options are available to those in Maine and across the country. Whether you live in the rural parts of Maine or you're just looking for an affordable option, we've compiled a list of the top 10 best internet providers in Maine and their most affordable packages.
Let's get started!
1. Xfinity
Xfinity is a cable TV and internet service provider. It's the first major cable provider to offer a Gigabit Fiber Optic offering in parts of Maine and New England. However, if you decide to sign up for this service, you must be aware of what this means.
With Xfinity, you can expect to get up to a Gigabit. This is about a thousand times faster than today's most popular internet providers. The problem with this speed is that it's only available if you have a bundle package. Because the major benefit of Xfinity's Gigabit Fiber Optic service is the rate at which it transfers data, you'll want to make sure you can use this quickly.
It's also important to note that Xfinity has two packages: Platinum and Extreme. Both of these plans offer customers up to 1,000 Mbps service. If you choose to sign up for either of these plans, you'll have free access to Xfinity's 4K TV streaming service. The 4K TV service allows customers to stream from Netflix, Amazon Video, and HBO Go in crystal clear HD quality.
The only catch is that different tiers of Xfinity require different speeds for the internet service that they provide. The customer is free to choose between the two tiers. However, the difference in costs between each tier is not too huge. This means that customers aren't required to upgrade to get faster speeds if they don't want to.
2. Optimum
The second on our list of the best internet providers in Maine is Optimum, a company that offers internet speeds of up to 940 Mbps. Optimum's standard package costs $75.00 per month for its speed tier and includes free installation. Those who opt for the highest speed tier can choose between a two-year contract at $65 per month to an upgrade to unlimited data for a one-year contract that costs $75 per month.
Optimum is a customer-centric ISP, which means it does not throttle its customers' speeds when the network is congested. As a result, Optimum customers can expect to have consistent speeds and minimal jitter during streaming and gaming sessions. Optimum also offers a number of advanced features like the ability to set up filters and parental controls, as well as automated system features like spam management and virus protection.
This also means that Optimum customers can confidently stream and download data without worrying about getting charged extra fees by their ISP. 750,000+ Optimum customers in Maine rely on its reliable internet service to do everything from binge-watching Netflix to gaming online.
Fiber connections are typically more expensive than traditional cable and DSL connections. In order to match its speeds, Optimum has to charge a higher fee for its fiber service. However, the company makes up for this by offering one of Maine's most affordable internet packages.
3. Spectrum
With an affordable internet option from Spectrum, Maine residents will be able to enjoy the internet without worrying about high prices. Spectrum's Connect™ TV and internet bundles feature a bevy of perks. For one, you'll enjoy a fast and reliable internet connection and access to premium channels like HBO, Showtime, and more. However, because of Spectrum's 2-year price lock guarantee, your bill will never change for two years.
Their internet packages can be purchased with or without a contract, so there are no surprise fees or obligations. Spectrum's high-speed internet also includes access to their internet security suite, and you can even bundle it with a phone plan so you'll have one bill to pay.
Spectrum has a nationwide wireless broadband network and provides speeds up to 120 Mbps. They also offer custom plans for users looking for certain internet connection features, including TV, email, and mobile hotspot features. When you choose Spectrum for your internet service, you can even sign up for automatic bill payment and set mobile alerts so you'll never have to worry about missing a bill again.
4. Verizon Home Internet
Verizon is a popular and reliable internet provider, and they're the fourth best option you can get in Maine. The internet provider offers a wide selection of packages, including the 'Internet 100' plan. The plan offers speeds of 15 Mbps that go up to 940 Mbps and is priced at only $69 per month after a discount.
The plan features download speeds of up to 6 Mbps and upload speeds of up to 2 Mbps, making it a great option for many people in Maine as it targets both web surfers and gamers alike. The plan also provides you with access to Verizon's 'FiOS TV' and 'FiOS Digital Voice.'
With more than a decade of experience, Verizon is a very credible provider with excellent customer service and no hidden fees. They offer generous discounts on packages when you sign up for two or more lines, so it may still be worth signing up for several connections if you have older family members who need internet access.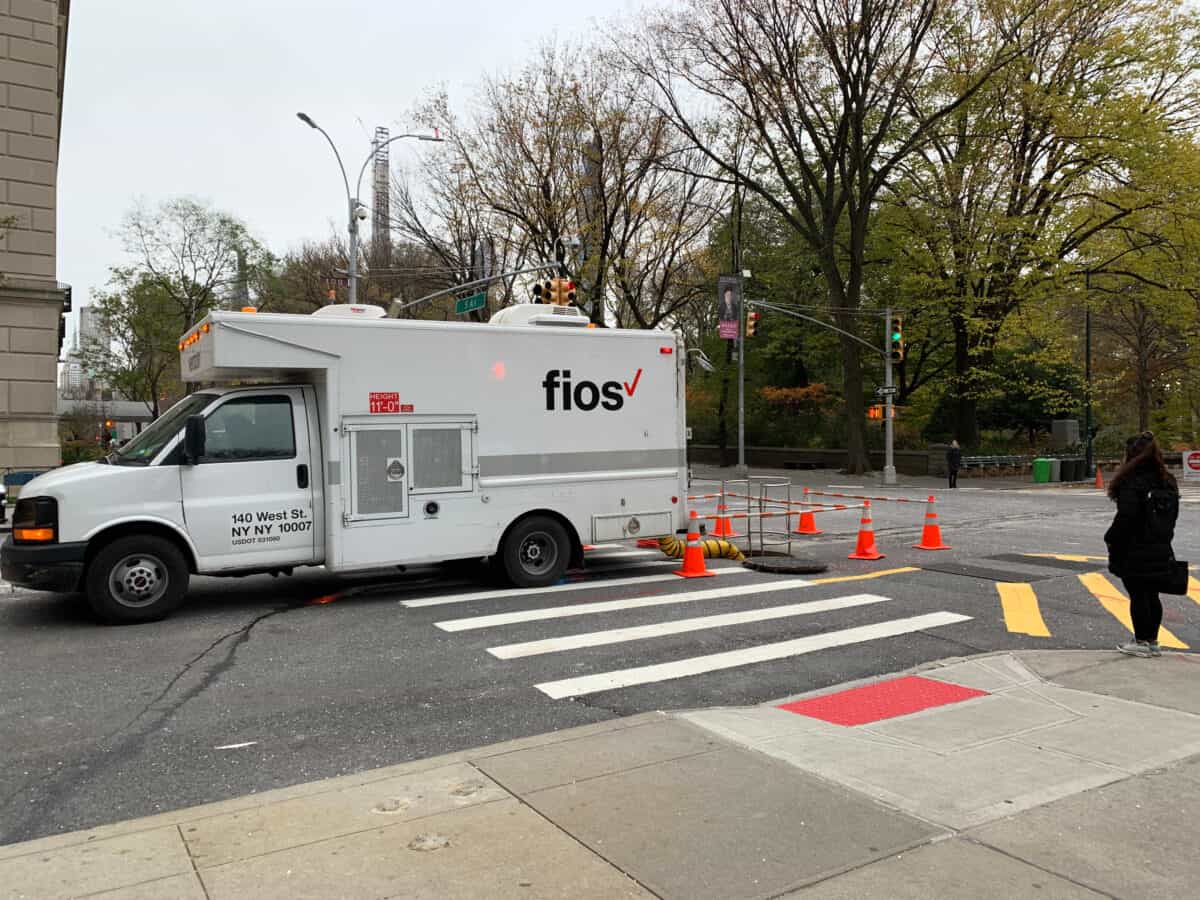 5. HughesNet
HughesNet, with more than 4 million subscribers, is a national telecommunications company that provides digital home and mobile access across the United States. It also offers language-specific packages for Spanish, Portuguese, Asian, and Russian speakers.
HughesNet has a wide selection of offerings available to fit the needs of different users. It features a high-speed satellite internet connection that can deliver speeds of up to 25 Mbps. The company uses satellite internet, which requires a clear line of sight between the user's location and the satellite. This means that users in mountainous or hilly areas might experience slower speeds than other users.
This service is ideal for sending emails, downloading documents or files, and browsing the web, among other things. Their service is ideal for remote areas, as it provides download speeds of up to 25 Mbps and upload speeds of up to 4 Mbps. The service also provides internet security with military-grade encryption to prevent unauthorized users from gaining access to your information.
6. Viasat
Viasat Maine is available in the entire 13802 zip code. For $60 a month, a Viasat Maine customer can get internet speeds of up to 100 Mbps. They have several plans, including the "Viasat Premier" package, which gives you unlimited data and HD channels. Viasat is a satellite-based internet company, so in order to enjoy the service, you'll need an installed satellite dish.
This company offers a "no contract" plan, which means you can cancel at any time with no early termination fees or penalties. In addition, Viasat provides a 100% satisfaction guarantee. They'll refund your money if you aren't happy with the service. You can also use their website to manage your account and get real-time customer support. Currently, they have more than 60,000 customers in their Maine service area.
7. Frontier
Frontier offers a selection of internet packages that range from as low as $45.99 to as high as $150. It's best known for providing the lowest prices in its market area and substantially benefits from its affiliation with Verizon Wireless.
Frontier has expanded considerably over the past year and recently launched a new gigabit service in certain parts of Maine. While this isn't offered throughout the state just yet, it is still a very welcome sight for those who need an affordable connection that can stream HD content.
Frontier offers a range of packages, including family plans and shared data. It also provides mobile broadband services, which can be used to connect tablets and laptops to the internet via a mobile hotspot. There are discounts available for those who purchase five or more devices, so it's worth looking into if you have many family members needing internet.
Whistolated to explore their various internet packages, users are often surprised by their consistent performance and reliable network that powers bandwidth at a faster rate than other companies. If you're in a hurry to get online and can't afford to pay full price, Frontier might be the right choice.
8. Ultra Home Internet
Ultra Home Internet is a top internet provider in Maine because it provides reliable internet service at a reasonable price. The company offers 5G home connections and speeds up to 182 Mbps while providing customers with excellent customer support. Ultra Home Internet is a good choice for people with limited internet service options in Maine.
Ultra Internet also supports new technologies like client-side encryption and peer-to-peer (P2P) file sharing. It is able to provide all of these services at prices that are noticeably lower than the competition.
If you're looking for a high-speed internet provider that sends data to your device in real-time and doesn't require you to share your connection with others, then Ultra Home Internet is the internet service for you.
9. EarthLink
EarthLink is the ninth leading internet service provider in Maine. EarthLink offers high-speed broadband internet, digital TV, and telephone services to residential and business customers across the country.
7,000+ miles of fiber-optic cable serve businesses, individuals, and schools in Maine. With speeds up to 75 Mbps, EarthLink can keep up with the demands of modern technology. And if you're on a budget, their lowest price has 15 Mbps internet speed.
Earthlink has good reviews across the board, with many happy customers saying that the company is reliable and offers fast speeds for a reasonable price. However, Earthlink's customer service reputation is not as stellar as its high-quality internet service. Since there are no installation or equipment fees, this ISP is an excellent choice for those in Maine who are seeking out their first internet service provider.
10. Great Works Internet
Great Works Internet is the tenth most popular provider on this list. They have won multiple awards from various organizations and offer various packages ranging from 125 to 500 Mbps. Great Works Internet offers fiber optic in Maine as well as DSL. Fiber optic is the fastest of all the internet service types, but it's also the most expensive. If you have the means, fiber optic is definitely worth considering.
Great Works Internet covers you with its much more affordable DSL packages if you don't think you need super-fast internet at home for streaming and other activities. DSL requires a phone line to function and achieves internet speeds of 25 to 100 Mbps. They are also currently offering a bundle deal with high-speed internet, cable TV, and phone service.
Great Works Internet has a fairly large base of customers in Maine, which is important to note. Though they don't have the most subscribers, they have a solid reputation in Maine and other places as well. Regarding customer support, Great Works Internet has 24/7 phone and chat support options. The company also has a solid track record when it comes to customer satisfaction.
How to Choose the Best Internet Providers in Maine
One of the biggest factors when choosing an internet service provider (ISP) is speed. Some ISPs might provide fast speeds, but their customer service might not be up to par. Others could offer cheap prices but slow speeds. To choose the best ISP in Maine, it's important to consider speed and customer satisfaction ratings.
Speed
Internet speed is measured in megabytes per second — the higher the number, the faster the connection will be. If you don't choose an internet plan fast enough for your needs, you could get annoyed by the slow speed, making it difficult to accomplish tasks like sending an email or loading a website.
Customer Satisfaction
More than just speed, customer service plays a big role in choosing the best ISP in Maine. After all, when you're paying for internet access, you want to ensure that the service is reliable and that your concerns can be addressed quickly. Customer satisfaction ratings can give you more insight into how satisfied customers are with their ISP and whether they would recommend it to others. These ratings can be found on sites like Consumer Affairs, Consumer Reports, and Yelp.
Taxes and Fees
In addition to speed and customer service, you'll also want to consider the number of taxes and fees that come with your internet service. Some ISPs charge a monthly fee for their services, but others may include these costs in the price of their internet plans. If you'd rather not pay for any extra charges, it's best to avoid signing up with a new ISP.
Availability
When choosing the best internet providers in Maine, the availability of plans will also be important. If one company only offers internet packages to certain areas, you might want to consider a plan from a company that's available throughout Maine.
Ease of Use
You'll want to go with an ISP that's easy to use. While internet packages may be similar, some are more user-friendly than others. Before choosing an ISP, take some time to read their plans and see whether they fit your needs. If you're not sure, contact the ISP and see whether their customer service is easy to reach and helpful in answering your questions.
Bundling Options
While many ISPs allow you to purchase internet plans separately from other services, some companies let you bundle your services together at cheaper prices. If you're already paying for services like phone service or television with another company, this might be a good way to get several of these packages at a cheaper rate from one company. This way, you'll save money without switching service providers.
Customer Service Numbers
Like any other service, internet services are available where you live, but not everyone in Maine may have access to the same technology. Whether an ISP is available in your area or not might play a factor in choosing which plan you choose. To maximize the quality of your connection and customer service, it's best to contact the company and receive information about the number of locations that provide internet service and whether they're near where you live.
Quality of Service
When selecting the best ISP in Maine, you'll want to select a company that provides high-quality service for less money. To ensure that you don't get a slow connection throughout the day or a poor-quality connection during peak hours, contact your ISP and ask about their network quality. If they're within the top 5% at providing high-quality level internet, this should be an important consideration when choosing your plan.
Plans Available Across Maine
After you've gone through our list of the best internet providers in Maine and have selected one of the plans we recommend, you'll want to make sure that it's available in all parts of the state. While all of these companies don't need to offer service in every part of the state, it's best to make sure that you can select an option that works for where you live.
With these tips and tricks, you'll be able to choose the best ISP in Maine without hassle. Finding a quality provider with great customer service and a variety of plans available is only a click away.
Summary of the Best Internet Providers in Maine
| Rank | Internet Provider |
| --- | --- |
| #1 | Xfinity |
| #2 | Optimum |
| #3 | Spectrum |
| #4 | Verizon Home Internet |
| #5 | HughesNet |
| #6 | Viasat |
| #7 | Frontier |
| #8 | Ultra Home Internet |
| #9 | EarthLink |
| #10 | Great Works Internet |
The image featured at the top of this post is ©FunF.Studio/Shutterstock.com.